Various approaches help Japan boost vax rates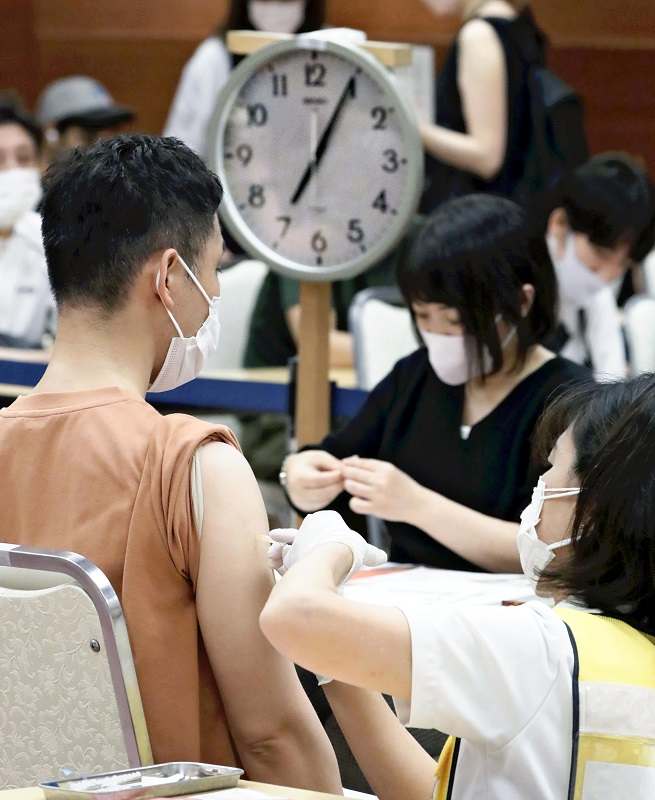 16:47 JST, September 26, 2021
Places of worship and round-the-clock vaccination sites are being enlisted by local governments in a bid to boost access to the COVID-19 vaccine by catering to the diverse lifestyles of residents.
According to the central government, 55.8% of the nation's population had received two doses of vaccine as of Friday.
Expanded vaccine coverage is essential to prevent patients from becoming severely ill, and local governments are taking all possible measures, ahead of a possible sixth wave of infection.
24-hour service
"It's great that I could get vaccinated after work," said Soichiro Okumura, a 43-year-old travel agent, after receiving his second shot shortly after 8 p.m. Friday, in a hotel banquet room near his home in Minato Ward, Tokyo. "I have the day off tomorrow, so even if I get a fever, I can stay home to rest."
From Sept. 17, the Minato Ward Office has run an inoculation venue open from 7 p.m. to midnight every Friday, under its "Friday Night COVID-19 Vaccination Program."
The program caters to people who have been unable to get vaccinated during the workweek, such as those who had to cancel prior vaccine reservations due to urgent work, residents whose workplaces are located far from the ward, and people who simply prefer the option of midnight inoculation to avoid the crowds.
Of a total of 192 people who received shots Friday, about 95% were aged between 20 and 59.
Meanwhile, in Fukuoka City, vaccinations have been available around the clock at places such as hospitals and gymnasiums since July 20.
There have been days when about 100 people came to get shots in the late-night to predawn hours. A diverse group of people includes office workers stopping by before their shifts and parcel carriers who work all day.
About 63% of the city's residents are fully vaccinated, which is higher than the national average.
"This is partly because we've provided vaccination opportunities to meet various lifestyles," said a Fukuoka city government official in charge of the inoculation program.
Mosque as venue
About 2.89 million foreign nationals lived in Japan as of the end of last year. Municipalities have been stepping up efforts to overcome potential language barriers and ensure that inoculation-related information reaches such residents.
In Ebina, Kanagawa Prefecture, a mosque was used as a vaccination venue Saturday. Doctors from the city's medical association administered shots to about 100 foreigners after their prayers.
Siddik Nuhuman, a Sri Lankan who owns a company in Ayase in the prefecture, organized the mosque inoculation service in coordination with the Ebina city government. He is keenly aware of the need for vaccination after losing a friend to COVID-19, and coming down with the virus himself late last year.
After completing their prayers, he and others assembled a group of people who wished to receive shots and explained how to fill out the pre-vaccination screening form.
"Some people who couldn't read Japanese had accidentally thrown away their vaccination vouchers," he said. "I'm really grateful that the whole procedure from applying for and receiving the shots could be done entirely at the mosque."
As of April, about 25,600 foreigners lived in Hamamatsu, a city in Shizuoka Prefecture with a large Brazilian community. Yet only 58.19% of Hamamatsu's foreign residents had received their first shot, about 10 percentage points lower than the vaccination rate for the city's population as a whole.
An inoculation drive catering to foreign residents launched in the city on Sept. 18. Six interpreters were enlisted to facilitate communication in Portuguese and other languages. Flyers were also distributed in cooperation with Japanese language schools and support groups to promote the initiative.
Yet turnout has been lower than hoped, with only a handful of people visiting on some days.
"It's been a challenge to convey not only the reservation method but also the need for vaccination itself, because people think differently about vaccines depending on the country and region they come from," said a Hamamatsu city government official.