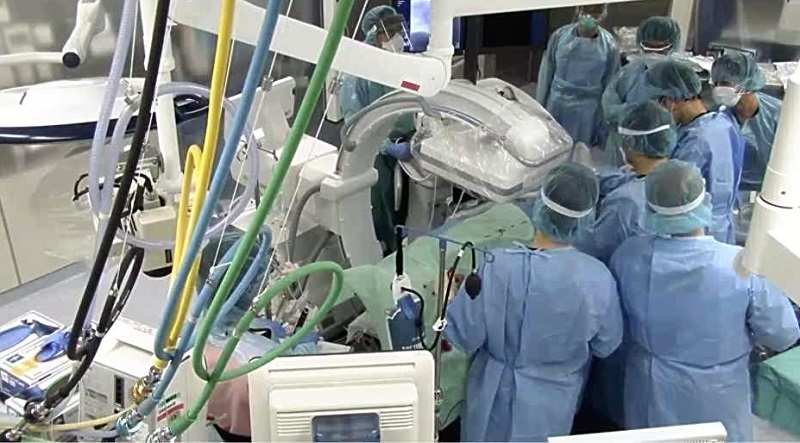 17:19 JST, September 14, 2021
Japanese pharmaceutical companies are among those fiercely competing to develop oral antiviral drugs for COVID-19. Oral medications that could be taken at home by patients with mild symptoms could be a game changer in the fight against the novel coronavirus.
If a patient can recover quickly by taking such drugs in the early stages of the disease, the coronavirus could be treated as a common infection like the flu.
High hopes
"The final trial data for the oral drug under development will be available in September or October," Health, Labor and Welfare Minister Norihisa Tamura said at a press conference on Sept. 3. "We hope to see an application filed soon [by the pharmaceutical company] and provide it to the public as soon as possible."
At the peak of the fifth wave, the number of infected people resting or receiving treatment at home exceeded 130,000 nationwide due to the overwhelming pressure on the medical system. In some cases, patients could not be admitted to hospitals and their treatment was delayed, resulting in serious illness.
If a highly effective drug becomes available that can be easily stored and transported, and taken at home in mild cases, it could end the pandemic. The competition for development is increasingly heated.
A leading contender is U.S. pharmaceutical giant Merck & Co. with its experimental drug molnupiravir. This drug is in the final stages of international clinical trials in countries such as the United States, Britain and Japan, and the trial data is expected to be released in September or October.
In June, the U.S. government announced plans to procure 1.7 million doses of this drug for $1.2 billion (about ¥130 billion) in anticipation of its approval. With a view to authorizing emergency use as early as this year, the U.S. government has high hopes that many lives can be saved at home and abroad.
Swiss pharmaceutical giant Roche is also in the final stages of clinical trials for its experimental drug AT-527. According to an interim analysis of the study on the drug, on Day 2, patients receiving AT-527 experienced an 80% mean reduction from the baseline viral load as compared to a placebo.
Final trial results are expected to be released by the end of this year. In Japan, Chugai Pharmaceutical Co., which is under the umbrella of Roche, aims to file an application for the drug in 2022.
U.S. pharmaceutical giant Pfizer Inc. is also in the final stages of clinical trials for a new drug, and aims to compile data by the end of this year to obtain authorization for emergency use in the United States.
Development in Japan
All these experimental oral drugs share a mechanism of suppressing the multiplication of the virus in the body, preventing serious illness and speeding recovery. Development efforts are also underway in Japan.
Shionogi & Co., which has successfully developed drugs for infectious diseases such as the influenza drug Xofluza, began clinical trials for an experimental oral drug in July. The new drug is being administered to healthy people to verify its safety.
The company plans to conduct a large-scale clinical trial within this year, and hopes to establish a manufacturing capacity of 1 million to 2 million doses.
Earlier this month, the health ministry made the company eligible for subsidies to develop the drug, with the aim of early commercialization in Japan.
Shionogi President Isao Teshirogi expressed his enthusiasm for a Japan-made therapeutic drug, saying, "We want to get to the point where people can feel assured that the novel coronavirus is almost the same as the flu."
Mass-produced at lower cost
There are three types of drugs for COVID-19 available in Japan, including anti-inflammatory drugs for patients with moderate and severe symptoms. All these drugs have been converted from drugs for other diseases and have been put to practical use one after another since last year.
For patients with mild to moderate symptoms, a combination of antibodies known as an "antibody cocktail" was rapidly developed and received special approval in July. Although there have been a number of reports that the treatment is highly effective, it is an intravenous medication and must be administered at a medical institution, limiting the number of patients who can be treated.
In contrast, Prof. Katsumi Maenaka of Hokkaido University said oral drugs "take a long time to develop because [the pharmaceutical companies] need to create new compounds that are safe and effective in inhibiting the multiplication of the virus."
However, if such a drug is successfully developed, it can be mass-produced at a lower cost than antibodies, and has the advantage of being easily taken at home.
Add TheJapanNews to your Google News feed.