Half of Japan's population fully vaccinated, but many in young generations still waiting their turn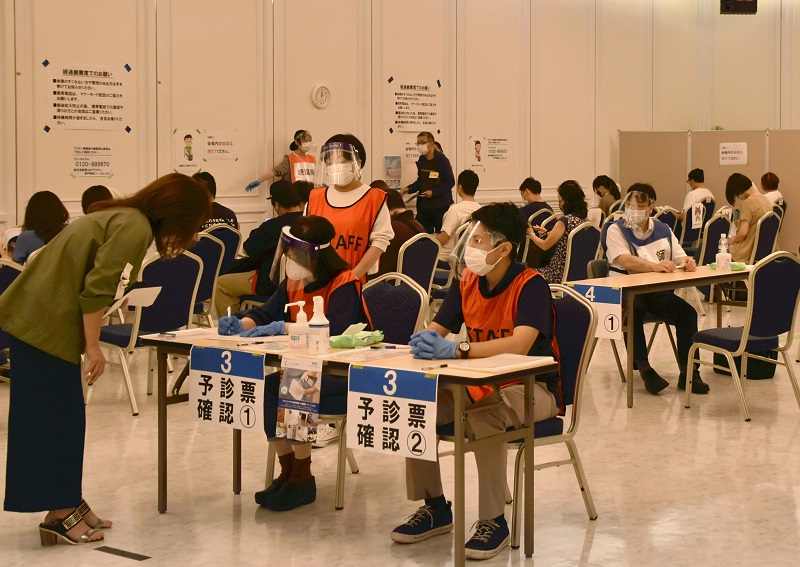 19:28 JST, September 11, 2021
Half of Japan's population has now been fully vaccinated against the novel coronavirus. But spotty inoculation rates among the under-64 demographic may make it difficult for the government to achieve its goal of providing shots to everyone who wants them by November.
According to the government, 49.8% of the nation's population had received two doses of the vaccine as of Thursday.
This does not include those fully vaccinated people whose data has yet to be reflected in the central government's Vaccination Record System, which likely puts the actual rate over the 50% mark.
With inoculation of the elderly largely out of the way — over 80% of those aged 65 or older have already received their two-dose regimen — local governments are stepping up their campaigns to vaccinate the younger generations.
By prefecture, a Yomiuri Shimbun analysis of central government vaccination data on people aged 64 and younger (excluding medical workers) found that Yamaguchi Prefecture had the highest double-dose vaccination rate at 36.1%, followed by Wakayama at 34.4%, Kumamoto at 33.6% and Gunma at 32.8%.
Iwate Prefecture had the lowest rate at 18.1%, followed by Tochigi at 18.5%, Hokkaido at 19.9%, and Yamanashi and Saitama both at 21.1%.
According to the Yamaguchi and Wakayama prefectural governments, the cooperation of family doctors helped facilitate smooth vaccination of the elderly. As a result, both prefectures were able to start inoculating their under-64s ahead of the national curve, hence the higher vaccination rates.
On the other hand, Iwate, Tochigi and other prefectures pointed to factors such as insufficient vaccine supply from the central government and low workplace vaccination rates — given the predominance in their prefectures of small and midsize companies — for their sluggish vaccination progress.
"We were unable to secure enough mass vaccination venues, and this is partly to blame for a delay in the inoculation rollout," said a Morioka city government official.
In Morioka, the public facilities that the city government planned to use as vaccination sites were already booked for other local events, so it had no choice but to rely on individual vaccinations, in which residents receive shots at local clinics. As many of these public buildings may next be booked as polling stations for the upcoming House of Representatives election, the city government said it plans to rent a private building as a mass vaccination venue, to be operational from Sept. 18.
"We thought we would be able to quickly secure space in public buildings," said a city official. "Going forward, we intend to focus on providing vaccinations to the younger generations."
At a press conference following a Cabinet meeting on Friday, administrative reform minister and vaccine czar Taro Kono acknowledged that residents in some municipalities have had difficulty making vaccination reservations.
"We're now in a stage that we should never waste vaccines," Kono said.
Kono also expressed his intent to work on strengthening the cooperation between municipalities and mass vaccination centers run by the central and prefectural governments, as well as expanding a system in which people can receive vaccinations in neighboring municipalities if there are open reservation slots.
The government estimates that 70% of the entire population nationwide have received at least one shot and that 60% will have received their second shot by the end of September.
It plans to complete inoculation of all those who wish to be vaccinated at the earliest possible timing in October or November.
"To prevent the further spread of infection, we should consider prioritizing the vaccination of young people, as their demographic had high infection rates in the virus' fifth wave," said Tetsuya Matsumoto, a professor of infectious diseases at the International University of Health and Welfare.
Add TheJapanNews to your Google News feed.