Govt shifting focus to coronavirus 'exit strategy'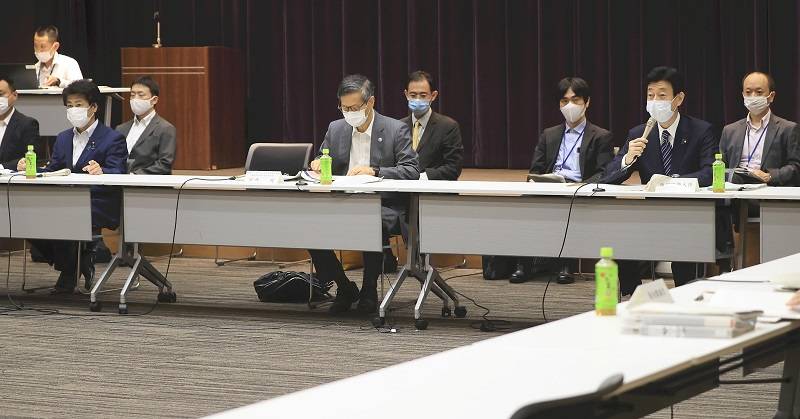 16:26 JST, September 10, 2021
Even as efforts to combat the novel coronavirus continue at full throttle, Japan's government is turning its sights from restrictions designed to block the spread of the virus toward an "exit strategy."
The government decided Thursday to extend the coronavirus state of emergency again for many prefectures, while also settling on a basic plan for easing restrictions on social and leisure activities from November. Although the government will keep a close watch on infection numbers, it intends to set about reopening the economy in a society learning to "live with coronavirus."
"We want to pave the way toward returning to normal economic and social activities such as dining out, events and travel," Prime Minister Yoshihide Suga said Thursday at a meeting of the novel coronavirus response headquarters.
Government figures released that day showed that 49.4% of people in Japan had been fully vaccinated against the coronavirus. The number of new infections in Tokyo on the day dropped below the figure for the same day the previous week for the 18th consecutive day. The government decided the state of emergency will be extended in 19 prefectures until the end of this month, and downgraded measures to less-strict priority measures in two prefectures.
"I want to lift the state of emergency in as many areas as possible while I'm still in office," Suga told his close aides.
With Suga's tenure as prime minister drawing to a close later this month, he has focused on showing an "exit strategy" that would be a foothold to rejuvenate the economy.
The protracted coronavirus pandemic has left many businesses crying out for help. "We will push ahead with social and economic activities in a society living with coronavirus," Suga said at a press conference Thursday. "What I should do is present a path toward returning to day-to-day life that is reassuring and vibrant."
Predictions that 70% of people in Japan will be fully vaccinated by the end of October, a figure approaching rates in the United States and European nations that started rolling out vaccine programs much sooner, also nudged Suga to take these steps.
The prime minister was worried that the impact of the extended state of emergency might be blunted unless he offered some brighter prospects for the future. "The government has asked the people to swallow tough restrictions for a long time," a close aide to Suga told The Yomiuri Shimbun. "It was better to provide some [brighter] prospects for the months ahead, which would help gain public support for the ongoing state of emergency."
The government will trial the easing of some restrictions as early as October, and plans to crank up this process from around November, by which time everyone eligible and willing to be vaccinated is expected to have received two jabs.
Restaurants and bars in areas under a state of emergency will be able to resume serving alcohol, provided they have taken precautions to prevent infections. The government aims to loosen restrictions on restaurant and bar operating hours, the time until which these establishments can serve alcohol, and the number of people allowed to dine together if they use a digital vaccination certificate, which could be issued by the end of this year.
Under the state of emergency, large events can have a maximum of 5,000 attendees. This upper limit also will be eased. Club and extracurricular activities at universities and elsewhere also will, in principle, get the green light.
Experts fear change 'premature'
However, the government's decision to extend the state of emergency while also showing a path toward easing restrictions baffled some observers.
"Isn't it contradictory to do that at a time when a state of emergency has been declared, and we must send a message of keeping a lid on activities?" an infectious disease expert complained at Thursday's meeting of the novel coronavirus response headquarters.
Although new coronavirus cases have recently been declining across Japan, the number of seriously ill patients remains high: As of Tuesday, it was 2,211. This is about 800 more than the 1,413 seriously ill patients recorded at the May 25 peak of the fourth wave of infections. Some experts fear the government moved prematurely in announcing an exit strategy at this time.
A draft of the government's plan to ease restrictions included wording about the "shape of daily life" the government is targeting for "around October and November," and also said that the government's Go To Travel domestic tourism promotion initiative would be restarted. However, the plan released Thursday contained no mention of "around October and November," and travel industry operators were merely offered vague assurance that "implementing measures to revive the tourism industry would be considered." These steps resulted from concerns expressed by cautious experts.
Translating the government's plan into actually easing restrictions from November and beyond also seems unlikely to be smooth sailing.