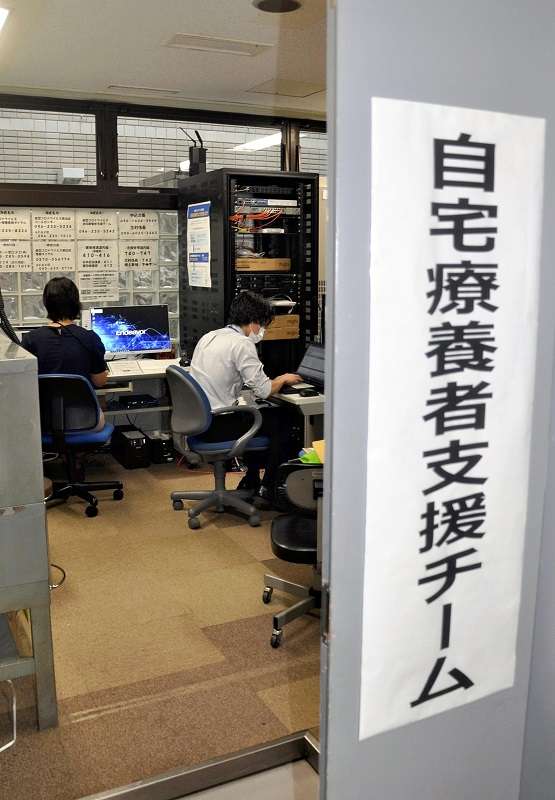 13:28 JST, September 3, 2021
Personal information held by public health centers is proving vital in providing support to coronavirus patients who have been instructed to recuperate at home.
Although many prefectural governments have been reluctant to share personal information about coronavirus patients, local authorities that have received such information have used it to offer tailor-made support and reinforce preparations for dealing with a disaster.
Members of a team supporting patients recuperating at home in Ebina, Kanagawa Prefecture, start each day with a flurry of phone calls. "How are you feeling?" a member will ask a patient recovering at home. "Do you have any problems or concerns?"
At 9:30 a.m. each day, the prefectural government sends the team an email containing the names and contact details of new coronavirus patients recuperating at home.
The center telephones the patients who requested to be contacted twice a day to check on their health, and offers other support such as buying and delivering food and daily necessities, and taking out household trash.
The Ebina city government created the team in February following an increase in the number of patients recuperating at home. However, at the time, the prefecture's public health center only offered residents advice about these services, and patients recovering at home had to contact the city government to use them.
The Ebina city government, which wanted to proactively reach out to patients at home, signed a memorandum with the Kanagawa prefectural government in April, under which the prefecture provides the city with personal details of people recovering at home.
Since then, 74 households have received support through the program. In three cases, city officials called an ambulance after noticing a patient's condition had worsened.
The support team has 30 members brought in from various sections of the Ebina city government.
"Some people recuperating at home live by themselves, and they've told us that talking with a city official makes them feel reassured," said the city official leading the team. "The public health center has a heavy workload due to the jump in coronavirus infections, so it's hugely significant that the local government can offer them support."
Utmost care is taken to protect the privacy of patients recuperating at home. When a team member visits a patient's home, they park their official car some distance from the home and change out of any clothing that bears the city logo so nearby residents will not notice that a city official has come to the neighborhood. "We carefully handle this personal information just as we would for our regular duties," the team leader said.
The Kumamoto prefectural government has shared information on coronavirus patients recuperating at home to provide support services and prevent the spread of infections at evacuation sites during a recent disaster.
In mid-August, record-breaking torrential rain pounded the city of Yatsushiro in the prefecture. Based on information supplied by the prefectural government, Yatsushiro authorities were able to confirm whether any residents seeking shelter at evacuation centers were COVID-19 patients or close contacts of positive cases. This information was crucial because such residents would need to be isolated from others at the shelter.
It turned out that none of the evacuees were patients recovering at home.
"Even so, we're grateful that we could receive information about patients recuperating at home, in the context of preventing infections from spreading at evacuation centers," an official of the Yatsushiro government's crisis management section said.
Since late August, the Karatsu city government in Saga Prefecture has taken over the daily support services for patients recovering at home that previously had been handled by the prefecture's public health center. The Karatsu government now provides services including home deliveries of water and food.
Coronavirus infections have soared in the prefecture since mid-August, stretching the public health center's operations to the breaking point. Based on advice from the central government and other reasons, the prefectural government decided that sharing information on patients recuperating at home with local authorities was not a problem.
The prefectural government asked the Karatsu authorities to cooperate in providing these services.
"The prefectural government has shouldered a growing burden since infections climbed in August," a city official said. "It's only natural that local authorities should cooperate as much as possible to protect the lives of the city's residents."
Add TheJapanNews to your Google News feed.