Tamura, Koike urge Tokyo hospitals to accept more COVID-19 patients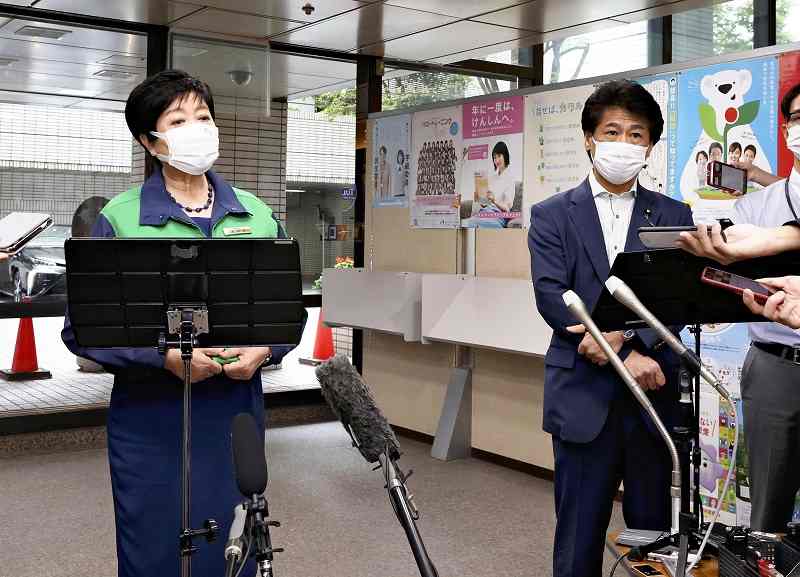 14:37 JST, August 24, 2021
Health, Labor and Welfare Minister Norihisa Tamura and Tokyo Gov. Yuriko Koike have urged all medical institutions in Tokyo to offer more cooperation to cope with the surge in novel coronavirus cases.
The minister and governor on Monday asked the about 14,000 hospitals in the capital to secure beds for COVID-19 patients and dispatch their staff to external treatment sites. It also urged them to consider postponing nonurgent admissions and operations, among other measures.
It was the first time a health minister has made such requests under the revised Infectious Diseases Law.
On Monday, a record 4,034 COVID-19 patients were receiving treatment in Tokyo hospitals. Although the Tokyo metropolitan government had said up to 6,404 hospital beds could be secured, as of Sunday, the actual number secured was 5,967 and the occupancy rate stood at 66%.
The metropolitan government plans to increase the number of hospital beds for COVID-19 patients to about 7,000.
About 400 hospitals that have been accepting COVID-19 patients were asked to secure additional beds on Monday. Other medical institutions — comprising about 250 hospitals that do not accept COVID-19 patients, 13,500 clinics, and 100 teaching institutions for doctors and nurses, including universities — were asked to cooperate by dispatching medical personnel to oxygen therapy facilities or designated hotels that are accommodating patients with mild symptoms. They were also urged to cooperate with patient consultations and the vaccination campaign.
"This is truly a disaster situation. I would like to ask [medical personnel] for further assistance," Tamura said after a meeting with Koike at the Health, Labor and Welfare Ministry on Monday.
"The central government, the metropolitan government and medical institutions will firmly cooperate and make all-out efforts," Koike said.
Kawakita General Hospital had increased the number of beds for COVID-19 patients before Monday's request. Takahiro Okai, the hospital's deputy director, said: "What a single hospital can do is limited. I would like other hospitals to follow suit."
Under the revised law on infectious diseases, if medical institutions do not comply with the government requests without valid reasons, the institutions risk having their names publicized. However, the effectiveness of the measure is in doubt.
Similar requests based on the law have been made by four prefectural governments and one municipal government since April this year.
Among them, Osaka prefectural government asked about 80 medical institutions to secure a total of 490 hospitalization beds on Aug. 13 but none of the medical institutions had met the request by the Aug. 20 deadline.
Each of the medical institutions cited such reasons as nurse shortages, which the Osaka prefectural government judged to be a valid reason, indicating that it may be difficult to publicize the names of facilities that do not comply with requests.