Pandemic nudges middle-aged, elderly singles to find better halves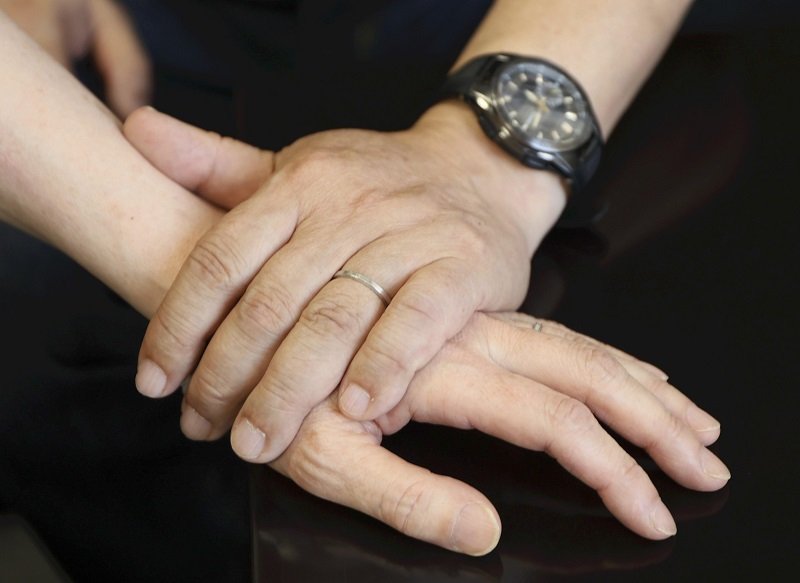 11:32 JST, August 23, 2021
FUKUOKA — "I knew she was the one in five seconds," said a 65-year-old public servant about the woman he recently married.
In Fukuoka Prefecture, the public servant and a 62-year-old woman who runs her own business met through the Fukuoka branch of the marriage agency, Nozze, in August last year. They registered their marriage in January.
The woman divorced when she was 42 and enjoyed life with her three children. After the children grew up and became independent, she started living on her own. Then the pandemic hit and deprived her of opportunities to see close friends.
"I felt very lonely when I had to be all alone during the Bon holidays" in August, she said. "I wanted to have someone with whom I can be with even during the Bon and New Year holidays."
She registered with Nozze in July of last year.
The man also divorced five years ago. He felt lonely when he came home from work to find no one in the house. Thus, he started looking for a marriage partner, also taking into consideration life after retirement. The woman was the first person he met through the agency.
He asked her for a dinner date, and they started going out.
Both of them like mountain-climbing and are fans of Sadaharu Oh, the chair of the SoftBank Hawks baseball team. They also have watched all the films from the "Otoko wa Tsuraiyo" series and could easily discuss which scenes they liked. After just a month of dating, they decided to get married and received blessings from their respective children.
Since they are old enough to have had a variety of experiences, they can respect each other's pasts. Hand in hand, they both agreed they would do their best to celebrate their Golden Wedding.
Middle-age marriage
More and more middle-aged and elderly people are getting married. According to the vital statistics survey by the Health, Labor and Welfare Ministry, 45,616 people 50 or older married in 2019, about 9,000 more than in 2000. A questionnaire given by arranged marriage service company Partner Agent to single men and women in their 50s or 60s in 2017 found 40.6% of them wanted to have a partner, either a spouse or a date, and 7.6% of them said they had tried to find a marriage partner in the past 10 years.
"We receive twice as many inquiries from people 50 or older compared to 10 years ago," said an employee of the company.
Means for finding potential partners in marriage include smartphone apps and matchmaking parties. Those who register with a marriage agency are usually required to submit a certificate of their single status issued by local governments. Agencies tend to be expensive as well. With Nozze, the annual fee for the basic course starts from ¥210,650, which covers the registration fee, the partner search system user fee and the monthly activity fee. Other courses require additional fees, such as when the agency sets up a date for the clients or when the clients marry someone through the service.
The Fukuoka branch of Nozze has seen about twice as many clients in their 50s or older getting married this year compared to an average year.
"Many of them probably had deep reflections about their lives when they stayed home," said branch manager Shinobu Matsumoto, 46.
Pandemic push
Some marriage agencies specialize in matchmaking for middle-aged and elderly people. Ange Rapport in Fukuoka City is one, providing services to women 45 or older and men 50 or older. Some clients are in their 80s.
Keiko Ishimatsu, 60, the head of the agency, says clients have changed when they feel is a good time to get married from "someday" to "right now."
"It's the pandemic, which has made them concerned about economic insecurity and what would happen if they tested positive while living on their own," Ishimatsu said.
Many middle-aged or elderly seeking love end up not getting married; instead they simply live with their newly found partner. They mostly do so to avoid problems such as inheritance complaints. In come cases, their children accept the parents having a new partner provided they not register the marriage. When such clients leave the service after finding a partner, Ishimatsu sometimes recommends they make a notarized document to leave the partner some money and ensure the bereft does not fall into financial trouble.
Under the agency rules, clients are to decide if someone found through the agency is the right person for them about three months after beginning dating so as to not waste each other's time.
"If you decide someone isn't meant for you, you must tell the person quickly and clearly. Middle-aged and elderly people should take speed seriously," Ishimatsu said.
Agency screening
There are also organizations that certify marriage agencies to give partner-seekers peace of mind. The Japan Lifedesign Counselors' Association, a nonprofit organization founded in 2007, examines marriage agencies and certifies ones legitimately operated and that properly protect clients' personal information. To these, they give certificate badges. The Institution of Matchmaking Service, a nonprofit organization founded in 2009, also examines marriage agencies and issues certificate badges, including one for online matchmaking services such as websites and smartphone apps for marriage partner-seekers.
The National Consumer Affairs Center of Japan received about 1,360 inquiries about marriage agencies from local consumer affairs centers across the country in fiscal 2020. Among the recent inquiries are ones such as that explanations a client receives when being solicited about the service are different from actual services and that a client was dissatisfied with the midterm cancellation fees.