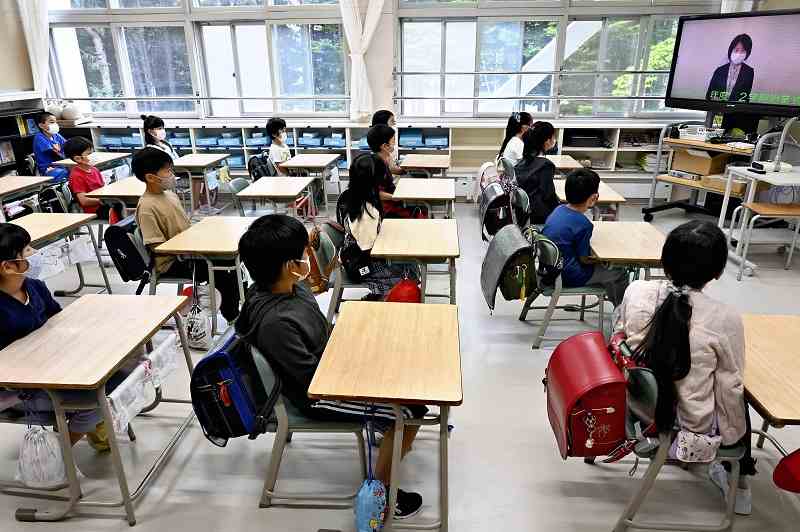 17:13 JST, August 20, 2021
After her 11-year-old daughter caught the novel coronavirus in July, a 50-year-old woman had more than her child's health to worry about.
"I was relieved that my daughter's temperature soon went down, but I was unable to go to work for almost a month," said the woman, a company employee living in Tokyo.
The girl had developed a fever, and a PCR test confirmed she had the virus. The source of infection was unclear. The girl had mild symptoms and was able to recuperate at home.
Although the woman and the rest of the family did not become infected, she could not go to her company workplace for about a month, which included the required isolation period for a close contact of a positive case.
"I was able to get by working from home, but it's possible that some people in other industries might lose their job if they were in my situation," the woman said. "My daughter is also upset because she feels she inconvenienced people around her."
Such cases are becoming more common during Japan's ongoing "fifth wave" of the coronavirus pandemic. Infections are spreading among children, who initially were thought to be less susceptible to catching the virus.
According to the Health, Labor and Welfare Ministry, 22,960 people aged under 20 across Japan were confirmed to have caught the virus in the week of Aug. 12-18, more than quadruple the 5,347 cases recorded May 13-19 during the peak of the fourth wave.
Many observers are concerned that a surge of infections at schools once they reopen after the summer holidays could stoke another wave of infections among adults and elderly people.
Infections among people under 20 accounted for about 18% — a record high proportion — of cases reported Aug. 12-18. Although no deaths were reported in that age bracket, in Tokyo two girls under 10 developed severe symptoms in July. The spread of the highly infectious delta variant, which has become the dominant virus during the fifth wave, is being blamed for these increases.
Coronavirus vaccinations for children under 12 have not yet been given government approval in Japan. Takaji Wakita, director general of the National Institute of Infectious Diseases and chair of a health ministry advisory panel, is concerned by the unfolding situation. "It's clear that children are becoming infected more easily than they were before," Wakita said. "We must keep a close eye on developments to check if children are becoming the main source of infections, like they are for influenza."
A changing situation
According to the Japan Pediatric Society, about 70% of children infected with the coronavirus caught it from their parents or other household members.
However, this situation has been changing since July, as a spate of clusters have emerged even at cram schools, school club activities, after-school care programs and other locations.
This month, the coronavirus infected 96 elementary and junior high students and four teachers at a cram school in Funabashi, Chiba Prefecture. Sixty-eight schools withdrew from the all-Japan inter-high school athletic meet, a multisport series of events that began July 24, for reasons such as infections among their club members. In addition, reports of infections spreading from children to their parents at home are becoming more frequent.
Amid all this, there are mounting fears that infections could escalate among children at schools once classes get into full swing in September after the summer break, which could then spread to their parents, other adults in the working population and elderly people. Many children display light symptoms or no symptoms, so noticing that they have caught the virus can be difficult.
"The situation is changing," said Hideo Maeda, head of the public health center in Kita Ward, Tokyo. "I urge schools to quickly and thoroughly implement measures to prevent infections, so the virus does not spread from children to other generations and to wider areas."
Support for households
With the approach of the new term, some school authorities beefed up moves to prevent the virus from spreading among children.
The Gunma prefectural government has decided to implement staggered attendance at 83 schools, including prefectural high schools, from the term's opening ceremony until Sept. 12. Each class at these schools will be split into two groups, who will attend school on alternate days. Students are expected to do online learning at home on days when they are not at school.
The Osaka prefectural government has canceled school club training camps and practice games off school grounds, and school excursions have, in principle, been postponed. On Thursday, the Sagamihara city government in Kanagawa Prefecture announced the summer vacation for municipal elementary, junior high and other schools would be extended by one week until Aug. 31. The Tokyo metropolitan government also has issued a written request to municipal schools and other schools, asking them to continue taking measures such as the suspension or cancellation of school events and activities.
The Education, Culture, Sports, Science and Technology Ministry is standing back for now. "The government is not considering asking regions to have all schools close temporarily," a ministry official said.
Providing support to households of children who have caught the virus also is becoming an issue that needs to be addressed. Many children develop only light symptoms so most can recuperate at home, where parents and other family members look after them while taking care not to become infected themselves.
In April, the labor ministry launched a scheme aimed at making it easier for such parents to take time off from work. Under this scheme, a company that expanded its paid leave system would be paid ¥50,000 per employee. However, whether this actually leads to more paid leave being taken is left up to the company.
"Strengthening coronavirus preventive measures isn't enough by itself," said Nobuhiko Okabe, head of the Kawasaki City Institute for Public Health and a member of a government coronavirus countermeasures panel. "I think it's also vital to take steps such as creating an environment in which it's easier for parents to take time off work and consult with a doctor whenever they need to. We also must pay close attention to caring for the mental health of children who caught the virus."
Spike also seen in U.S., Europe
WASHINGTON — Coronavirus infections among children is becoming an increasingly serious issue in the United States and Europe as they deal with the rapid spread of the delta variant.
In the one-week span from Aug. 5-12 alone, more than 120,000 cases among children were reported in the United States, according to data from the American Academy of Pediatrics. At least seven deaths have been confirmed.
The number of children hospitalized with COVID-19 in the United States hit a record high of 1,902 on Aug. 14, according to Reuters. Children's hospitals in Louisiana and other Southern states are under considerable strain to provide enough beds.
Alarmed by the spike, the academy has urged the U.S. Food and Drug Administration to lower the minimum age for vaccinations — currently set at 12 — as soon as possible. The Centers for Disease Control and Prevention has recommended masking for all people at schools when children return to classrooms this autumn.
European countries are also moving to expand the range of eligibility for COVID-19 vaccines. France and Belgium have lowered the minimum age to 12, while Britain is considering lowering its standard from the current minimum age of 16 to include elementary school students.
Add TheJapanNews to your Google News feed.