Education support uneven for kids with intractable diseases amid pandemic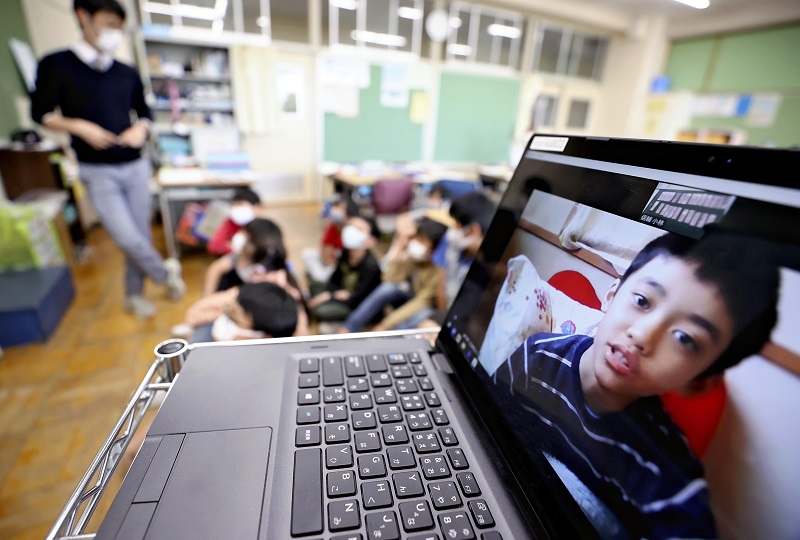 7:55 JST, August 12, 2021
As the pandemic drags on, families and educational authorities are struggling to secure learning opportunities for children who want to go to school but cannot due to serious or chronic medical conditions.
In many cases, these children are kept home from school to protect them from possible infection with the coronavirus. The government has announced a policy of using online classes, but gaps in implementation have emerged among different regions and schools.
Feeling connected
"Even when I don't feel well, I can go to school online," said 10-year-old Tomiaki Makino, a fifth grader at Kodaira No. 5 Elementary School in Kodaira, Tokyo.
Makino was hospitalized for about eight months after being diagnosed last year with aplastic anemia, an intractable blood disease. After he was released from the hospital in March 2020, his mother, Chieko, consulted with the school about using an online service.
Since June of the same year, when the nationwide closure of schools ended, Makino has combined going to school with live online classes using the Zoom video conferencing system, taking into consideration the risk of infection and his physical condition.
In the classroom, a laptop computer connected to Makino's home is usually set up so he can see the blackboard. His classmates carry the computer to classes held in other rooms.
The elementary school treats Makino's online class participation as attendance.
"Sick children tend to be lonely. It's really nice that he can feel connected to his friends and teachers," Chieko said.
Parents of children with intractable diseases have been calling for the introduction of online classes for some time, but there have been difficulties with implementation. In some ways the coronavirus disaster has helped spread the use of online classes.
The government has moved up the date for achieving the GIGA School Initiative — which aims to distribute learning terminals to all elementary and junior high school students — from fiscal 2023 to fiscal 2020.
The government also announced in March this year its plans to promote online classes for children with intractable diseases using the terminals.
Gaps in support
However, gaps have emerged in these efforts.
A mother in Iga, Mie Prefecture, has had her fourth-grade son with severe asthma take a voluntary leave of absence from school. She said the Iga City Board of Education expressed reluctance to utilize online learning, saying there is a problem with portrait rights because other children could be filmed.
She proposed having the class recorded with only the blackboard and the teacher on screen, and then receiving it later, but this was also rejected.
The board of education has admitted it had such a discussion with the mother. A board official said, "Although there is a risk the burden on teachers may increase, we want to decide on the rules for going online and implement them as soon as possible."
In recent years, more than 40,000 elementary and junior high school students have been absent from school for 30 days or more a year due to illness or injury, according to the Education, Culture, Sports, Science and Technology Ministry.
However, the ministry said because there are no available statistics, it has not been able to ascertain to what extent these children were able to use online classes amid the spread of the virus.
"Online classes can potentially supplement, to a certain extent, learning delays that students experience," said Kuniyoshi Takigawa, a professor of special needs education at Kyoto Women's University. "For children undergoing treatment at home, online classes can also serve as a window to the outside world, but they're not being used sufficiently.
"There are likely to be cases in which teachers feel burdened by such things as preparing for online classes, so it would be best if the boards of education could create a system to provide support from a professional standpoint," he said.
80%: Virus affects school life
The Children's Cancer Association of Japan, a public interest incorporated foundation with its headquarters in Tokyo, conducted a survey of pediatric cancer patients and their guardians. According to the results released in February, about 80% of the respondents said school life was affected by the spread of the coronavirus. Some said they struggled to decide whether to let their children attend school.
The association submitted six requests to the education ministry based on the survey, asking schools to use information and communication technology to provide long-term support for education and to not deem patients with a high risk of infection as being absent from school when they take voluntary leave.
Some of these requests have not been accepted, and even with those that were accepted, it is unclear whether they will continue to be implemented after the virus is contained.
"Educational support has a great impact on children's future, and we need to provide continuous support," said association president Kosuke Yamashita.
Add TheJapanNews to your Google News feed.