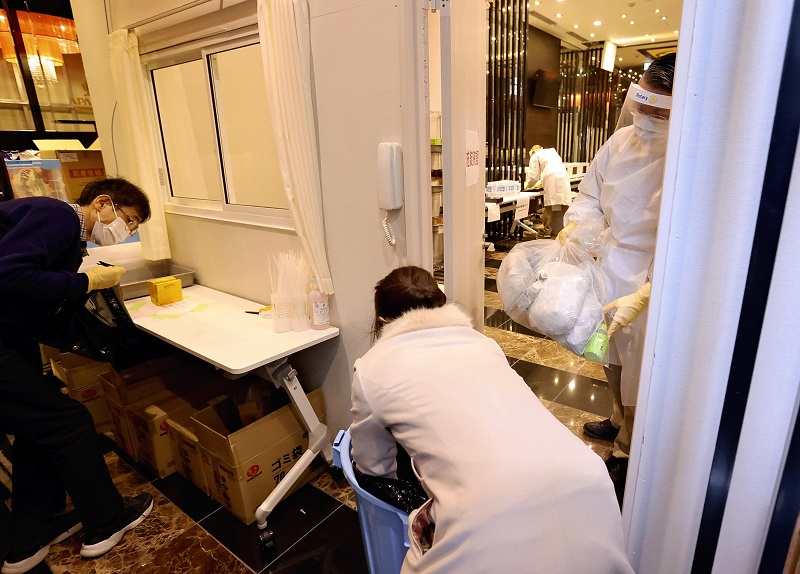 20:32 JST, August 6, 2021
The Tokyo metropolitan government wants people with moderate coronavirus symptoms to recuperate at designated hotels where their condition can be monitored, so that urgently needed hospital beds can be freed up for severe patients amid a surge in cases in the capital.
For the measure to be effective, doctors and nurses will need to be available on standby at the facilities, but securing personnel is among the many issues that must be overcome.
"Patients whose condition suddenly deteriorates worry me the most," Kaori Tsuji, head of the public health center in Setagaya Ward, Tokyo, told The Yomiuri Shimbun on Thursday. "If possible, I'd like more hotel facilities to be made available."
As of Wednesday, only 45 people were in designated hotels while 2,626 COVID patients in the ward were self-isolating at home.
Many patients who have been recuperating at home have said they would prefer to stay at a designated facility for such reasons as they live alone and are concerned about what would happen if their condition suddenly deteriorated, or they are worried about infecting elderly family members.
However, cases of patients not being accepted at designated hotels have been increasing. There have also been cases of people recuperating at home who have had breathing difficulties and needed to call an ambulance.
"People would feel more at ease staying at a facility with medical personnel on standby, so I want to get more people into those facilities," Setagaya Mayor Nobuto Hosaka said.
The head of a public health center in another Tokyo ward called for the metropolitan government to improve procedures, saying: "As things stand, people sometimes have to wait several days even if they urgently need a room. The Tokyo government should operate these designated hotels more efficiently."
The metropolitan government is responsible for securing rooms at designated hotels.
After receiving a request from a public health center, the metropolitan government arranges for a patient to stay at a facility where nurses are on standby around the clock.
According to the Tokyo metropolitan government, 5,962 rooms have been secured at 15 hotels. However, only about half, or 3,060 rooms, can be used to accommodate patients as each facility has been divided into "safe" and "dangerous" zones, and rooms must be allocated for medical personnel and storing protective equipment, among other purposes.
In reality, the figure is even lower. Only about 1,800 rooms are actually being used, as entire floors need to be cleaned and disinfected, on top of a shortage of personnel.
Cleaning and disinfection operations take place only when all patients on the same floor have vacated their rooms to mitigate the risk of infections, meaning even if one room becomes vacant, another person cannot immediately occupy it.
In addition, there has been a constant shortage of available nurses, as they are also in demand to administer vaccines and work at centers responsible for checking the condition of people self-isolating at home.
The metropolitan government announced Thursday that doctors would check on people staying at designated hotels in person and remotely.
Facilities predominantly for people 40 and above with underlying conditions will be equipped with oxygen concentrators that can be used if a patient has trouble breathing. Doctors will visit the facilities to check patients and provide treatment, such as administering oxygen if their symptoms suddenly deteriorate.
At facilities for people mainly under 40, doctors will provide medical consultations by phone or online.
The recent spike in infections has put pressure on hospitals.
The metropolitan government hopes that in-person doctor visits to hotels will mean fewer people recuperating at such facilities will develop severe symptoms.
However, finding enough personnel will be difficult, as doctors are also working on vaccination campaigns and treating coronavirus patients at medical facilities, among other responsibilities.
"We'll do what we can to get as many doctors as possible," a Tokyo government official said. "We want to get in-person visits up and running as quickly as possible and get through this latest state of emergency."
Add TheJapanNews to your Google News feed.