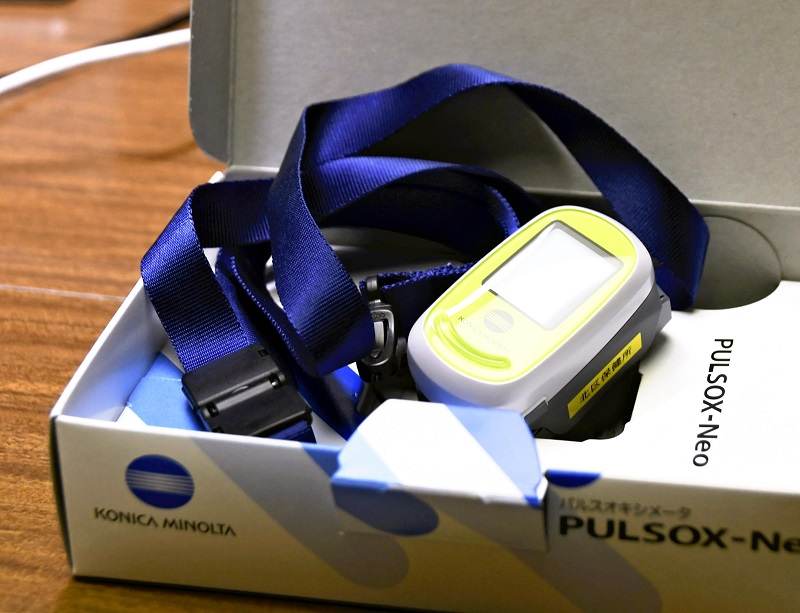 16:25 JST, August 4, 2021
Confusion is growing among local governments over a new policy spelled out by the central government that COVID-19 patients in areas where coronavirus infections have been spreading rapidly should "recuperate at home, in principle."
The new policy is aimed at preventing the hospital bed occupancy rate in such areas from becoming critically high. However, there are many cases in which a patient's condition deteriorates rapidly, and it is essential to develop a system for patients to be hospitalized if their condition takes a sudden turn for the worse.
Recognition gap
"The most frightening aspect of the coronavirus is the possibility that a patient could develop serious symptoms suddenly. There might be a lot of people who die at home," said Hideo Maeda, head of the public health center of Kita Ward, Tokyo.
The number of new infection cases in the ward totaled 213 in the week to July 23. In the week to July 30, however, the number soared to 591. The number of patients recuperating at home has jumped to 210, compared with 100 a week earlier.
The ward government checks the condition of mild home patients with twice-a-day phone calls. It also supplies them with pulse oximeters they can use to measure their own blood oxygen levels. Additionally, it tailors its responses to patients with preexisting medical problems by giving them online diagnosis and consultation, among other measures.
As the central government had previously asked COVID-19 patients to be hospitalized in principle, the ward government has asked patients with moderate or serious symptoms to be hospitalized.
But the central government has recently spelled out a policy that from now on, patients in areas where infections have been spreading rapidly and widely should stay at home, in principle, while only seriously ill patients and those at high risk of developing particularly serious symptoms should be hospitalized. Given this, there is a possibility that patients with moderate cases will become unable to be hospitalized unless they show signs of becoming seriously ill.
Maeda said that most patients with moderate symptoms would need to be given oxygen. "It is impossible [for those with moderate symptoms] to be treated at home. There is a recognition gap between people in the central government and those on the front lines of medical service."
According to the Tokyo metropolitan government, from late last year to Aug. 3, there were 11 patients who died while recuperating at home. A senior official of the metropolitan government said, "Meticulous observation of people's health is vital."
Risks of staying at home
A 52-year-old company employee of Saitama Prefecture was infected with the virus in January and stayed at home. He said, "I was uneasy as I had to evaluate my symptoms myself."
The Saitama prefectural government last December decided that patients with no preexisting diseases would stay at home, due to the difficulty it had in coordinating facilities to accept COVID-19 inpatients. The man said he was reluctant to recuperate at a designated hotel, because the medical service system in the prefecture was strained then.
His symptoms, including headaches and coughing, changed from one moment to the next, he said. He did receive a phone call from a public health center official every day, inquiring about his condition. But he said that he felt uneasy about whether he "could reach someone by phone if my condition took a sudden turn for the worse in the middle of the night."
He recalled, "I would have been grateful if there had been an arrangement to let me properly consult with a doctor even if I couldn't be hospitalized."
At home, he did not use the same toilet as other members of his family, and he took a bath only after others did. But because his wife provided him with food and washed his clothes, he was worried about infecting her, he said.
Steep rise in Tokyo cases
The number of patients recuperating at home in Tokyo and the neighboring prefectures of Saitama, Chiba and Kanagawa was increasing at a pace of 1,000 a day in the latter half of July, exceeding the threshold of 20,000 on July 30. On Aug. 2, it reached as high as 28,721.
In Tokyo, where the hospital bed occupancy rate has reached 50%, the metropolitan government decided to establish temporary hospitalization facilities for patients who are on a waiting list for full hospitalization. At Heisei Tateishi Hospital in Katsushika Ward, where the first such facility was established in mid-July, 47 patients had been accepted by Monday. The metropolitan government plans to establish five more such facilities, thus stepping up its readiness to accept patients.
In Saitama Prefecture in April last year, two COVID-19 patients who were staying at home died after their conditions suddenly worsened. A prefectural government official said: "As long as the criteria for what the central government calls seriously ill patients remain unclear, we have no idea what sort of preparations we have to make. We cannot procure the manpower or supplies anytime soon, so we hope that the central government will also support us."
Add TheJapanNews to your Google News feed.