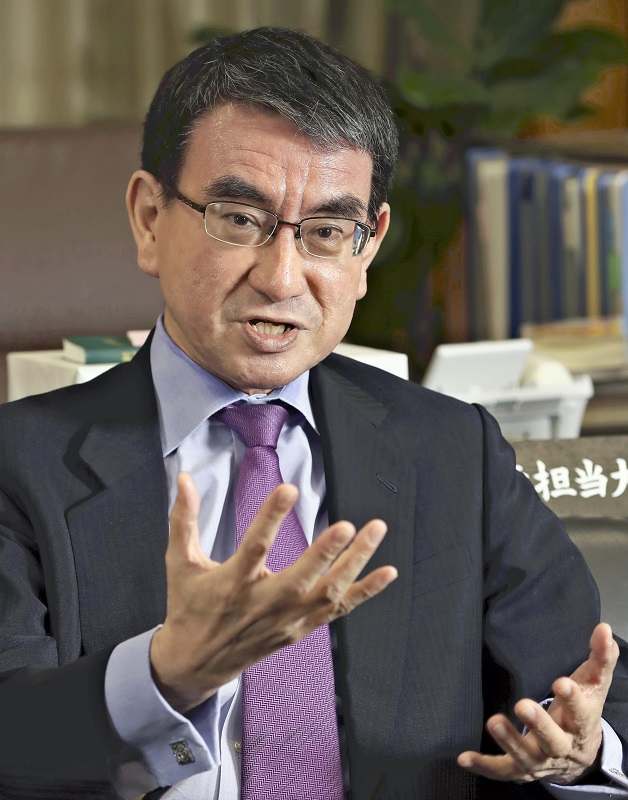 10:09 JST, July 16, 2021
Taro Kono, the minister in charge of COVID-19 vaccinations, spoke with the Yomiuri Shimbun about Japan's vaccine rollout. The following text is excerpted from the interview.
The coronavirus vaccine rollout is underway at a faster-than-expected pace. A total of more than 60 million doses of vaccine have been administered so far and nearly 30% of the country's total population (about 127 million people) have received at least one dose of vaccine.
Since late April, Prime Minister Yoshihide Suga has set goals of completing the inoculation of all elderly people wanting to be vaccinated by the end of July and giving 1 million shots a day. While I thought they would be quite tough goals, about 80% of municipalities have completed the vaccination of more than 70% of such elderly people as of now. The "1 million shots per day" goal was also achieved in early June, and more than 1.2 million doses were administered per day in mid-June. This made me realize the real power of municipalities.
As for workplace vaccinations, I asked companies to vaccinate employees of their business partners as well to prevent a situation where only employees of large companies can get vaccinated. I also requested small and medium-size companies and chambers of commerce and industry to cooperate. However, the number of applications surpassed my expectations. As a result, the daily supply capacity reached its limit, and I had no choice but to stop accepting new applications for workplace vaccinations. I must agree with criticism for the lack of foresight. I have nothing left to say except I am sorry.
When it comes to vaccinations by municipalities, we need to ask municipalities where the vaccine rollout is picking up speed rapidly to adjust the pace. From my experience as a disaster prevention minister, I've learned that the situation could change drastically in times of emergency and things don't go as planned in many cases. I would like to have close communication with respective municipalities and take flexible responses.
Looking back, when I was appointed as a minister in charge of the vaccine rollout on Jan. 18, there was a pile of issues. These issues overlapped with those that have long been faced by the country's public administration.
First, since we didn't have Japan-made vaccines, there was no choice but to rely on imports for all of the vaccines we needed. The demand for the vaccines manufactured by U.S.-firm Pfizer Inc. surged all over the world and Pfizer temporarily stopped their plants so as to increase its production capacity, making it difficult for us to foresee how many vaccines Japan would be able to import. The European Union restricted exports so as to secure enough vaccines for the region.
I asked Pfizer to send the vaccines as quickly as possible, whatever the amount, and used my connections to work on the EU. I wanted to deliver vaccines to municipalities as soon as possible, but I didn't have prospects on how many and when vaccines would arrive in Japan, which was a headache for me.
The pandemic also shed light on the delay in digitization. While 100 million people have to get vaccinated, we didn't have a system to keep daily records of the number of people receiving vaccinations.
At first, the Health, Labor and Welfare Ministry tried to manage all vaccination records from 1,741 municipalities across the nation in the form of paper. Since that requires enormous time and labor, I decided to introduce the "vaccination record system (VRS)" to manage the vaccination records in a unified manner. The system allows us to instantly grasp the status of vaccinations across the nation.
It is also necessary to review the relationships between central and local governments. Since last year, the health ministry has given municipalities detailed instructions, such as the timing of issuing vaccination coupons for residents and the vaccination booking system. Many municipalities following the instructions and preparing for vaccinations received an excessive amount of bookings, resulting in the breakdown of the system to manage reservations.
Health sections at municipalities are so accustomed to such a relationship with the health ministry that they left decisions to the central government, saying, "We want detailed notices." In response, the ministry attempted to send a notice for each individual issue. I continued to tell the ministry to leave things to the discretion of municipalities.
As for the vaccine rollout, I have been saying that there are "three mountains." Of them, two are "securing vaccine supply" and "speeding up the vaccine rollout by securing doctors and nurses who give shots," and these two have been almost cleared. Vaccine enough for two doses for those hoping to get vaccinated will arrive in Japan by the end of September. The third mountain is to increase the vaccination rate of young people.
In overseas countries, vaccinations for young people are slowing down. Young people tend to think they would have mild symptoms even though they are infected with the virus, and so they apparently feel it bothersome to get vaccinated. However, coronavirus variants have caused more severe disease in many cases. Vaccination protects not only you but also people around you from the virus. I would like to approach young people through the Internet and social media that are familiar to them.
When I became the minister in charge of vaccinations at the request of the prime minister, I declared at the Diet that I would become a delivery person in the era of Reiwa. I would like to continue to emphasize the importance of vaccination so that the people can receive shots quickly, let alone delivering vaccines to all vaccination sites in an appropriate manner.
— This interview was conducted by Yomiuri Shimbun Staff Writer Shinji Abe
Add TheJapanNews to your Google News feed.