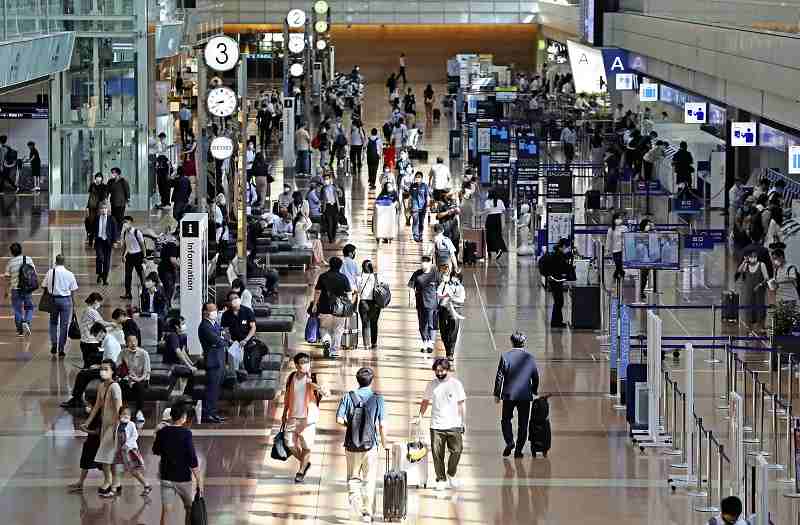 13:00 JST, July 13, 2021
A fourth state of emergency has been declared in Tokyo, but it doesn't seem to be doing much to ease the flow of people.
Many tourists and businesspeople were seen carrying suitcases at Haneda Airport early Monday morning.
A 77-year-old woman living in Tokyo said she was going to Hokkaido to hike with friends. She initially hesitated to travel from Tokyo, where the latest state of emergency had gone into effect that day. However, the woman said she ultimately decided to make the trip, partly because she had already received two shots of vaccine.
"Staying at home is also very stressful," the woman said. "I think the risk of infection is low because the tour I signed up for mainly takes place outdoors. I'll be careful."
People living in Tokyo, as well as those in other areas under emergency-level COVID-19 priority measures, are being urged to avoid non-essential travel across prefectural borders until Aug. 22, including trips to one's hometown.
However, airline reservations show that such entreaties are having only a limited effect. All Nippon Airways said its domestic flight reservations for the Aug. 6-16 Bon holiday period had increased by about 20,000 as of Sunday from Thursday, the day the government decided to declare a renewed state of emergency in Tokyo.
"The pace of bookings has not slowed at the moment. We're closely monitoring developments," an ANA official said.
Japan Airlines said demand for its domestic flights in July was expected to increase 26% from last year.
Testing at airport
The government plans to offer free PCR and antigen tests to passengers traveling from Haneda, Itami and Fukuoka airports to Hokkaido and Okinawa prefectures from around July 20. Its aim is to prevent a surge in infections like the one that occurred in Okinawa Prefecture after a jump in the number of visitors during the Golden Week holidays in April and May.
"We want passengers who have to travel to get tested, to stop the spread of infections," a Cabinet Secretariat official said.
According to International University of Health and Welfare Prof. Koji Wada, an expert on infection control measures: "Many people seem to be tired of staying home, or feel more at ease due to their perception that vaccinations are progressing. A rebound in infections is being seen in Tokyo, and the highly contagious Indian (delta) variant has become dominant."
Wada also said infections could spread to regional areas if traffic increases between these areas and Tokyo.
"What's important is not to travel during the holidays that start July 22," he said.
Add TheJapanNews to your Google News feed.