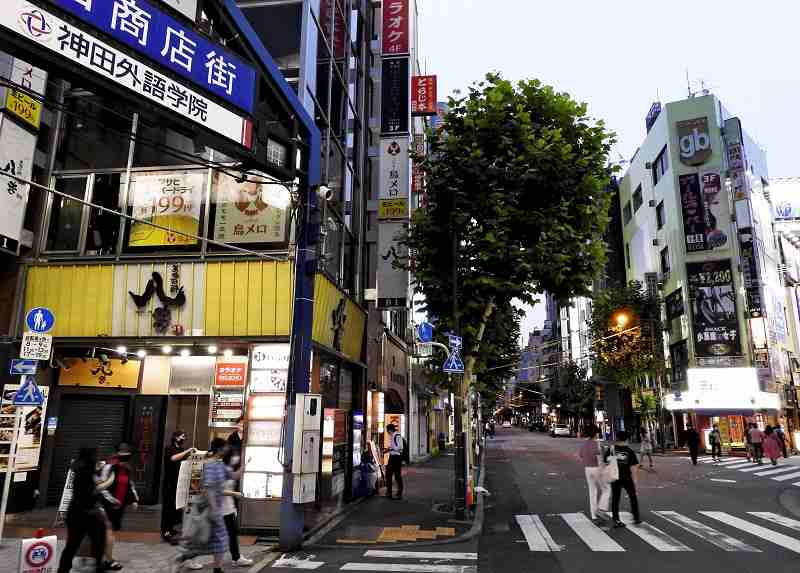 16:50 JST, July 13, 2021
Following the fourth declaration of a state of emergency in Tokyo, major companies in the food service, retail and travel industries have decided one after another to take additional measures such as closing locations and suspending the serving of alcoholic drinks.
These companies are increasingly wary of pandemic-related restrictions' impact on their business performance during what would otherwise have been a boom time amid the Tokyo Olympics and summer holidays.
Closed again 3 weeks later
A British-style pub operator, Hub Co., announced Monday that all of its pubs in Tokyo, Chiba, Saitama and Kanagawa prefectures would be closed due to the state of emergency and the extension of emergency-level priority measures.
"We expected our customers to watch [the Games] in our pubs, but there is nothing we can do about it under the circumstances," an official of the company said.
Beginning in May, almost all of its 110 locations across the country were temporarily closed due to the third state of emergency that was declared in late April. After the state of emergency ended on June 20, they gradually resumed operations, reducing the number of closed pubs to about 40. But now, just three weeks later, most of them will be closed again — including all locations in the Kanto region.
Yakitori chain operator Torikizoku Co. will temporarily close 140 of its directly operated restaurants in Tokyo and Saitama Prefecture, while 29 in Tokyo and one in Saitama Prefecture will continue to operate with shortened business hours, serving yakitori and nonalcoholic drinks.
"We can't expect big sales, but if there is even small demand, we want to get it," a Torikizoku official said.
Another chain operator, Watami Co., which will temporarily close about 100 locations nationwide, estimates the move will reduce its operating profit by about ¥400 million. This is because the company incurs costs such as rent even when it does not operate.
Cutting off alcohol
Skylark Holdings Co., an operator of restaurant chains such as Gusto, has suspended the serving of alcoholic beverages at a total of about 550 stores in Tokyo and Okinawa Prefecture, and has decided to close the stores at 8 p.m. for in-store dining.
Also in areas where the priority measures are applied, Skylark has set restrictions on the serving of alcohol and the operating hours for in-store dining in the restaurants in accordance with requests from local governments.
Major department stores continue to operate all their stores, but have stopped serving alcohol in their restaurants.
A beer garden on the rooftop of Matsuya Ginza department store in Chuo Ward, Tokyo, will continue to operate — but without serving alcohol. In addition to a barbecue meal plan without alcohol, they plan to add hamburgers and shaved ice to the menu later this month.
Koshidaka Holdings Co., which operates the Karaoke Manekineko chain, also suspended the operations of about 90 Tokyo locations. "It's a shame, because we were excited to be able to resume our business," an official of the company said. "We'll do our best to think of it as the last state of emergency."
Tours halted
The tourism industry is also struggling. The nation's largest travel agency, JTB Corp., has decided to suspend trips accompanied by tour guides to and from Tokyo or Okinawa during the state of emergency period.
Another agency, H.I.S. Co., was also forced to cancel its bus tours to and from Tokyo, which had just resumed in late June.
There is no prospect of when the government's Go To Travel tourism promotion program will resume.
"Without [the government's] financial support, we will not be able to hold on any longer," Jungo Kikuma, vice chairperson of the Japan Association of Travel Agents, said.
Railroad companies, including East Japan Railway Co. and major private railways, were planning to run extra trains during the late night hours during the Olympics, but most of them were canceled.
The purpose of the extra trains was to carry spectators for competitions held at night, and ease the congestion related to the Games, but since many of the competitions are now to be held without spectators, the initial plans were changed.
Add TheJapanNews to your Google News feed.