Japan's central government, local authorities clash over supply of COVID-19 vaccines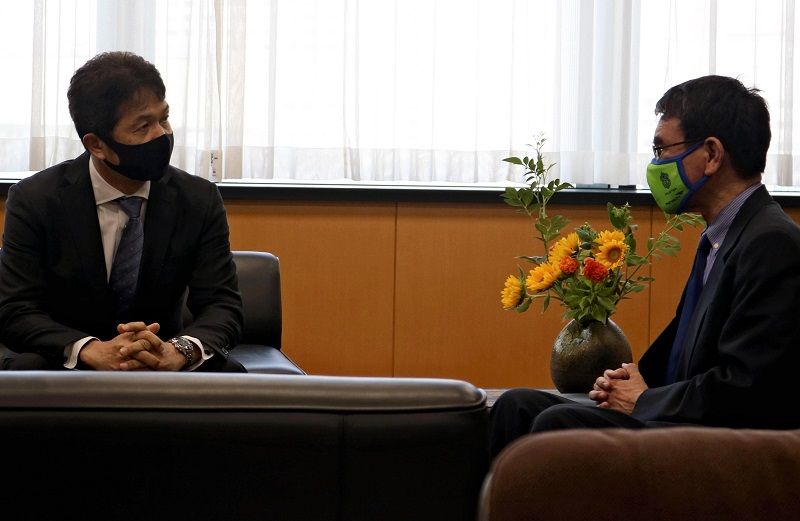 17:29 JST, July 13, 2021
Faced with a bottleneck in the supply of COVID-19 vaccines, which are vital in the fight against the novel coronavirus, the government has said that local governments and workplaces administered inoculations at a faster pace than it expected. However, others have argued that the overall supply was insufficient.
Angry voices
On Monday, administrative and regulatory reform minister Taro Kono, who is in charge of the nation's vaccine distribution, frankly admitted the government's failings to Ibaraki Gov. Kazuhiko Oigawa, who had come to Tokyo to file a petition requesting a reliable supply of vaccine.
"We didn't expect the vaccinations to proceed so fast across the country, which made it difficult to supply doses in time," Kono said.
Believing that vaccinations would be the key to fighting COVID-19, Prime Minister Yoshihide Suga pledged to vaccinate 1 million people per day around the country and to have vaccinations completed by the end of July for all elderly people. Suga also set a target of completing vaccinations for everyone who wants them by October or November.
The government made various efforts to promote vaccinations, such as conducting a nationwide survey on the progress made by local governments and raising the compensation for doctors and other medical personnel who administer vaccines.
As a result, the number of venues for so-called individual vaccinations — in which doses are administered at local clinics — increased from about 20,000 locations as of May to more than 50,000. A senior official of the Health, Labor and Welfare Ministry said the pace of vaccinations nationwide has reached "about 2 million shots per day at maximum."
However, according to Kono, the government can only provide a maximum of about 1.2 million doses a day based on the contracts it has concluded.
A senior Cabinet Secretariat official said, "The government pushed hard [for widespread vaccinations], fearing there would be a shortage of medical personnel to administer them. However, that was so effective, vaccines ran out."
The supply of vaccine in the second half of this month is expected to be only about one-third of the amount requested by local governments, prompting angry responses from munici-palities.
"We stepped on the gas with vaccinations, like the government told us to do, and fell into a hole," an official of the Saitama prefectural government said.
40 million doses in stock
The government believes municipalities have about 40 million doses of the vaccine manufactured by U.S. firm Pfizer Inc. in stock. Fearing regional disparities, the government distributed doses according to population. The slower a municipality is in conducting inoculations, the more surplus vaccine it is believed to possess.
Reflecting on these lessons, the government plans to establish a framework from August to adjust the distribution of vaccines according to the speed of vaccination by local governments. Prefectural authorities will be in charge of allocating doses among municipalities. The new system will be introduced despite strong opposition from local governments, which have said it will encourage competition to secure vaccines.
The widespread move among municipalities to secure two doses of vaccine per resident eligible for inoculation is another factor swelling their stock. Their actions are prompted by concern about the government's vaccine supply plan.
Municipalities are apparently worried that they may be held responsible if they don't secure vaccine for second doses after giving residents their first dose.
Complicated data entry
It is also believed that some vaccine listed as still being held in stock has actually been used for inoculations. This is because movement has been slow to reflect the data in the Vaccination Record System (VRS), which was introduced by the government to monitor the vaccination situation of each municipality.
The VRS is unpopular among personnel working at inoculation sites because it operates only between 7 a.m. and 11 p.m., and the data entry procedures are complicated.
"It's hard for doctors and other medical personnel to input data in the system after they've seen all their patients. Ideally, they should be able to enter data during their office hours, but that would be counterproductive if it leads to fewer people getting shots," said an official involved with inoculation efforts in Chiba City.
In particular, family doctors tend to be understaffed and therefore slow to enter data. The government has secured a wide range of medical personnel to administer vaccines, in a bid to increase the pace nationwide, but this has now backfired in some respects.
Add TheJapanNews to your Google News feed.