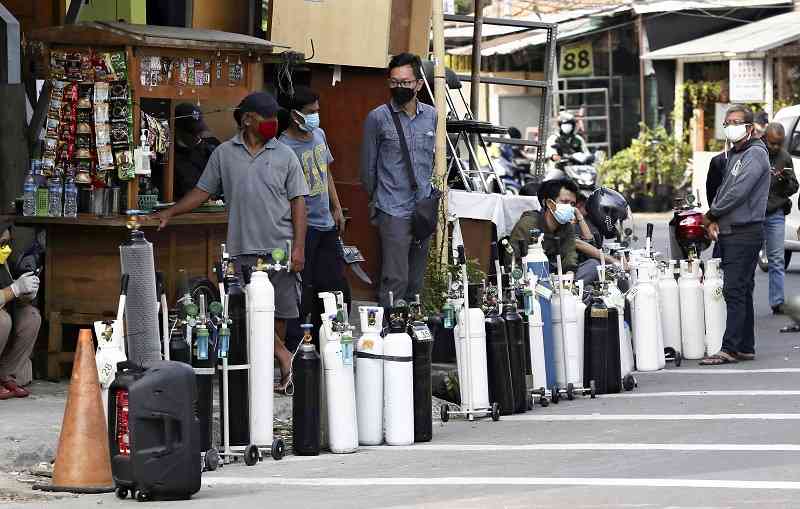 16:20 JST, July 10, 2021
BANGKOK/JAKARTA — Coronavirus infections have surged in Southeast Asia, where the COVID-19 death toll also includes Japanese nationals.
The vaccination rollout has been slow in the region, partly because of early successes in the fight against the pandemic. New restrictions have been introduced in some Southeast Asian countries, but it is not clear whether they will have an impact on the spread of infections.
On Friday, the Thai government announced a de facto lockdown for 14 days from Monday in major cities, including Bangkok.
On the same day, the country logged 9,276 new coronavirus cases, a three-fold increase compared with daily tallies reported in April and May.
The high prevalence of the delta coronavirus variant first detected in India is thought to be the main reason for the surge in infections.
About 12% of the population has received at least one dose of a COVID-19 vaccine.
A ban on consuming meals inside restaurants has not proved effective and infection clusters have been reported in several Bangkok districts.
Local medical institutions have been too busy dealing with patients to conduct PCR tests. Many people queued outdoors overnight from Thursday to early Friday to get tested.
"A cluster occurred where I live, but I can't get an appointment to find out if I'm infected," said a 27-year-old restaurant worker. "I'm very worried because there are no vaccinations available."
In Indonesia, which has recorded the highest number of cases in Southeast Asia, authorities have tightened measures, including a ban on people working in offices.
The country logged 38,391 new cases on Thursday, with no signs of an improvement in sight. Only about 10% of the population has received at least one COVID-19 shot.
Medical services in Indonesia are on the verge of collapse. Australia and Singapore have offered assistance, providing such devices as ventilators, and the United States has offered vaccines free of charge.
In Indonesia, the number of Japanese nationals who had died with COVID-19 as of Friday totaled 12, seven of whom died after late June when infections surged.
In Thailand, a Japanese man in his 70s died with COVID-19 on Wednesday.
Myanmar media on Thursday reported at least 207 deaths linked to COVID-19 over six days in the town of Kalay in northwestern Myanmar.
However, according to the Myanmar military, which recently seized power in a coup, there have only been six deaths linked to the pandemic in the country.
Without the cooperation of medical workers, the military junta will not likely be able to grasp the extent of the situation.
Add TheJapanNews to your Google News feed.