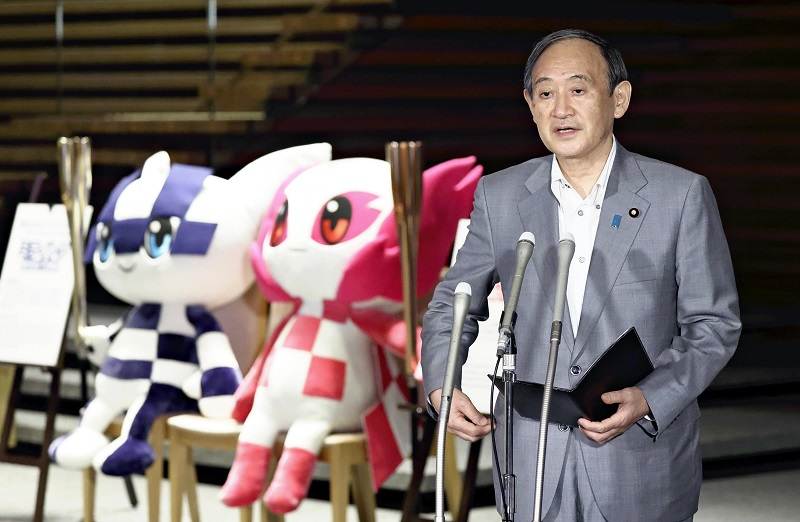 15:25 JST, July 8, 2021
A rapid spike in novel coronavirus cases in the Tokyo metropolitan area has forced the government to hastily draw up plans for a fourth state of emergency for the capital — a decision that could have major implications for upcoming Tokyo Olympics and Paralympics.
Emergency-level priority measures intended to combat the virus are due to end on July 11. However, the recent surge in infections has prompted a government plan to combine a state of emergency for Tokyo until Aug. 22 with extensions of the priority measures for Osaka Prefecture and the capital's neighboring prefectures of Chiba, Kanagawa and Saitama and the emergency in Okinawa Prefecture to the same date.
The government hopes this plan will blunt any further increase in infection cases and enable the Summer Olympics to go ahead, with the opening ceremony scheduled for July 23.
"We will take appropriate measures to deal with this situation," Prime Minister Yoshihide Suga said to reporters after a meeting with Cabinet ministers in charge of dealing with the coronavirus Wednesday evening.
Before this meeting at the Prime Minister's Office, the government had been poised to extend the emergency-level priority measures, which carry fewer restrictions on activities, for Tokyo and the above three neighboring prefectures.
However, infection numbers have rebounded in Tokyo since late June. Cases also have been increasing in Tokyo's neighboring prefectures.
"Infections in and around the capital account for two-thirds of all cases in Japan," Health, Labor and Welfare Minister Norihisa Tamura said.
Even so, the medical system still had available capacity, so the government believed sticking to the emergency-level priority measures would be sufficient for dealing with the rising infections. In early July, Suga told his close aides, "At the very least, we'll need to extend priority measures for the Tokyo area."
This situation was turned on its head Wednesday, when Tokyo reported 920 new infection cases. Some models suggested that simply extending the emergency-level priority measures would result in the worst-case scenario of new infections peaking during the Tokyo Games. The 920 cases, the highest since May 13, disrupted that evening's meeting between Suga and his ministers, which ended up lasting an hour.
"Everyone was stunned by the number," one attendee said after the meeting. This attendee also indicated that the latest surge in infections led to a last-minute change in the government's plans.
The length of any possible extension also had been the subject of considerable attention. Based on the previous states of emergency and implementation of emergency-level priority measures since the pandemic began in early 2020, the government initially anticipated an extension of up to one month would suffice. But during Wednesday's meeting, the attendees eventually settled on a six-week extension that would run until Aug. 22.
This unusually long extension would cover the duration of the Olympics, which will end on Aug. 8, and the Bon Festival period during the school summer holidays, when many people in Japan travel or return to their hometowns.
Backlash inevitable
Declaring another state of emergency could be considered proof that the government's measures to tackle the pandemic are running out of steam.
Infections in the Tokyo area have climbed even while the emergency-level priority measures were in place. Since June 21, when Tokyo and several other prefectures moved from a state of emergency to these measures, bars and restaurants have been permitted to serve alcohol until 7 p.m., but many establishments in entertainment districts have kept the drinks flowing even later than that.
At a Tuesday meeting, Cabinet ministers dealing with coronavirus-related issues seemed at a loss over this situation.
"Why don't bars and restaurants listen to what we say?" asked one, while another said, "How can we make them listen to us?"
If the state of emergency is issued, bars and restaurants in Tokyo likely will suspend the serving of alcoholic beverages from Monday. Rules regarding the serving of alcohol also will be strengthened in areas covered by the emergency-level priority measures. A backlash from bars and restaurants is inevitable, so determining how to make these businesses comply with the rules will be a crucial task for governors of the target prefectures.
Spectator politics
Declaring a state of emergency would increase the likelihood that the opening and closing ceremonies and competitions at some venues in Tokyo will be held without spectators. Evening sessions and other events in areas under the emergency-level priority measures also will likely have to go ahead in front of empty stands.
Plans to allow spectators at the Games are facing mounting criticism. Even some members of the ruling coalition have openly called for barring spectators.
Natsuo Yamaguchi, head of the junior coalition member Komeito, said any increase in infections as a result of holding the Games with spectators in attendance is unacceptable.
The dilemma over what to do regarding spectators has developed into a political issue: concerns that allowing fans into competition venues could lead to more infections was thought to be one factor behind the Liberal Democratic Party's disappointing result in Sunday's Tokyo Metropolitan Assembly election.
Add TheJapanNews to your Google News feed.