Priority measures mean de facto state of emergency extension in Japan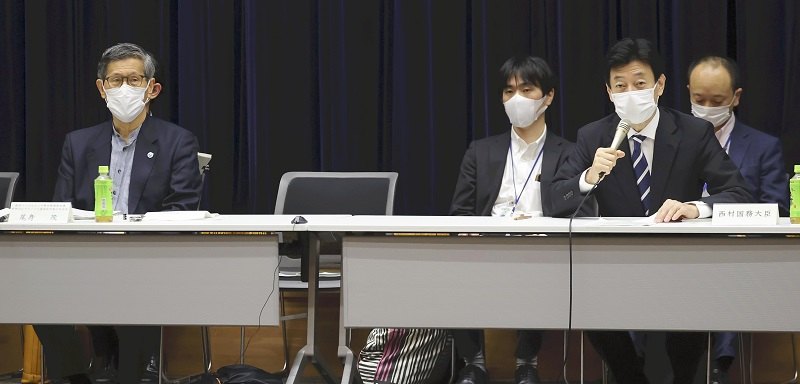 17:15 JST, June 17, 2021
With the Tokyo Games approaching in about a month, the government seems to steadily be paving its way toward holding the event, ending the state of emergency in target cities as scheduled and moving to the implementation of emergency-level priority measures. These priority measures are just as strict as those currently in place and can be seen as a de facto extension of the state of emergency for residents in the areas concerned.
Raising capacity
"We've gotten the green light for our policy on COVID-19 control at future events, including sports competitions," Yasutoshi Nishimura, the minister in charge of economic revitalization and novel coronavirus measures, said Wednesday after participating in a meeting of the government's COVID-19 task force with relevant experts.
With the task force's approval, the government will gradually ease attendance limits for large-scale events in areas where there is no state of emergency or priority measures in place.
Venue capacity will be raised from 5,000 people or fewer to 10,000 for about a month after measures end. This rule is expected to be applied to the attendance limits at the Tokyo Olympics and Paralympics as well.
Under the third state of emergency currently applied to 10 prefectures, such measures as closure requests for restaurants and bars that predominantly serve alcohol have helped keep the number of new daily confirmed infections at around 1,000 nationwide. The situation prompted Prime Minister Yoshihide Suga to tell those around him in early June that the situation in Tokyo was "no longer an emergency."
Little change
When the current state of emergency ends, many people's lives may still be far from normal, especially for residents in metropolitan areas.
During the priority measures that will be applied in Tokyo, Osaka and other prefectures, authorities can still request restaurants to shorten their business hours, imposing penalties if necessary. Venue capacity also is unchanged at 5,000 people or less. From this perspective, the state of emergency will effectively be extended.
In late February right after the central government lifted the second state of emergency for Osaka, a surge in coronavirus infections occurred. With this in mind and due to the fact that the flow of people has begun increasing not just in Tokyo, a senior Cabinet Secretariat official said with concern, "The number of newly infected people may start to increase next week."
The Tokyo metropolitan assembly election, campaigning for wich is to be launched on June 25 is expected to fuel this trend. There was a strong fear that doing nothing but having the state of emergency end would lead to a surge in infections.
At the recent Group of Seven summit that Suga attended, the leaders pledged support for holding the Tokyo Olympics and Paralympics. The government must implement priority measures in order to hold the Games in an undisturbed environment.
Vaccination progress
The progress in vaccinations is also working to the prime minister's advantage ahead of the Olympics. Suga's pledge to have vaccinations completed by the end of July for all elderly people who wish to be inoculated is expected to be achieved. His other target of "1 million vaccinations a day" is within reach, too.
"If vaccinations are given to elderly people, the number of people who become seriously ill will decrease, and the shortage of hospital beds will also be eased," Suga said to people around him. "If elderly people don't get infected, the situation won't be that scary."
Add TheJapanNews to your Google News feed.