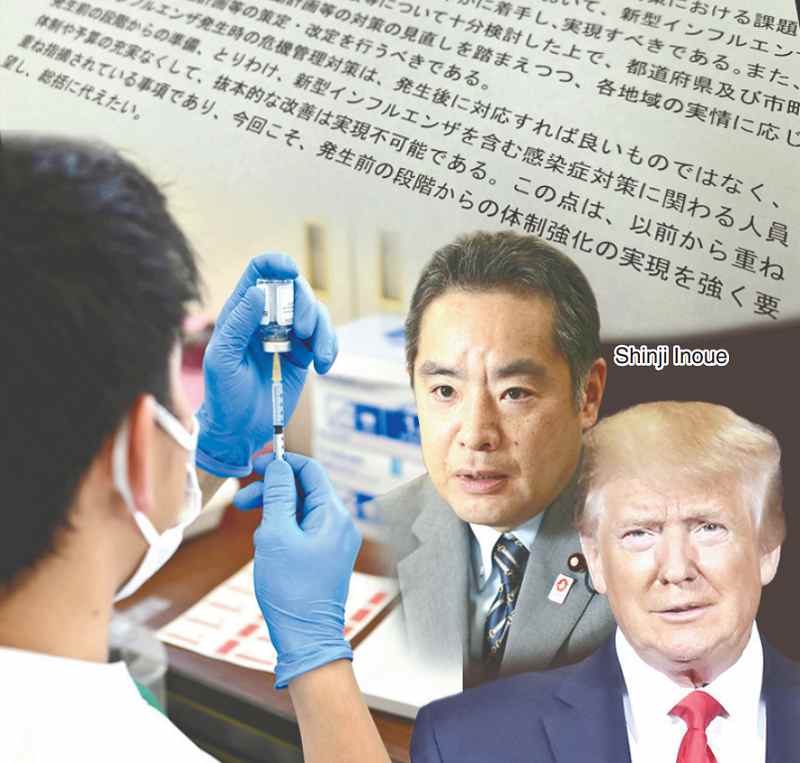 19:49 JST, June 6, 2021
The government's Headquarters for Healthcare Policy has put together a council to discuss pharmaceutical product development that includes representatives from the three concerned fields of government, industry and academia — that is, bureaucrats, pharmaceutical officials and university researchers.
Responding to the spread of coronavirus infections, the council started discussing from this spring measures to promote the practical use of vaccines.
On April 16 in Tokyo's Kasumigaseki district, the council met in a conference room where acrylic dividers were set up on long desks as a preventative measure.
Prof. Ken Ishii, an expert in vaccine science at the Institute of Medical Science of the University of Tokyo, was invited to attend to offer his professional opinion. "Japan has been lapped in vaccine development," Ishii said. He then asked the group, "How will you use in the future what has been learned, after repeating the same debate every 10 years?"
In response to Ishii's question, the bureaucrats from the Health, Labor and Welfare Ministry and others could only lower their eyes and say nothing.
In recent years, the government has repeatedly received proposals for the domestic development of vaccines. In June 2010, an advisory panel on measures against a new influenza strain, working from a viewpoint of national security, urged that assistance be provided to vaccine makers, promoting development and enhancing production capabilities.
The panel's report concluded: "Without taking the steps to be prepared before [a virus] emerges, particularly allocating human resources and funding, fundamental improvement is impossible. At this time, we strongly urge enhancement of the system."
Such recommendations have not been seriously considered until now.
Looking at the development of vaccines for the novel coronavirus, Japan trailed far behind the United States, Britain, China, Russia and other countries.
Pharmaceutical companies such as Shionogi & Co. and Daiichi Sankyo Co. have been working to develop vaccines, but there is no sign they will have them ready for the market by the end of the year. Insiders whisper about Japan's "vaccine war defeat."
Until the 1980s, Japan was among the world leaders in vaccine development, and was at the forefront in battling such diseases as chicken pox and whooping cough. But when problems of side effects began overshadowing beneficial effects, the situation changed.
In 1992, the government's responsibility to pay compensation became a point of contention in a lawsuit over the side effects of immunizations, and two years later, a revision to the Immunization Law changed the public's duty when it came to vaccinations from "an obligation" to "an obligation to make an effort." It went from government initiative to individual choice, and vaccination rates have been on the decline ever since.
Both the government and pharmaceutical companies became reluctant to develop vaccines, and the foundation for research and development was weakened.
Vaccine development is no easy task. Clinical trials to confirm efficacy and safety need to be conducted over three stages. The biggest hurdle is the third and final stage, when testing on an immense scale is necessary.
In Japan, pharmaceutical companies are required by a law to conduct large-scale domestic clinical trials even on generic medicines, making it common for ordinary drugs to take three to seven years to complete the procedures.
Ruling parties and the health ministry in the past were backward-looking regarding vaccine development, excessively emphasizing the Japanese people's tendency to be skittish about being vaccinated. "Even if we come up with a domestically developed vaccine, it is difficult for Japan to approve it before other countries," said an official, while others contended, "We can see if it's safe after it's used overseas."
The inaction by politicians and bureaucrats has been exposed.
At the present time, the ruling parties are making proposals on domestic development of vaccines one after another to the government. On May 18, the Liberal Democratic Party's Policy Research Council Chairman Hakubun Shimomura and others called for the examination of a new approach to pharmaceutical approval that differed from normal times. Komeito urged on April 28 that the final phase of clinical trials be conducted under the government's initiative.
But there are a few voices of regret about the failure to make use of past recommendations.
In the United States, a coronavirus vaccine was put into practical use in only one year in a process that usually takes several years.
In December last year at the White House, then U.S. President Donald Trump boasted of the program labeled "Operation Warp Speed" that greatly cut the development time for the coronavirus vaccine, saying it would defeat the virus and save millions of lives.
The U.S. Defense Department and other government agencies have continued to fund private companies working on medical developments even in peacetime, on the assumption that bio-terrorism and other threats are always looming.
In the case of the coronavirus vaccine, the U.S. government spent $18 billion to support development, according to U.S. media reports, and pharmaceutical companies were allowed to manufacture doses while conducting the final-phase clinical trials so that supplies would be ready immediately after approval.
The U.S. government also implemented a system known as Emergency Use Authorization (EUA), which allows for the use of unapproved medicines and vaccines in times of emergency. Under the system, ordinary procedures can be skipped when it is judged that the benefits outweigh the risks.
On May 25, the council on pharmaceutical development compiled a proposal for domestic development of vaccines, which included improving research and development bases and a more efficient distribution of funding.
When Shinji Inoue, minister of state for science and technology policy, received the proposal, he emphatically said, "I'm determined to put this into practice under the belief that if we miss this chance, there will never be another one."
The University of Tokyo's Ishii urged the government to regard vaccine development as a matter of crisis management, and said it needs to seriously take up the issue once and for all.
"Japanese technology is not inferior," Ishii said. "From a viewpoint of security, it is necessary to assist industry during normal times and respond swiftly during emergencies."
It is now a question of whether politicians and bureaucrats are actually aware that the pandemic rates as an emergency.
Add TheJapanNews to your Google News feed.