Japan Medical Association frowns on dentists' involvement in vaccinations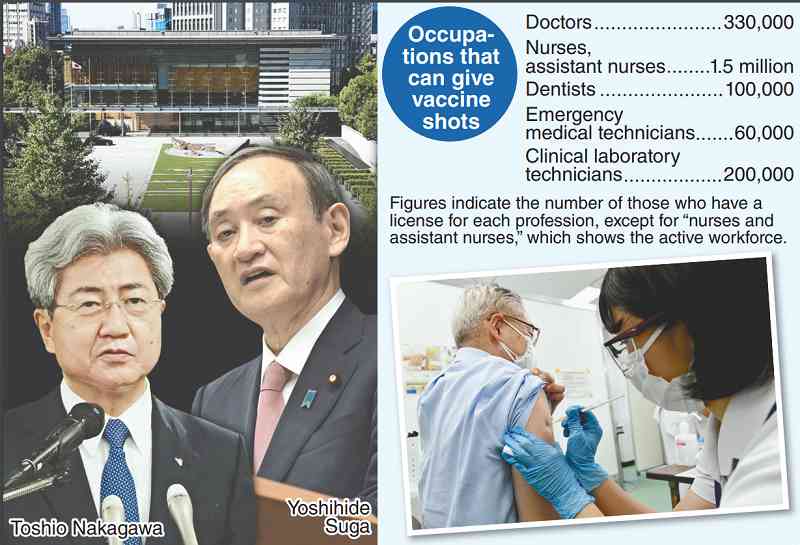 10:35 JST, June 4, 2021
This is the fourth installment of the series, "The Politics Behind Vaccination Program," examining behind-the-scenes political moves concerning COVID-19 vaccines.
There was nothing eyebrow-raising in what Prime Minister Yoshihide Suga said right after visiting a mass vaccination center on May 24 in Tokyo's Otemachi district, where COVID-19 vaccinations had just started. "We want to meet local governments' requests to secure people who can give vaccine shots."
Then he blurted out something unexpected.
During a question-and-answer session with reporters, one of the prime minister's secretaries was startled when hearing an excited-looking Suga say that "paramedics" will be a new part of the cadre administering vaccine shots in Japan. This was not included in the manuscript of Suga's speech prepared in advance.
Suga dared to say this before the official announcement, and the move apparently was "the result of his commitment to do everything he can," according to Suga's secretary.
The following day, Chief Cabinet Secretary Katsunobu Kato announced a plan to add emergency medical technicians and clinical laboratory technicians to the list of those allowed to administer vaccine injections.
Along with the procurement of vaccines, Suga had been concerned about the lack of people qualified to administer the injections. With the coronavirus crisis putting so much pressure on medical front, practitioners have said it's essentially impossible to handle vaccinations and routine medical care at the same time.
The current law stipulates that vaccine injections can be administered only by doctors or nurses under the direction of doctors. Even so, dentists and paramedics routinely give injections.
In Britain, a legal revision there has made it possible for paramedics, physical therapists and pharmacists to give vaccine shots.
Having speculated how far such exceptions can be applied in safety-minded Japan, Suga considered using dentists to achieve a breakthrough. Under the current law in Japan, dentists can give injections only within the scope of dental treatment, even though during oral surgeries, they can give intramuscular injections.
Liberal Democratic Party member Dai Shimamura, a dentist who represents the Kanagawa Prefecture constituency in the House of Councillors, has been working behind the scenes on the issue since last year.
Shimamura is a representative of a group of factionless upper house members who support Suga, who was elected to the lower house from a constituency that is also in Kanagawa Prefecture.
However, the Japan Medical Association (JMA), which has about 170,000 members including medical practitioners, stood in the way.
In around December, an LDP lawmaker who spoke with Shimamura asked JMA President Toshio Nakagawa about the deployment of dentists, but Nakagawa's response was not favorable, saying: "Wait a minute. We have to think it over first."
The JMA maintains the stance that it can handle vaccinations without dentists' cooperation, and the association "didn't like dentists to nip at its heels," a senior government official said.
There are about 1.5 million nurses and assistant nurses, while there are about 100,000 dentists. The Health, Labor and Welfare Ministry, which takes the JMA's opinions seriously, shot a cool look at the use of dentists, with a senior ministry official saying, "Is that what front-line municipalities really want?"
Suga ignored the JMA's opposition. In April last year, Suga forced the reluctant health ministry and the JMA to allow dentists to give nose and throat swabs as a step to increase the number of PCR tests.
This time, Suga himself was an instigator.
"At a time of PCR testing, 3,000 dentists raised their hands for cooperation," Suga said on a TV program aired on April 1, referring to his idea of allowing dentists to get involved in vaccinations. "We'll consider various aspects while monitoring the vaccination situation."
Suga put the brakes on opposition from the JMA by making an in-depth remark of utilizing dentists before making such coordination between the ministry and entities involved.
"The JMA doesn't like the involvement of dentists. It was even so at the time of PCR testing, but that's not acceptable," Suga told those around him.
The health ministry was reluctant at first, but approved the deployment of dentists in late April as a special exception.
Suga states flatly that he would take initiatives to accelerate the vaccinations. Suga, whose basic Cabinet philosophy is to depart from bureaucratic sectionalism and precedents, told his circle, "The JMA is a symbol of vested interests."
On April 30, after returning from his visit to the United States, Suga summoned Nakagawa to the Prime Minister's Office.
"The biggest challenge is securing a vaccination system. I am asking medical professionals for further cooperation," Suga told Nakagawa, while also promising to raise the remuneration for doctors who engage in vaccinations.
With Suga laying the groundwork, Nakagawa had no choice but to show his willingness to cooperate, saying, "As the prime minister has said, we will aim to complete vaccinations of the elderly by the end of July."
Even so, few people believe the medical association has promised full cooperation with Suga.
The JMA and local medical associations are "separate organizations each with a boss and not following a top-down system," according to a senior health ministry official.
Under this circumstance, it is uncertain whether the idea can be shared. The secret battle between Suga and the medical associations is likely to continue.
Add TheJapanNews to your Google News feed.