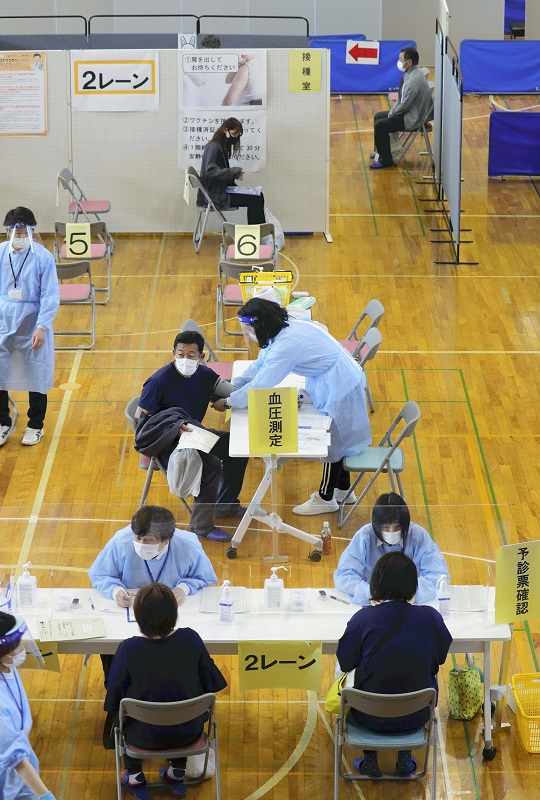 13:11 JST, June 2, 2021
A survey of 69 municipalities by The Yomiuri Shimbun found that 60% of them have yet to decide when to send out vouchers for vaccinations against COVID-19 to residents aged 64 and younger.
The government has requested that the vouchers be sent out from mid-June. But even among municipalities that have decided when to send the vouchers, some said they cannot mail them until July or later, which may affect the vaccination schedule in the future.
The COVID-19 vaccination programs in Japan started in February. Currently, vaccinations for those aged 65 and older are underway nationwide. Before the completion of vaccinations for the elderly, scheduled by the end of July, the government is asking municipalities that are ready to do so to expand vaccination eligibility to people 64 and younger.
The Yomiuri Shimbun asked 69 municipalities — Tokyo's 23 wards plus the capitals of the other 46 prefectures — about their vaccination schedules. A total of 42 municipalities, including Shinagawa and Suginami wards in Tokyo and the cities of Yokohama and Saitama, have not decided when to send out vaccination vouchers to residents 64 and younger. As a reason for the date being undecided, many municipalities, including Niigata, Kanazawa and Yamaguchi, said that they are in the middle of inoculating the elderly and have not yet come to the point to consider issues after that.
There are also many municipalities that have not yet decided to whom they should send vouchers first.
Among people 64 and younger, those with underlying medical conditions, those who work in elderly care facilities and those aged 60-64 are given the highest priority for vaccination, but local governments do not have information on the health status of their residents. "We are not sure how to design a system to ascertain whether or not they have underlying medical conditions," an official of the Mito city government said.
Of the 27 municipalities that have decided when they will start sending out the vouchers, 21 municipalities, including Kobe and the Tokyo wards of Shinjuku and Itabashi, responded that they will start sending them in June, and four municipalities, including Shibuya Ward and Toyama, responded they will send them in July. Tokyo's Sumida and Adachi wards have already started sending the vouchers.
Some municipalities have also decided on the date to start vaccinations: Nakano Ward will start on June 15, Sumida Ward on June 21, and Itabashi Ward on July 5. Kobe will start vaccinations as soon as their residents receive vaccination vouchers, which will be sent out from June 11.
Add TheJapanNews to your Google News feed.