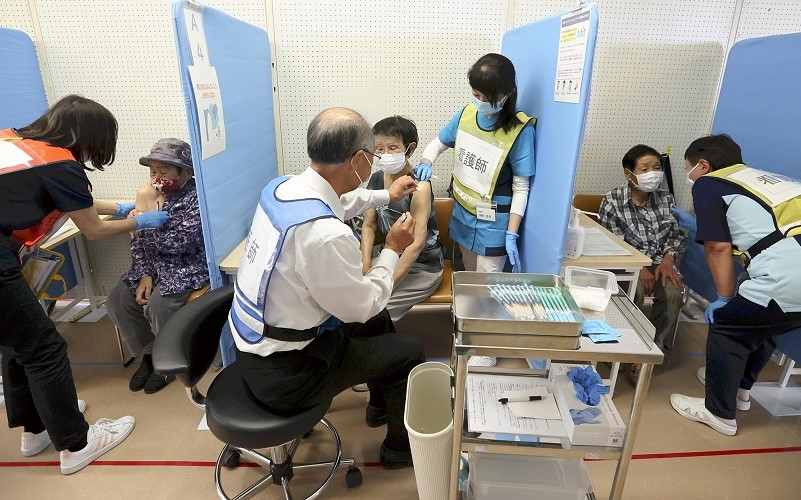 15:26 JST, May 23, 2021
Nearly 30% of cities setting up special venues to vaccinate the elderly face a shortage of doctors or are still in the process of assessing the numbers needed.
The Yomiuri Shimbun asked 74 municipal governments, consisting of ordinance-designated cities, prefectural capitals and the 23 wards of Tokyo, on May 20 and 21 about their preparations for these special venues.
The special venues are facilities outside medical institutions, such as schools or city halls. Tokyo's Kita Ward and the cities of Takamatsu and Tokushima said they are not setting up such venues.
Of the remaining 71 municipalities, five cities said they are short of doctors: Matsuyama, Naha, Otsu, Sapporo and Yokohama.
Osaka was among the 14 cities that said they were considering the necessary number of doctors or coordinating how to secure the numbers required.
The remaining 22 wards of Tokyo and 30 cities, including Fukuoka, Nagoya and Nara, said they had enough doctors for the special venues.
Medical interviews by doctors are necessary before administering the COVID-19 vaccine shots. When nurses or other staff provide the shots on the doctors' behalf, doctors also need to instruct them on the inoculation process.
Vaccinations of the elderly started in earnest just after the Golden Week holidays ended in early May. Though the central government has set a target of finishing these vaccinations by the end of July, there are municipalities that may fail to achieve this goal.
Many of the 19 municipal governments that said they face a shortage or are still considering the number of doctors required will need to move their plans forward to finish the vaccinations by the target, so they are rushing to secure personnel.
"We have asked the central government to set up a large-scale vaccination venue and provide doctors," was the response from the Sapporo city government. "Otherwise, it is difficult to finish elderly vaccinations by the end of July."
It is possible that some municipalities may not be able to complete elderly vaccinations until August or later.
Government assistance
Regarding vaccinations, the law allows only doctors to engage in such activities as conducting medical interviews; providing vaccine shots, including instructions to nurses on how to do so; and providing treatment if recipients show sudden changes in their health condition.
Each vaccination venue therefore needs a certain number of doctors.
The central government has enhanced assistance to municipal governments and medical institutions so that the necessary numbers of doctors can be secured more smoothly.
In late April, the central government broadly raised fees to be paid to doctors who work to provide vaccinations if they work at night or on weekends. The measure aims to encourage doctors treating patients in the daytime on weekdays to perform vaccination work on weekends or at night.
The central government is also shouldering all the labor cost of doctors and nurses giving vaccine shots and allowing dentists to give shots as an exceptional measure.
Bidding war
Some municipal governments, however, face the reality that their collaboration with local medical associations have not sufficiently progressed.
A municipal government in Chiba Prefecture asked for cooperation from its local medical association, but many of the member doctors said that they will not be able to conduct their usual work and vaccination work at the same time. Thus, the municipal government gave up on the collaboration, and secured human resources by entrusting the task to a private company.
MRT Inc., a Tokyo-based staff-dispatching company, has signed contracts for the purpose with 14 municipal governments mainly in Tokyo.
Though 70,000 doctors and 100,000 nurses are registered with the company, MRT said that there will be many days in June when clients' requests cannot be met.
The daily wage of its dispatched doctors practicing internal medicine is usually about ¥90,000 to ¥100,000, but for those performing vaccination work, the wage has risen to between ¥100,000 and ¥125,000.
An official of another staffing service company said, "Local governments are competing to secure medical workers, so the situation is becoming like a bidding war."
On the other hand, there are cases where municipal governments have not been able to coordinate at sufficient levels.
A doctor in Saitama Prefecture offered cooperation when a local government requested it for mass vaccinations before the Golden Week holidays, but the local government has still not answered the doctor.
A Tokyo doctor said, "Though there are many doctors who voluntarily offer cooperation, coordination has stalled on the part of local governments."
Municipal governments are primarily responsible for the vaccination operation. This month, however, the Health, Labor and Welfare Ministry sent a notice to prefectural governments requiring them to coordinate to widely dispatch doctors and other medical workers.
"It is possible that the shortage will worsen, when vaccinations of other people begin," said a senior ministry official. "It is necessary to deepen ties between municipal governments and medical associations while they can."
Add TheJapanNews to your Google News feed.