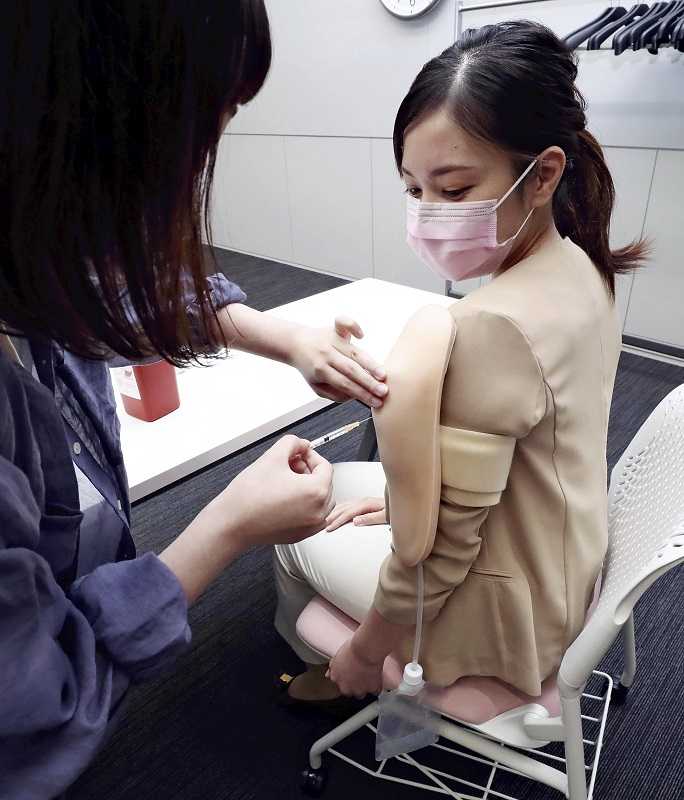 16:13 JST, May 10, 2021
Vaccinations against COVID-19 got into full swing on Monday, with the government setting a goal of 1 million shots a day.
Training sessions were held across the country on how to administer vaccine injections, with participants including former nurses. The use of such personnel is part of central and local governments' efforts to secure enough people to perform the inoculations.
About 30 people, most of them nurses who are not currently working at a medical institution, participated in a training session Saturday at the Tokyo Nursing Association hall in Shinjuku Ward, Tokyo. Water was used as a stand-in for COVID-19 vaccine and was injected into a fake upper arm using a syringe.
A 53-year-old woman from Tokyo's Suginami Ward, who used to work at a hospital but quit after she got married about 10 years ago, took part. "I thought of helping patients with mild symptoms who are recuperating at hotels, but that would be hard for me to do for an extended period," she said. "But I can participate in vaccinations for a short time."
According to the association, there are 130,000 nurses currently working in Tokyo, and about 70,000 former nurses.
In Osaka Prefecture, the Osaka Nursing Association held seminars for former nurses, with 847 people attending as of Friday. Up to 90% of them have expressed their desire to help with vaccinations and are expected to be dispatched to the prefecture's 38 municipalities.
A 38-year-old woman who quit her job as a nurse six years ago said: "It's still difficult to work at a hospital, but I can do shorter hours. I want to help contain the pandemic."
Municipalities busy
Vaccinations for people 65 or older started on April 12. Although the initial vaccine supply was limited, a total of 16,000 boxes will be shipped over the two weeks from Monday, and enough vaccine will be delivered by the end of June to administer two doses each to about 36 million elderly people.
The goal is to finish vaccinations of the elderly in July.
In a Health, Labor and Welfare Ministry survey on April 7, about 20% of the responding municipalities said there was a shortage of nurses at their vaccination sites and at medical institutions that give COVID-19 shots.
The Ikoma city government in Nara Prefecture has secured nine doctors for vaccinations scheduled from Saturday. However, the inoculations are only available on weekends because many of the doctors are on duty at their own hospitals.
"Even if we receive a large amount of vaccine, we can't administer it on weekdays because of the shortage of doctors," an assistant chief of the city's health division said. "We can't predict when we'll finish our inoculations."
To secure enough people who can administer vaccinations, the central government has given special permission to deploy nurses and other staff. This would normally be prohibited in principle, with the exception of remote areas, under the worker dispatch law. Dentists will also be able to administer vaccinations.
In Kobe, some dentists will give vaccinations at a large site to be set up later this month.
According to MRT Inc., a Tokyo-based medical staffing agency, the daily wage for doctors is usually about ¥90,000, but due partly to rising demand from local governments, the wage for performing vaccinations is set between ¥100,000 and ¥125,000.
On top of that, the Fukushima city government pays ¥100,000 a day to medical institutions where the doctors who perform vaccinations work.
"It'll be a burden for medical institutions to dispatch doctors who provide routine medical care," a city government said, adding that wages that high are necessary to obtain cooperation.
Add TheJapanNews to your Google News feed.