Yomiuri survey: Only 20% of healthcare workers have received 2nd shot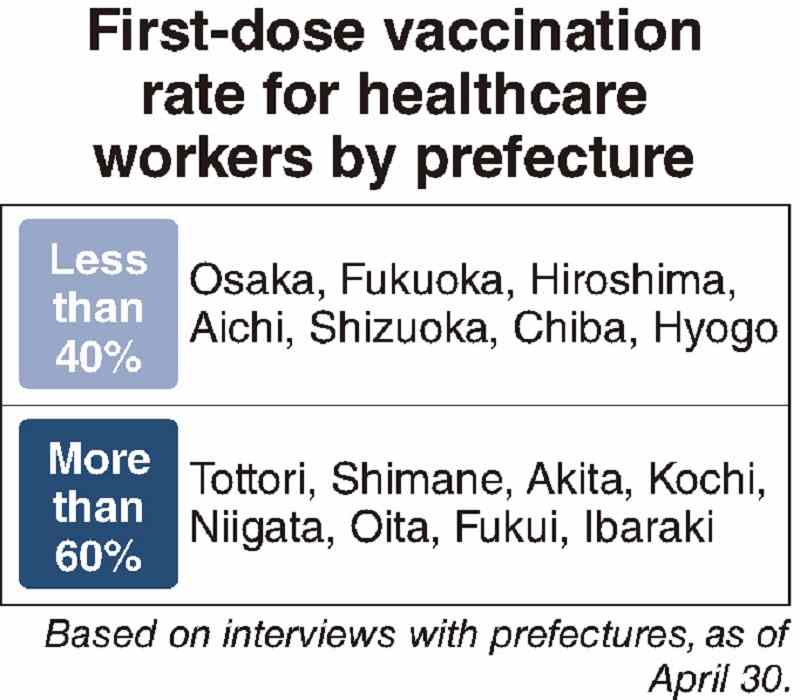 16:27 JST, May 1, 2021
Only 20% of the 4.7 million health care workers who are eligible for the novel coronavirus vaccine in the first rounds of Japan's inoculation campaign had received two doses by the end of April, The Yomiuri Shimbun has learned.
A nationwide survey by The Yomiuri Shimbun found that prefectures have encountered widespread delays in administering vaccines. As of April 30, the share of priority health care workers who had received their first shot ranged from a mere 31% to 62%, on a prefecture by prefecture basis.
In some areas, the sluggish shot rollout has been exacerbated by delays in the vaccine supply chain, causing vaccinations of the elderly to fall behind schedule.
Inoculations of medical professionals started on Feb. 17 this year, prioritizing those who had been treating COVID-19 patients and those who would in turn be needed to administer vaccines to the elderly.
The Pfizer-BioNTech vaccine currently predominant in Japan requires two doses, spaced out over an interval of a few weeks.
Tottori (62%) had the highest vaccination rate for the first dose, and 19 other prefectures including Shimane and Akita had rates in the 50% to 60% range. By contrast, vaccination rates tended to be lower in urban areas that have been hard-hit by the virus, such as Tokyo (41%), Osaka (39%) and Hyogo (31%). According to the latest government data, 50% of health care workers nationwide had received their first shot.
Supply delays have been one logistical factor hampering the vaccination of health care workers.
Although nearly 4.7 million people are eligible for the vaccine, only about 1.44 million doses (31%) had been shipped by early April, and 4.24 million doses by the end of April.
The government does not expect to distribute enough supply to provide two doses to these priority recipients — a total of about 9.4 million shots — until mid-May.
In order to reduce the risk of infection on the front lines of the fight against COVID-19, the people doing the vaccinating should, ideally, be inoculated against the virus.
But given the shortages, unvaccinated doctors have in some cases been enlisted to assist with the elderly vaccination campaign, which began on April 12.
Aichi Prefecture has stated that even if they had enough shots to vaccinate their entire elderly population, they would still not have enough medical personnel to physically put the shots in arms.
A Miyazaki Prefecture official similarly noted concern that medical personnel who have not yet been vaccinated might end up involved in vaccinating the elderly.
At a press conference convened after Friday's Cabinet meeting, Health, Labor and Welfare Minister Norihisa Tamura said that he has "heard the voices of those who call the use of unvaccinated health care workers 'contradictory.'" Tamura asked local governments to take flexible measures to speed up the inoculation of medical professionals, even if that means dipping into their stock of vaccines allotted for the elderly.
Add TheJapanNews to your Google News feed.