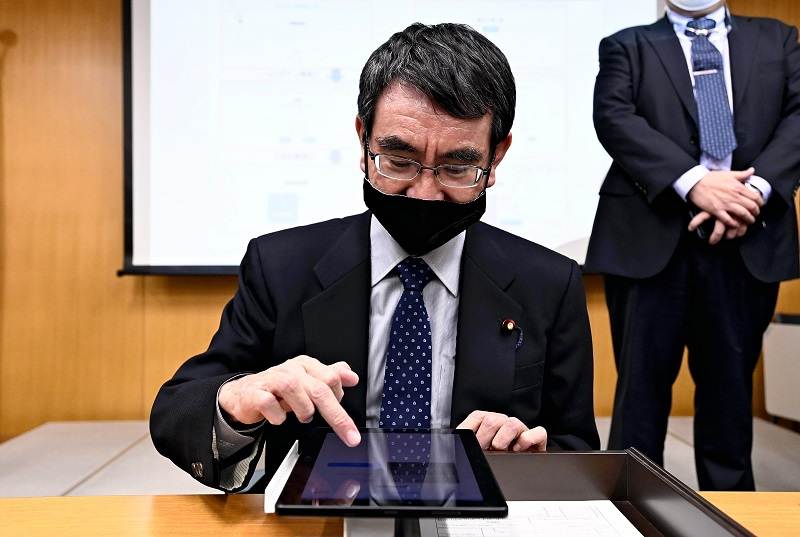 8:48 JST, April 19, 2021
Having to operate multiple government systems to share coronavirus-related information has placed a heavy burden on medical institutions and local governments.
There are nine such systems, including some under development, and their development and operation costs from fiscal 2020 to fiscal 2021 are expected to reach more than ¥19 billion. However, information the systems handle often overlaps because of ill-conceived and insufficient development plans. The central government must promote strategic digital policies in this field.
Discrepancy in figures
At the end of last year, a Tokyo metropolitan government official was puzzled by the data showing up on a monitor. The figure of new coronavirus patients being admitted to several hospitals differed between the metropolitan government's disaster management system and the central government's Gathering Medical Information System on COVID-19 (G-MIS), an information-sharing system for coordinating the hospitalizations and hospital transfers of COVID-19 patients.
It is believed the sudden influx of people infected with the virus caused the hospitals to delay inputting relevant data.
The Health, Labor and Welfare Ministry introduced the G-MIS in May of last year to share information regarding available hospital beds and shortages of masks and other medical supplies. The ministry recommends the system be used when patients are hospitalized or transferred to other medical institutions. However, most local governments use their own systems because there are so many fields of data entry in the G-MIS, making it difficult for medical institutions to update their information.
There is actually a similar system that has been used since 1996. The ministry introduced the Emergency Medical Information System (EMIS) after the Great Hanshin Earthquake to share information on the transportation of patients over a wide area, along with medical supply shortages. The ministry considered using the EMIS during the pandemic, but gave up because data regarding masks or protective goggles, for example, cannot be entered in the EMIS as insufficient medical items.
"Since it takes time and money to improve the EMIS, we decided to create the G-MIS from scratch," a ministry official said.
Because information on the dispatch of a Disaster Medical Assistance Team is only available in the EMIS, however, both G-MIS and EMIS have been concurrently used.
System for Olympics
Data on coronavirus patients was collected via the National Epidemiological Surveillance of Infectious Diseases (NESID). However, the burden on health centers to input information into the system became an issue as they had to enter data sent by fax from medical institutions. To cope with the situation, the Health Center Real-time Information-sharing System on COVID-19 (HER-SYS) was developed, into which medical institutions can directly enter data.
Information regarding infectious diseases other than the coronavirus continue to be shared at the NESID. There is also COCOA (COVID-19 Contact-Confirming Application), a smartphone app that informs people of their contact with an infected person.
The central government manages the health information of foreign entrants through the airport quarantine service support system. Operating an integrated health information management system for foreign entrants, which will use a special app to monitor the health of people entering Japan, will also start in June — in time for the Tokyo Olympics and Paralympics.
Vaccination systems
Vaccination systems are also left in confusion. In August last year, the ministry began developing the V-SYS, a vaccination system to allow central and local governments to share information regarding the supply of vaccines and the status of vaccinations. However in January, immediately before it was set to begin operations, the system was found to prevent the sharing of individual vaccination records.
Local governments need to swiftly share information on vaccinations of people who relocate, as vaccines from Pfizer Inc., for instance, must be administered twice. To cope with this, the Cabinet Secretariat has created the Vaccination Record System.
"The burden would have been smaller if they had unified the systems into one from the beginning," said a municipal government official who received training for both of the vaccination systems.
¥19 billion expenditure
More than ¥19 billion of government funds were used for the development and operation of systems regarding coronavirus-related information in fiscal 2020, including about ¥1.2 billion each for G-MIS and HER-SYS, about ¥7.3 billion for the integrated health information management system for foreign entrants and about ¥8.8 billion for the two systems to provide vaccine information. Part of the ¥7.3 billion and ¥8.8 billion is to be spent in fiscal 2021.
The ministry plans to integrate the NESID and HER-SYS in fiscal 2022 and beyond. The ministry will continue using both G-MIS and EMIS but will consider modifying the systems to have users only need to enter pertinent information once.
"Due to the lack of a government management function as a whole, system development got underway with no well-thought plans within different ministry and agency departments," said Musashi University Prof. Masahiko Shoji, an expert on administrations using IT.
"The systems must be immediately revised beyond the walls of national and local governments by openly discussing the issue to meet the needs of users," he said.
Add TheJapanNews to your Google News feed.