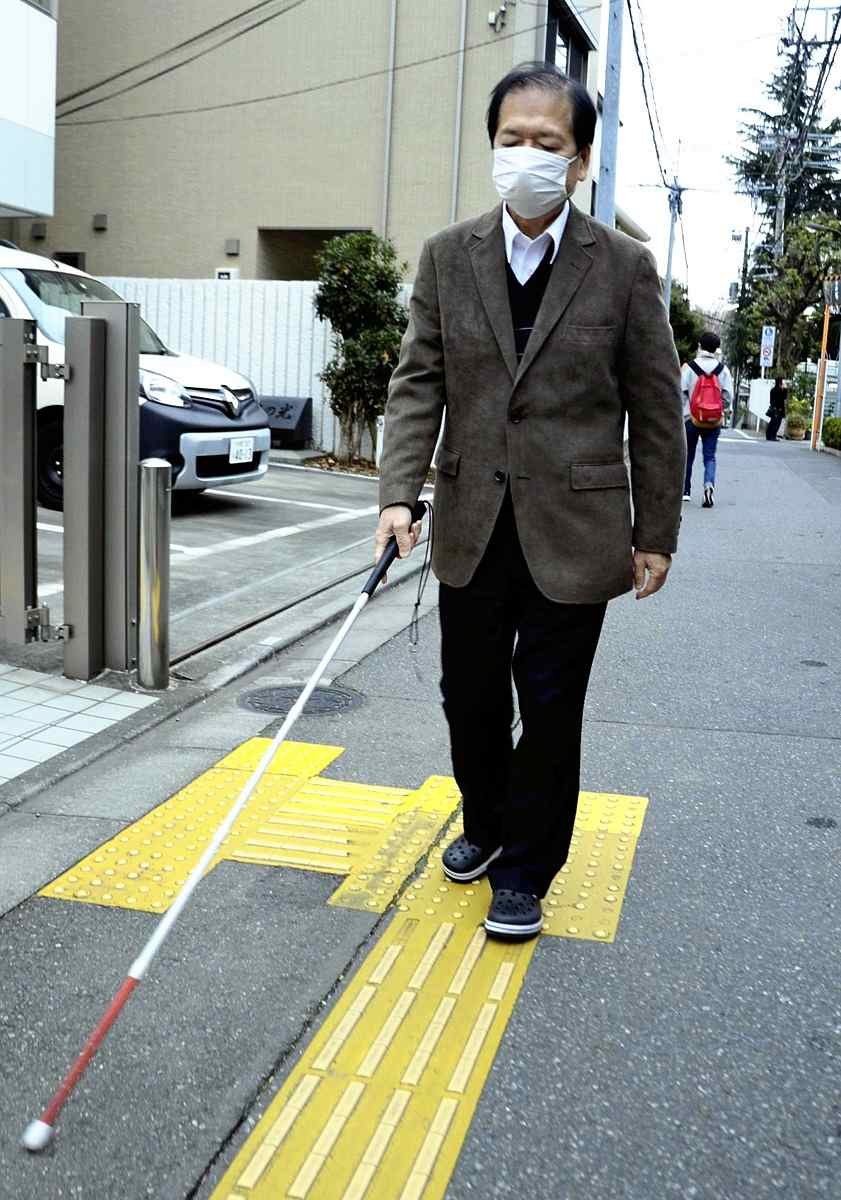 17:02 JST, February 25, 2021
To deal with the coronavirus pandemic, we are being asked to lead a new way of life by practicing social distancing wherever we go. But visually impaired people who need support are facing a number of challenges. People around them are urged to approach them more actively, without hesitation.
Indicators become blurry
"Due to the coronavirus crisis, such indicators as smells and sounds have become unclear," said Munemasa Sasaki, 71, a blind person who lives in Itabashi Ward, Tokyo.
Sasaki used to locate the entrance to the subway station closest to his home by using the smells of ramen and gyudon beef bowls floating out from the nearby eateries. As he now wears a mask that covers his nose, these smells have become hard to detect. One time he unwittingly walked past a dental clinic he was supposed to go to after failing to notice its entrance because the door that normally opens automatically was being kept open for ventilation.
Walking around town with the aid of smells and sounds retained in one's memory becomes difficult for visually impaired people if they cannot easily perceive these valuable pieces of information. When waiting for traffic lights to change, Sasaki used to step forward using the sounds of footsteps and other signs from the people around him. But as people have come to distance themselves from each other, it has become difficult for him to figure out the movements of those around him.
Compared with pre-coronavirus times, Sasaki feels that fewer people are approaching him.
"There is an atmosphere in society of protecting ourselves by keeping some distance from each other. Even if people do not lend me their shoulder to guide me, I would feel reassured if they would tell me the color of the traffic light or the movement of cars on the road. I hope they approach us regardless."
Cutting in line
People are also avoiding contact while shopping. One manifestation of this is the accelerating introduction of self-service registers at which customers use a QR code, bar code and other electronic payment methods without interacting with shop clerks.
Yuya Fujimoto, 36, is a visually impaired person who lives in Kita Ward, Tokyo, with a guide dog. Once, she was waiting in line for what she thought was a manned register, only to find it was self-service and not know how to use it.
"Self-service registers are increasing in number, but it is difficult for us to find the bar codes of the products and to operate them on our own. I do hope stores will keep some manned registers while also having store clerks around whom we can ask for help."
Fujimoto is able to comply with social distancing practices even though she cannot see the marks indicating where to stand in line for a cashier, yet someone once cut in line in front of her. One of Fujimoto's acquaintances, who is also visually impaired, was told off by another person when touching products in order to find out what to choose.
"There are those who, out of necessity, have to touch the product or get close to another person. We hope that people will be broad-minded, recognizing that some people need others' support," Fujimoto said.
Anxiety on platforms
The place where visually impaired people feel the most uneasy is on train platforms. They call platforms "bridges with no parapets." They constantly feel fearful of making a wrong step and falling off. Although the installation of platform doors is advancing, they are still few and far between.
Koji Yoshimoto, 45, who lives in Ota Ward, Tokyo, has enough eyesight to be able to perceive light. About three years ago, he fell off a crowded platform at JR Shinjuku Station. Believing that he was walking along the center of the platform, he put his left foot forward, only to find there was no more platform and fall onto the railway track.
Although he broke a bone in his chest, he was rescued before a train pulled in. With that terrifying incident in mind, he still becomes rigid as he walks along the platform, feeling like he is treading on thin ice.
According to the Land, Infrastructure, Transport and Tourism Ministry, there were over 60 incidents in fiscal 2019 in which visually impaired people fell off a platform or met with similar accidents. In November 2020, a visually impaired man fell off a platform and was killed.
Amid the coronavirus crisis, Yoshimoto has become hesitant to ask others to lend their shoulder to guide him. He doesn't feel that he is approached by others less often, but he feels more hesitant to ask for help than before, he said.
"To be approached by others, and to be warned of any obstacles ahead while walking close to us would be helpful. I suppose some hesitate to get close to us these days, but I hope they will still keep an eye on us and whether there is any danger around, even if they don't come up and speak to us."
Add TheJapanNews to your Google News feed.