Municipalities Weigh Up Pros and Cons of Vaccination Methods in Japan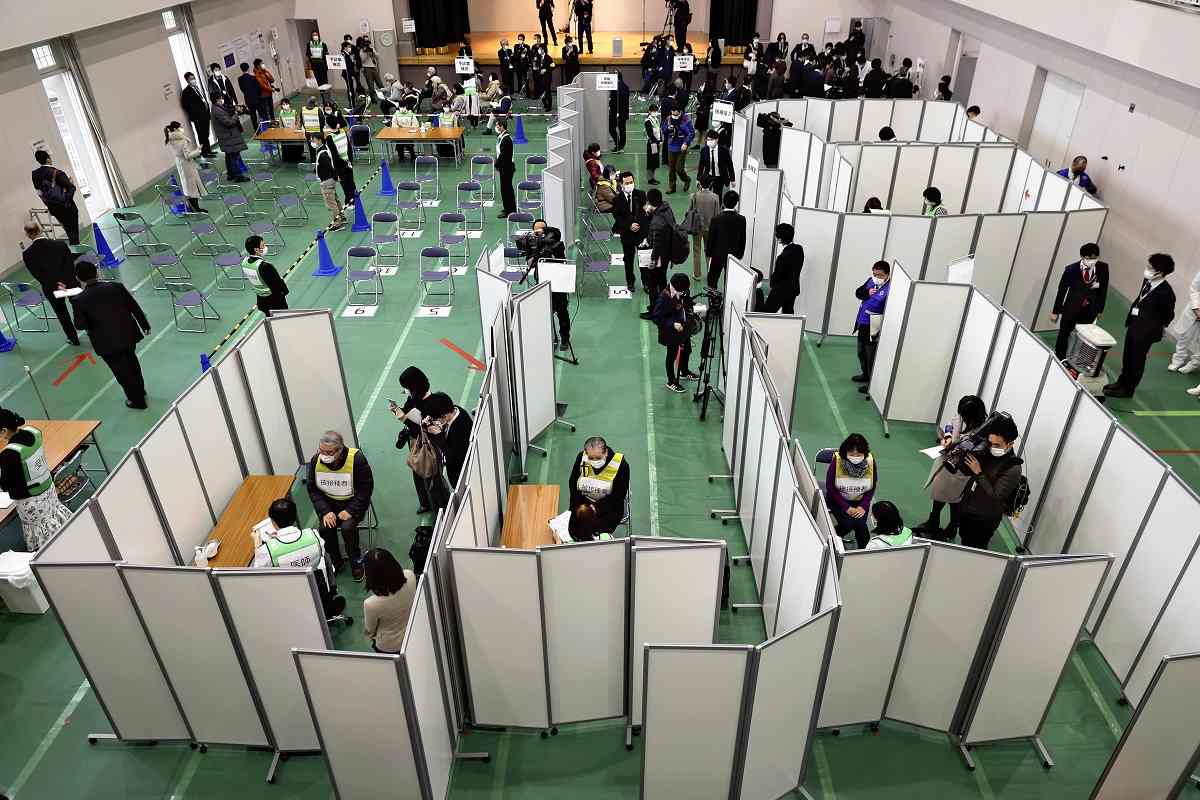 12:02 JST, February 22, 2021
About 80% of municipalities plan to use both the "mass" vaccination method and the "individual" method when priority vaccinations for the elderly start in April, a Yomiuri Shimbun survey has revealed.
In the mass vaccination method, community halls and places of a similar size will be the venue, while the individual method makes clinics the main sites for receiving the shot.
A total of 74 municipalities — prefectural capitals, ordinance-designated cities and the 23 wards of Tokyo — were surveyed. Of them, 59 municipalities, including Yokohama and Setagaya Ward, Tokyo, will use both methods. Six, including Minato Ward, Tokyo, and Kitakyushu, plan to conduct mass vaccinations only, while four, including Yamagata City, plan to conduct individual vaccinations only. A number of municipalities are planning to deploy medical staff to nursing care facilities for seniors. As of the middle of this month, five municipalities, including Chiba City, had not yet decided on their venues.
About 36 million people aged 65 and over are eligible for inoculation. While mass vaccination is efficient, avoiding the Three Cs — closed spaces, crowded places and close-contact settings — is an issue. Individual vaccination, on the other hand, has the advantage of allowing people to receive the vaccine at a place close to them, such as their family doctor's clinic, but it also requires that the quality of the vaccine and proper transportation be ensured, and that any side effects are dealt with.
With regard to the different methods, the Health, Labor and Welfare Ministry has given local governments the choice between mass vaccination and individual vaccination.
Family doctor advantage
"The elderly feel safe receiving vaccines from their family doctor," said Yutaka Kunieda, manager of the immunization section of the Itabashi Ward Office, Tokyo, which is planning to conduct both mass and individual vaccinations.
Initially, the ward was considering mainly mass vaccination. However, it decided that it would be difficult to secure doctors and nurses for a long period of time. Thus, taking advantage of the fact that the ward has many medical institutions, it plans to offer mass vaccinations at five facilities and individual vaccinations at 200 clinics and other locations.
Kyoto plans to provide 70% individual vaccination and 30% mass vaccination. A person in charge of the program said: "For safety reasons, it is preferable to carry out vaccinations at family doctors' clinics as they have the patient's medical records. This way, we can deal with any side effects that may occur."
Toyama City is also planning to mainly use local clinics, considering the difficulty of securing large venues such as gymnasiums for a long period of time, and the high cost of setting up communications and leasing partitions and other equipment.
Wakayama City emphasized the advantages of individual immunization, saying, "We can avoid the Three Cs and respond quickly to unexpected circumstances."
Changing course
The Pfizer-BioNTech vaccine is expected to be used for people aged 65 and over, and administering the two doses to this age group is expected to be completed in about three months. The health ministry initially envisioned mass vaccination, in which a large number of people would be gathered in one place, and requested in briefings that local governments prepare for this scenario.
However, in a large-scale drill held in Kawasaki on Jan. 27, there were cases where medical interviews took too long. In a report released this month, the city cited the challenges of securing a large number of medical personnel and large venues and concluded "it is extremely difficult to complete vaccinations by the mass method alone."
Two days after the drill, the health ministry introduced as a leading example Nerima Ward in Tokyo, which mainly administers individual shots at clinics. Many municipalities followed suit.
Challenges in quality control
Individual vaccination also has its challenges. The ingredients of the Pfizer-BioNTech vaccines are fragile and strict quality control is required, including storage at an ultra-low temperature of 75 C below zero. They must be transported under refrigeration within a short window.
Meguro Ward, Tokyo, is planning to focus on mass vaccinations at three public facilities such as gymnasiums and five large hospitals, while individual vaccinations will be conducted mainly for people with chronic diseases. A person in charge said, "In order to properly control the temperature of the vaccines and to inoculate as many people as possible with high quality doses, it is most efficient to prioritize mass vaccinations."
Kita Ward, Tokyo, has designated three hospitals as "vaccination centers," while individual vaccinations will also be available at local medical institutions. From October to January, 208 medical institutions in the ward were designated as flu shot venues, but it is expected that some medical institutions may choose not to conduct the COVID-19 vaccinations due to concerns about handling the vaccine and dealing with side effects.
"Some clinics are run by a single elderly doctor, and it will be difficult to set up a system comparable to that for influenza," a person in charge of the issue at the ward medical association said.
Add TheJapanNews to your Google News feed.