Logistic hurdles to overcome for Pfizer-BioNTech vaccine rollout in Japan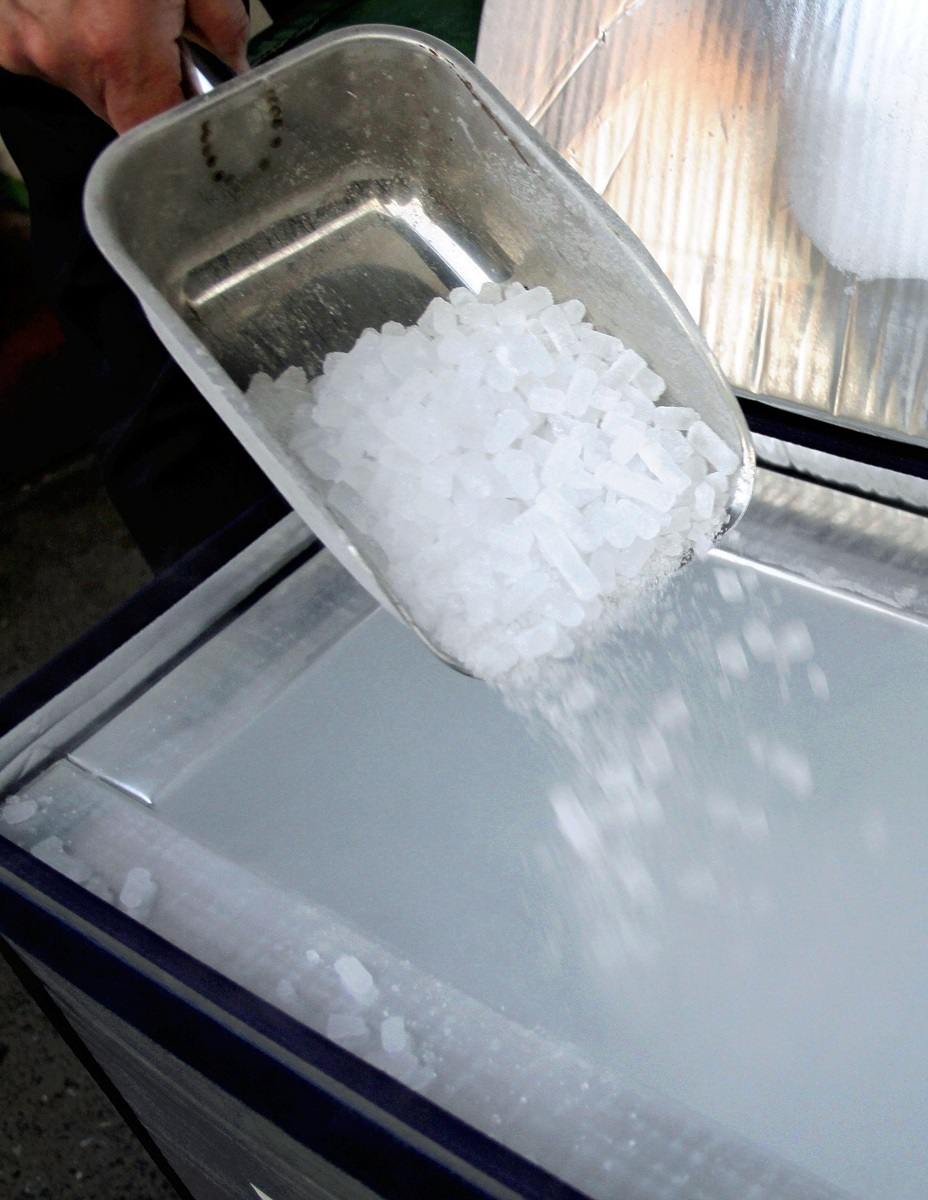 16:23 JST, February 15, 2021
COVID-19 vaccinations covering all people in Japan ages 16 and over are expected to start Wednesday. Transport of the vaccines is an unprecedented challenge as securing an adequate amount of freezers and dry ice is one of the keys to ensuring the rollout goes smoothly.
The first batch of the Pfizer-BioNTech vaccine arrived at the Tokyo area's Narita Airport on Friday. All Nippon Airways Co. flew in the vaccines from Belgium in aircraft furnished with special equipment to keep the cargo at an ultralow temperature of minus 75 C, much lower than for conventional medicines the airline has handled.
Japan Airlines Co. has set up a special team and may launch charter flights if there are no regular JAL services to areas near vaccine plants overseas.
Airport operator Narita International Airport Corp. last month set up a vaccine transport support team that discussed ways to preferentially allocate tarmac for vaccine-loaded airplanes and secure routes to transport vaccines smoothly within the airport.
Kansai International Airport in Osaka serves as the transport hub for vaccines shipped to western Japan. The airport's operator has given special permission for refrigerated vehicles to pull alongside aircraft. This process will reduce transport time to 30-60 minutes, far faster than the 24 hours currently needed for medical supplies, which are unloaded and transported to the airport's warehouse first before being handed over to delivery firms.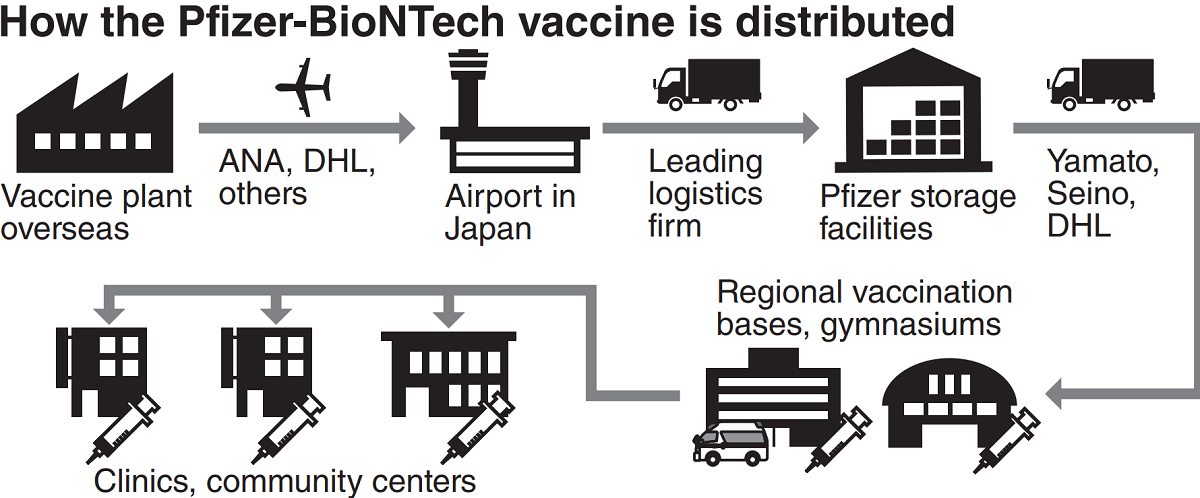 Within 3 hours
The Pfizer-BioNTech vaccines must be kept at minus 75 C. Upon arrival at the airport, they are transferred to the refrigerated warehouses secured by the government. Logistics firms Yamato Transport Co., Seino Transportation Co. and Germany's DHL International GmbH will then delivery the vaccines to regional vaccination bases.
Yet to be approved by the government are the COVID-19 vaccines produced by U.S. biotech firm Moderna, Inc., which must be kept at minus 20 C, and the ones produced by Britain's AstraZeneca PLC, which can be refrigerated like seasonal flu vaccines. The Moderna and AstraZeneca vaccines will be distributed across Japan by 40 pharmaceutical wholesalers.
Some local governments are currently in discussions with Sagawa Express Co. and other logistics firms on distribution of the vaccines from the regional bases to local clinics and community centers where vaccinations will be provided.
The central government requires the Pfizer-BioNTech vaccines in principle to be transported between destinations in less than three hours and for bicycles and motorcycles not to be used to do so. The government plans to deploy ultracold freezers at 10,000 regional vaccination bases. It will likely take until June for the freezers to be installed in all bases.
While freezer manufacturers are increasing production, the government is asking major ice manufacturers to provide stable supplies of dry ice as well, as it can help keep the temperatures at minus 75 C during transportation and temporary storage.
Add TheJapanNews to your Google News feed.