Diamond Princess Disinfection Work Remembered as 'Battle with Heat, Anxiety'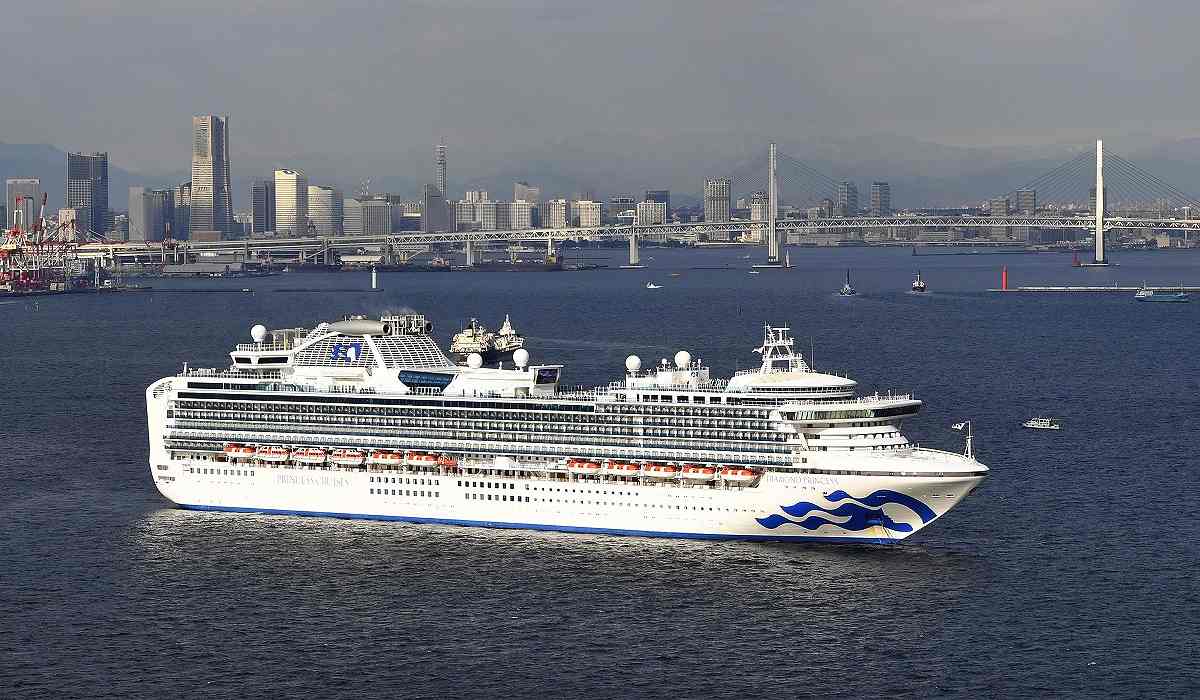 16:06 JST, February 4, 2021
Wednesday marked one year since the Diamond Princess, a cruise ship hit by an outbreak of the novel coronavirus, arrived at the port of Yokohama at the end of an international round-trip cruise. More than 700 out of the about 3,700 passengers and crew aboard the vessel were infected.
The disinfection of the vessel was conducted by cleaning service operators who specialize in such tasks as the sterilization of rooms — usually on land — where a person died an unnatural or solitary death.
The cleanup service operators are now busy teaching the know-how they gained through their experience of having ventured into an unfamiliar incident scene where a new and deadly virus lurked.
"We were worried that a slight error would get us infected, but we wanted to carry out the task," said Masakatsu Omura, 46, the managing director of Kanedarinkai Sougou Inc., based in Chiba Prefecture, as he recalled the disinfection work aboard the coronavirus-stricken vessel nearly a year ago.
Omura received a tentative overture for undertaking the task from an industry group on special cleaning works based in Tokyo, at which Omura also serves as a director, on March 17 last year, about two weeks after all the people had disembarked the ship.
Prominent daily news coverage of the mass infection aboard the ship had given Omura the impression that "something terrible is happening." But he had never imagined that he would get involved with it himself.
His company deals with special kinds of cleanup services, including the cleaning of buildings, the collection and transportation of industrial waste, and the deodorization and disinfection of rooms where people died unnatural or solitary deaths.
But his company had never undertaken disinfection work aboard a cruise ship before — to say nothing of one where a mass infection with a new and poorly understood virus had just occurred. Despite great anxiety, his company took on the task, in the hope of "contributing by making use of our skills and experience."
Upon the industry group's request, a total of about 60 people took part in the disinfection work. Omura himself labored aboard the vessel, together with an employee of his company, carrying out disinfection work eight hours a day, over six days from March 19 through 24.
Omura, who was in charge of cleaning and disinfecting a restaurant floor, wore protective gear and goggles as he cleaned tables, chairs, walls and floors by hand with sheets of disinfectant-soaked paper. Even when sweating, he could neither take off nor put on his protective equipment, lest he be exposed to the virus.
"It was a laborious task, both physically and mentally, as it was so hot and tough, coupled with the tension and worries about getting infected," Omura recalled.
None of the staff engaged in the disinfection work was infected.
When the work was done, the industry group was flooded with requests for disinfection work from companies and government offices, sometimes reaching about 200 in a single day.
The industry group has dispatched staff to provide instruction on disinfection work to operators of Japanese-style inns and has also handled such tasks as supervising the development of apps teaching how to disinfect things at home.
"Disinfection is fundamental to preventing infections from spreading." Omura stressed. "We would like to inform the public of the correct methods of disinfecting things."
In the Diamond Princess outbreak, 712 people were infected and 13 people died. On Feb. 1 last year, the ship docked at the port of Naha on the return leg of its international cruise, but there was confusion about how to deal with the infections abroad the vessel, registered in the United Kingdom and operated by a U.S. company, and it continued on to Yokohama.
■ Infected in quarantine
A married couple from Kanagawa Prefecture tested positive on Feb. 17 last year as they were quarantining in their cabin. Neither the man, who is in his 70s, or the woman, in her 60s, had any symptoms.
The couple said they were shocked, as they never thought they would be infected.
Their life went back to normal after they left the cruise ship and recuperated. However, the wife took an antibody test to check her history of past infections last June, and the results showed she had no antibodies to the coronavirus.
The couple said they are really scared to think of getting infected again.
They said it was important to make efforts not to transmit the virus or become infected. Now is the time when people in Japan should help each other to overcome the pandemic, they urged.
Add TheJapanNews to your Google News feed.