Treatment of Severe COVID-19 Patients unevenly Shared among Tokyo Hospitals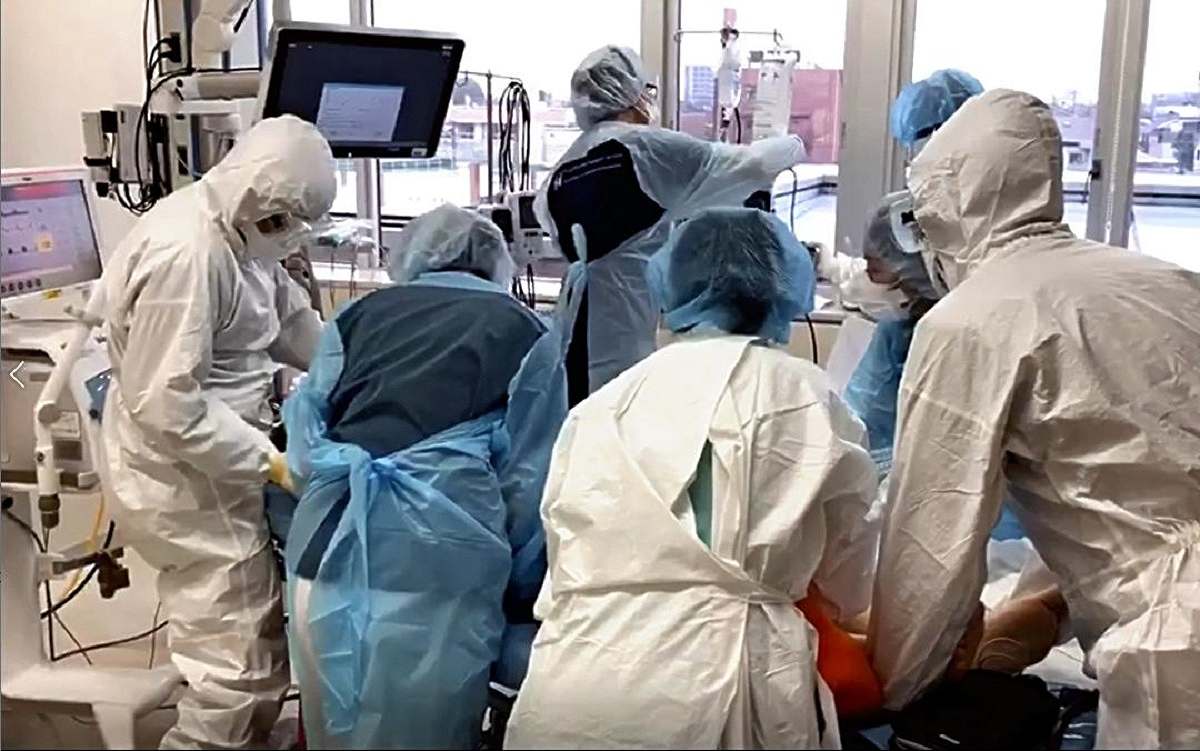 14:58 JST, January 20, 2021
Severe COVID-19 patients are unevenly distributed among the 14 hospitals designated to provide advanced medical care in Tokyo, according to metropolitan government data obtained by The Yomiuri Shimbun.
The metropolitan government has requested that such hospitals reserve at least six beds for severe COVID-19 patients, but only two were treating a daily average of six or more patients, and eight were treating fewer than three.
A person with knowledge of the situation said that the metropolitan government and others should correct the imbalance so that the burden is not concentrated on just a few medical institutions.
Hospitals meeting certain criteria such as the number of beds and the level of medical technology have been designated by the government as "special function hospitals." There are 87 such hospitals in Japan, 16 of which are in Tokyo. Two of the 16 specialize in cancer treatment.
The metropolitan government had asked the 14 special function hospitals, emergency medical centers and other related facilities to secure six to seven beds for critically ill COVID-19 patients by Jan. 11, and eight beds from Jan. 12.
The Yomiuri Shimbun obtained data from a metropolitan government website on which medical institutions in Tokyo share information and compared the number of patients at the 14 special function hospitals from Jan. 1 to 17 who required ventilators or extracorporeal membrane oxygenation (ECMO) machines, which is the metropolitan government's criteria for critically ill patients.
Showa University Hospital had the highest daily average with 7.5 inpatients, followed by Tokyo Medical and Dental University Medical Hospital with 6.0, Nippon Medical School Hospital with 5.2, Tokyo Medical University Hospital with 4.8, and St. Luke's International Hospital with 4.1.
Of the remaining nine hospitals, one was in the range from 3.0 to 3.9, six from 2.0 to 2.9 and two with less than 2.0. The overall average was 3.5. Among hospitals with emergency centers that do not have the special function designation, the number varied between 1.6 and 5.1.
The metropolitan government has not publically disclosed the status of individual hospitals as it has not been able to gain their approval.
A large number of medical staff is needed to treat severe COVID-19 patients, placing a heavy burden on hospitals. Special function hospitals and other medical institutions can receive financial support of up to ¥430,000 per day per available bed.
One of the reasons for the lack of progress in accepting seriously ill COVID-19 patients is the impact on advanced medical care for other diseases. One hospital that accepts an average of three critically ill COVID-19 patients said treating more would impact its emergency medical services and operations requiring advanced techniques and technology.
As of Tuesday, the number of critically ill COVID-19 patients in Tokyo had increased by 12 from the previous day to 155, or 62% of the total number of beds available for such patients.
According to the metropolitan government, there have been cases in which it has taken a long time to find facilities to treat severe patients.
Sachiko Watanabe, CEO of Global Health Consulting Japan Co., which supports hospital management, said: "It is essential to disclose the status of all hospitals to expand the acceptance of seriously ill patients. Then, it will be necessary to divide the roles of hospitals in a wide area according to their ability to provide medical care for severe patients and moderate-to-mild cases."
Add TheJapanNews to your Google News feed.