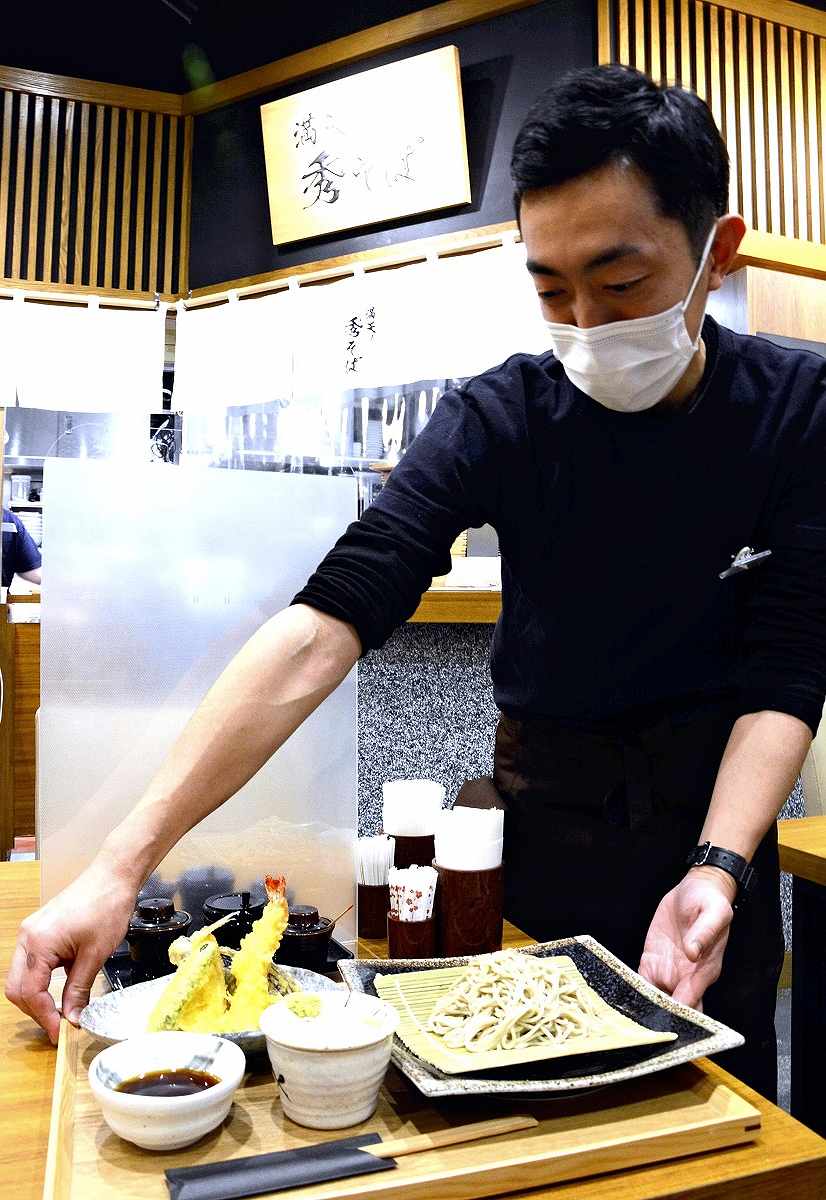 9:07 JST, January 15, 2021
This is the fifth installment of a series that looks at people seeking and developing new business opportunities to survive the coronavirus crisis.
Major travel agency H.I.S. Co. opened a soba restaurant called Manten no Hidesoba in the business district of Iidabashi, Tokyo, last November. The restaurant is on the first floor of a business hotel near JR Iidabashi Station. During lunchtime, all 19 seats at three tables and the counter were full of company workers.
A customer bought a meal ticket at a vending machine and handed it to a staff member. Five minutes later, H.I.S. employee Takaichi Nakamura, 41, brought a ten-seiro meal, which is soba noodles served on a bamboo tray with tempura (¥980 including tax).
"H.I.S. is solving the problems of the restaurant industry," he said enthusiastically.
■ Business lunch
Until the end of August last year, he was the area leader for the Kansai sales team, overseeing 10 sales offices in southern Osaka, including Shinsaibashi. With severe travel restrictions in place around the world, it is uncertain when H.I.S. will resume its overseas travel business.
In July last year, he responded to an open call for the company's soba restaurant business. In his twenties, before joining the company, he worked in kitchens and dining rooms in Western-style restaurants and even had a chef's license.
Nakamura was transferred to Tokyo, where he has been working since last September. Along with seven other employees, he was responsible for finding properties, developing menus and running restaurants. After opening its first restaurant in Kawagoe, Saitama Prefecture, in October last year, the company opened its second restaurant in Iidabashi. Because it was difficult to attract customers at night, they expected the greatest demand to be at lunchtime in the business district.
They make it a point to mill buckwheat seeds with a millstone every day, and not to use artificial seasoning for the soup broth. Instead of handmade noodles, a noodle maker was introduced to accommodate lunchtime customers who don't have much time. The affordable prices also became a talking point, and as the restaurant's clientele increased, the opening of the third and fourth restaurants early this year was decided.
It was last May when H.I.S. began exploring new businesses outside the travel industry. When the company asked for feedback from its employees, it received about 5,500 ideas. One of the eleven business ideas that came out of that was to shake up the restaurant industry, which has been hit hard by the pandemic.
Behind this is the corporate culture of H.I.S. The company has grown by using methods other big firms have not, such as cheap air tickets and package tours. Compared with sushi and ramen, soba is not well known overseas, and the company is considering using its soba business to expand overseas.
"The appeal of our company is that we try new things even in difficult situations. There was no way we wouldn't get into [this business]," Nakamura said. It was a major turning point for the company and its employees, just 40 years after its founding.
■ PCR test robot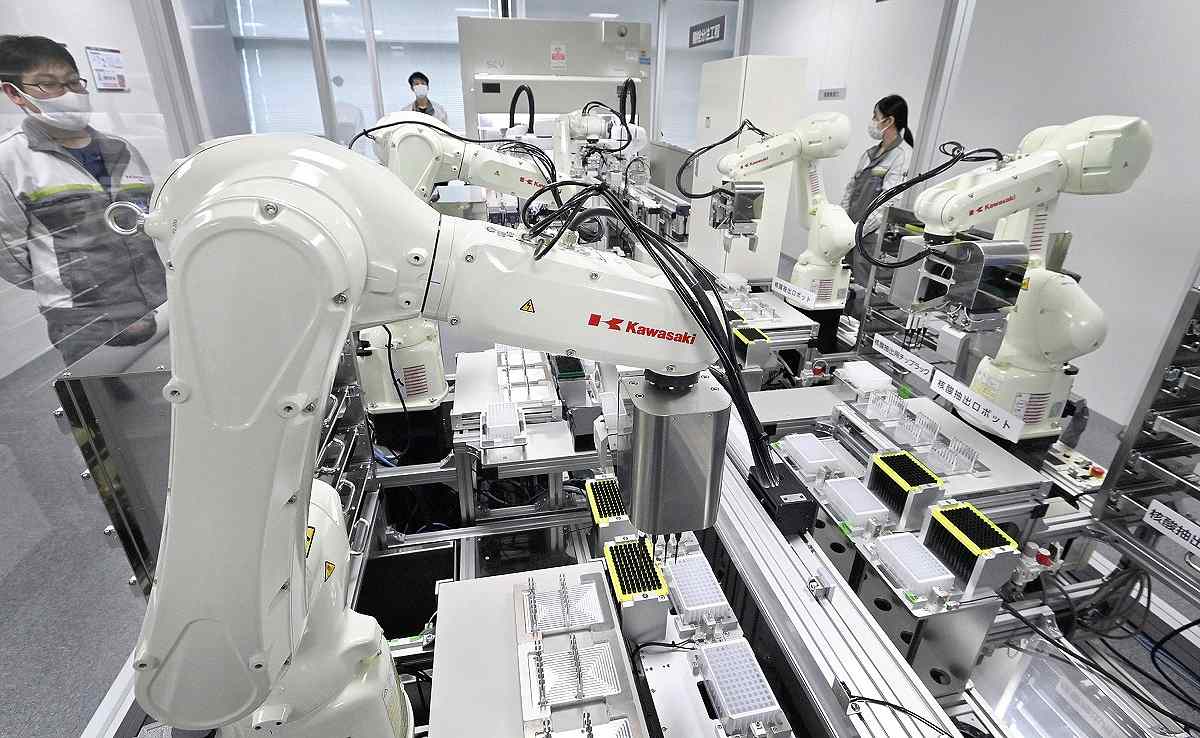 Hirotoshi Tsuji, 57, of Kawasaki Heavy Industries, Ltd. envisions a future airport where a robotic system automatically carries out PCR tests by remote control in a corner of the international departures hall. In this airport of the future, business travelers and tourists will receive a negative certificate about two hours after being tested at the sample collection station several dozen meters away, before boarding their flights.
Tsuji has worked as an engineer in the aerospace sector for about 30 years. Orders for the company's commercial aircraft parts, which had been a major earner before the coronavirus crisis, have plummeted and show no signs of recovery. Last summer, when he was the manager of the technical management department, he was appointed head of a new project management office under the direct control of the president.
He was entrusted with the practical application of a robotic system for PCR testing. The system can be housed in a container about 12 meters long and 2.5 meters wide and transported on a trailer. The system automates examinations by medical workers that pose a risk of infection.
If the system is put into practical use, the process from sample collection to notification of results by a medical institution will take only about 1 hour and 20 minutes. The company aims to put this system into practice at major airports and major events by the end of this year, and has been lobbying the relevant ministries and local governments.
Tsuji said, "The main driving force of this project is our desire to bring back a world where planes can fly."
■ A store without merchandise
On the first floor of a building in Yurakucho, Tokyo, there is a retail store that does not sell goods. About 100 product samples are neatly arranged in the white 260-square-meter interior. This shop was opened by b8ta from Silicon Valley last August, at the same time as its Shinjuku shop.
There are samples of VR goggle-type headgear, a jacket made of spacesuit material, beauty lotion, stationery and other products. The stores do not hold any stock and products are available online. On opening day, more than 1,000 customers visited the Yurakucho store.
The company rents one section of the store measuring 60 centimeters by 30 centimeters to companies that want to display product samples for ¥300,000 a month, and provides them with data on visitor trends. A total of 25 cameras in the store estimate the age and gender of shoppers and analyze which products they have shown interest in. Personal information is deleted from the data.
The strength of brick-and-mortar stores is that customers can discover products outside of what they had in mind. Takuji Kitagawa, 39, country manager of the company's Japanese unit, said, "As face-to-face contact becomes more and more difficult, I think the time has come for a new form of retail where the barriers between online shopping and brick-and-mortar stores disappear."
Add TheJapanNews to your Google News feed.