Law Revision Eyed to Get Hospitals to Provide Beds for COVID-19 Patients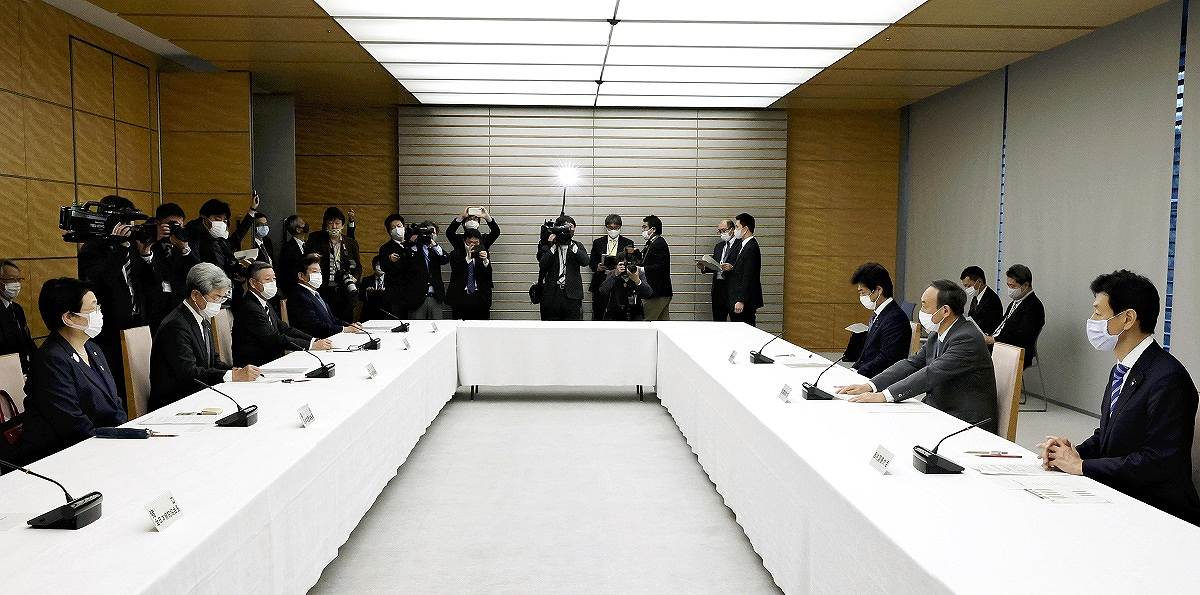 17:04 JST, January 15, 2021
The government plans to revise the infectious diseases law to encourage medical institutions to accept patients infected with the novel coronavirus in order to secure hospital beds.
The government wants to ensure the health care system can be maintained in areas where conditions are worsening by encouraging hospitals to help cope with the serious shortage of beds.
It plans to submit a bill to revise the infectious diseases law to an ordinary Diet session to be convened Monday. Article 16-2 of the law stipulates that the Health, Labor and Welfare Minister and prefectural governors may "request the cooperation" of physicians and other medical personnel in taking necessary measures to prevent the spread of infectious diseases. The revision will change the wording from "request" to "advise." Also, the names of medical institutions that refuse to act will be made public to make the legislation more effective.
Article 31 of the law on special measures against new strains of influenza stipulates that prefectural governors can ask doctors for their cooperation as well. But, the infectious disease law allows the government to seek "wider-ranging cooperation, including from the health minister," according to a senior health ministry official.
The fact that the number of hospital beds that accept COVID-19 patients has not increased despite a sharp rise in the number of people infected with the virus is behind the move.
According to the health ministry, a total of 27,650 beds had been secured by prefectures for COVID-19 patients as of Jan. 6, which accounts for only 4% of acute care beds for patients requiring surgery or emergency treatment.
According to a ministry survey, as of the end of November, more than 70% of public acute-care hospitals nationwide were ready to accept COVID-19 patients. Meanwhile, only 20% of private hospitals were conducting preparations because many private medical institutions are small or mid-size, and some are not equipped with ventilators. However, the government "expects them to accept patients as long as there is room," a senior ministry official said.
On Thursday, Prime Minister Yoshihide Suga met with senior officials of the Japan Medical Association (JMA) and a hospital organization at the Prime Minister's Office and called for their "further cooperation in providing necessary medical care to those who need it," following a severe shortage of hospital beds.
JMA President Toshio Nakagawa responded by saying that JMA and the hospital group would jointly establish a body that works to secure beds next week at the earliest. "We will secure as many hospital beds and human resources as possible," Nakagawa said.
Chief Cabinet Secretary Katsunobu Kato said Thursday at a press conference that the government would also offer additional subsidies of up to ¥4.5 million per bed to hospitals that accept COVID-19 patients in areas outside those under the state of emergency. The subsidy will be about ¥20 million per bed for severely ill patients and ¥9 million for those with moderate or less severe symptoms.
Add TheJapanNews to your Google News feed.