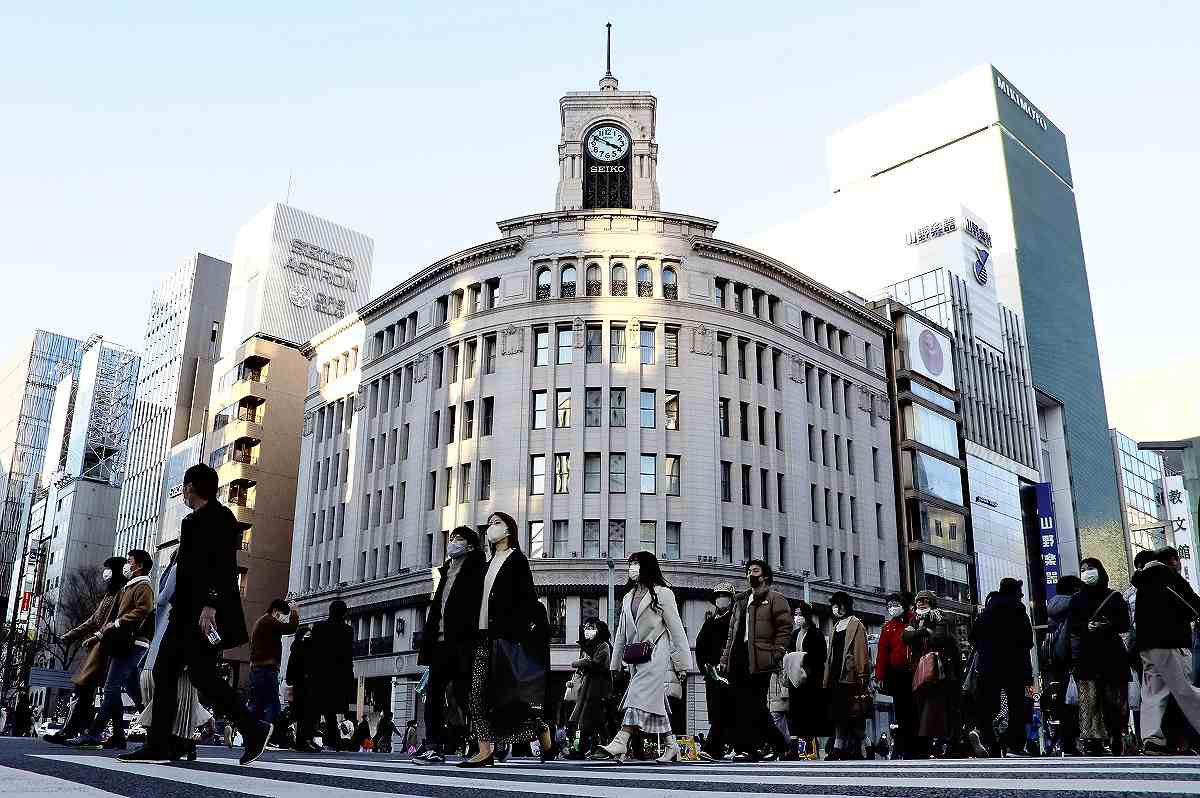 17:25 JST, January 14, 2021
Shopping, entertainment and business districts in Tokyo and three nearby prefectures have been less crowded since a state of emergency was declared one week ago to combat surging novel coronavirus cases, but the decrease in foot traffic has been smaller than that recorded during the previous emergency announced in spring 2020.
Experts are blaming this tepid result on a lack of "clarity" in the government's Jan. 7 request that people in Tokyo and the prefectures of Saitama, Chiba and Kanagawa stay home. To boost the effectiveness of the emergency declaration, the central and local governments will look to increase calls for people to refrain from nonessential, nonurgent outings — both at night and during the day.
Yasutoshi Nishimura, the minister in charge of economic revitalization and the government's coronavirus response, posted a Twitter message Monday — the last day of a three-day weekend — urging people to refrain from nonessential, nonurgent outings during daytime. Nishimura wrote that the number of people going out had not declined and asked people to avoid going out "not only at night, but also during the day."
According to foot traffic data that tech company Agoop Corp. gleaned from smartphone location information, the number of people in Tokyo's Ginza shopping district on Saturday had dropped by about 30% from the end of 2020. Compared with the situation before the pandemic, foot traffic in Ginza during the previous state of emergency plunged between 80% and 90% at both 3 p.m. and 9 p.m., but this time there was only a 50% drop at 3 p.m. and 60% at 9 p.m.
The number of commuters using Tokyo Station and Shinagawa Station at about 8 a.m. on Jan. 8 — the day after the emergency was declared — was down about 40% to 50% compared with pre-pandemic levels. This drop fell short of the 50% to 60% recorded during the first emergency. The government set a goal of cutting by 70% the number of people commuting to work by having them work from home instead, but it seems the current state of emergency has been less successful in achieving this goal than the previous emergency had.
■ Governors alarmed
Several governors have been sounding the alarm over the modest drop in foot traffic.
"Amid this surge in infections, taking weaker steps than last time makes no sense," Kanagawa Gov. Yuji Kuroiwa said.
Some experts have blamed the especially small decline in people moving around during the day on unclear messaging delivered by the central and local governments.
At a press conference held to announce the state of emergency on Jan. 7, Prime Minister Yoshihide Suga urged restaurants to close by 8 p.m., encouraged teleworking, asked people to refrain from nonessential, nonurgent outings after 8 p.m. and urged restrictions on event attendance. These four key steps centered on cutting back going out in the evening.
Experts on infectious diseases having been saying that focusing so much on drinking and dining after 8 p.m. mistakenly conveys the message that it is OK to do these things until 8 p.m.
At a press conference Wednesday, Suga specifically mentioned the importance of curbing daytime movements.
"I urge people to refrain from nonessential, nonurgent outings not only after 8 p.m., but also during the day," Suga said.
The government's emphasis on nighttime outings was a nod to the risk of infections spreading while people eat and drink together, This emphasis was considered a key element of the measures to combat the novel coronavirus. However, the risk of infections spreading during meals at night is the same as at meals during the day. If more people go out, the chances they might eat together could also increase.
"It's vital that people avoid the Three Cs [closed spaces, crowded places and close-contact settings] and speaking in loud voices or conversing without wearing a mask," said Shigeru Omi, chairman of the government's coronavirus task force. "I urge people to refrain from leaving home as much as possible, whether it be during the day or night."
An advisory body to the Health, Labor and Welfare Ministry reported Wednesday that work parties and young people meeting for meals and drinks were major factors behind the spread of infections in areas such as Tokyo. The body urged the central and local governments to work closely to convey messages on refraining from nonessential, nonurgent outings and reducing person-to-person interactions.
"Many people changed their behavior during the previous state of emergency because they were scared of this unknown virus," said Nihon University Prof. Mitsuru Fukuda, an expert on risk communication. "This time, some young people, in particular, feel they don't need to change their behavior because they have a low risk of developing severe symptoms of COVID-19. The government must take other steps to deliver messages that catch the attention of young people, such as by using young celebrities."
■ Osaka's worsening situation
The government on Wednesday extended the state of emergency to seven more prefectures — Osaka, Kyoto, Hyogo, Aichi, Gifu, Fukuoka and Tochigi. Of them, Osaka took a head-start in asking restaurants and bars to shorten their business hours and close early, which had helped lower the number of new infection cases there. However, the situation has taken a turn for the worse since the New Year started.
At a meeting of the Osaka government ahead of the announcement the emergency would be extended to the prefecture, experts indicated that authorities would need to call for measures that prevent infections spreading among people eating meals together and urge residents to refrain from going out during the day as well as at night.
Since Nov. 27, the Osaka prefectural government has asked establishments such as restaurants serving alcoholic drinks and bars in Osaka City to close their doors by 9 p.m. As a result, the prefecture's weekly total of new infections peaked at 2,462 people from Dec. 1-7, but by the end of that month, the figure was below 1,900.
Despite this positive trend, the prefecture set a record daily high of 560 new cases on Jan. 6. This daily figure jumped above 600 new cases from Jan. 7-9. The weekly case total from Jan. 5-11 soared to 3,874 people — almost double the figure from the previous week.
The prefectural government believes younger generations have been chief drivers behind this rise. During the week beginning Jan. 1, the number of people ages 10-19 infected with the virus increased 130% from the previous week, and those in their 20s rose 40%. A significant number of cases spread through drinking parties held in private homes, reunions and parties held since last year's Christmas period.
The spread of infections from Osaka City to surrounding areas also has become apparent. At the end of November, the number of infections per 100,000 people in Osaka City was more than double that of areas outside the city; in January, this figure has dropped to 30% more.
The coronavirus spreading from major cities to neighboring areas is occurring elsewhere, too. On Jan. 7, Aichi Prefecture hit a record daily high of 431 new infections. Aichi Gov. Hideaki Omura said about half of the prefecture's cases were among people living in Nagoya.
"Infections are slowly spreading from Nagoya to surrounding cities and towns," Omura said.
Subsequently, Aichi and neighboring Gifu Prefecture asked the central government to add them to the areas covered by the state of emergency.
Add TheJapanNews to your Google News feed.