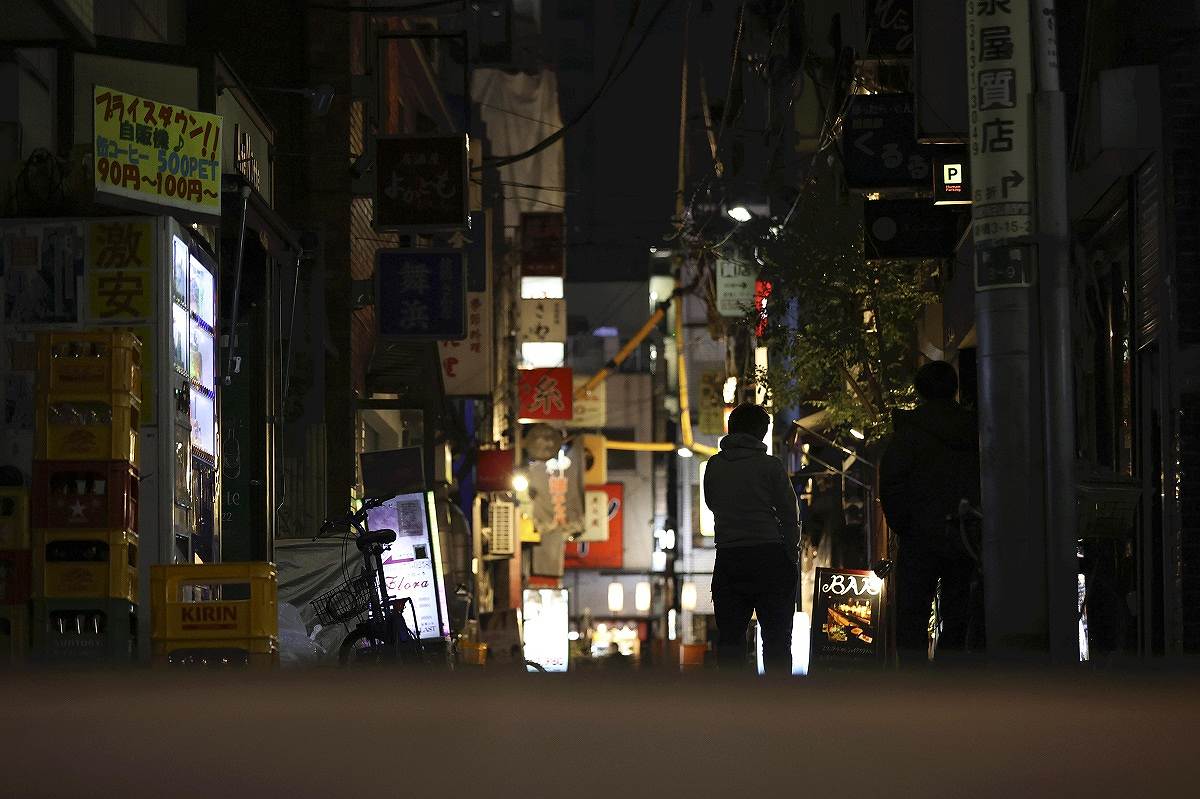 15:41 JST, January 7, 2021
It's after 10 p.m. Monday in an entertainment district in Tokyo. Although dining and drinking establishments adhering to the official request to shut early to help stop the spread of the coronavirus are closed, the lights were still on in several bars.
A young couple and a group of three young men quietly slipped into one of them. Once inside, one of them picked up a microphone and the group quickly joined in a hearty singalong. Their evening of drinking and singing karaoke continued until after the clock ticked past midnight.
"I haven't been out drinking this late for ages," one of the male customers said happily when he left the bar. "That was so much fun."
Dining establishments have a crucial role to play in combatting the spread of the coronavirus. Since November, the metropolitan government has asked karaoke venues and restaurants serving alcohol in the capital's 23 wards and the Tama area in western Tokyo to shorten their business hours and close by 10 p.m. Tokyo Gov. Yuriko Koike also called on Tokyo's residents to refrain from making unnecessary outings at night.
"The New Year is a profitable time, and I have to make sure my employees can make a living," the bar manager said in a hushed voice as he explained why he stays open until late at night. "Places like my bar are better because we keep operating without receiving a payment from the government for closing early. Many establishments have turned off their signs but are still operating."
■ Medical crisis not conveyed
Koike was among the governors who urged residents to refrain from unnecessary outings and to stay home rather than making traditional visits to their hometowns during the New Year period. Despite this, new cases of COVID-19 continued increasing in the Tokyo metropolitan area, three nearby prefectures and elsewhere.
On Dec. 31, Tokyo recorded more than 1,000 new coronavirus cases in a single day for the first time. Observers had expected there would be more tests conducted ahead of the New Year period before medical institutes reduced their services during the holidays, and as more people paid to get tested before traveling to their hometown. Despite this, the figure was "higher than we expected," a Tokyo metropolitan government official said. Even during the first three days of this year, when case numbers were forecast to drop, they still hovered at about 800 new cases daily.
An analysis of people's movements near four major stations – Shinjuku and Ginza in Tokyo; Yokohama; and Urawa in Saitama Prefecture – based on data from Agoop Corp., an information and communications company under the SoftBank Group, revealed that movements were unchanged in the week of Dec. 21-27, two weeks before the current surge of infections, compared to the week of Dec. 14-20. Although movements between Dec. 28 and Jan. 3 declined by 30% to 50% from the previous week, they began rising again from Jan. 4.
An expert who is a member of an advisory body to the Health, Labor and Welfare Ministry warned that the situation could get worse. "The critical situation facing medical facilities isn't being conveyed to the public. People's trust in the government and governors has been shaken compared with when the previous state of emergency was declared," the expert said.
Shigeru Omi, chairman of the government's coronavirus task force, has stressed that a "sense of unity" is essential among the government, local governments and residents of Japan.
"I am sure people feel that they did enough to combat the coronavirus, but the worst thing would be if even these efforts don't produce good results," Omi said at a press conference Tuesday evening, ahead of the coming issuance of a state of emergency. "The central government and local governments must work even more closely together, and they need to send strong messages and provide strong support measures."
Add TheJapanNews to your Google News feed.