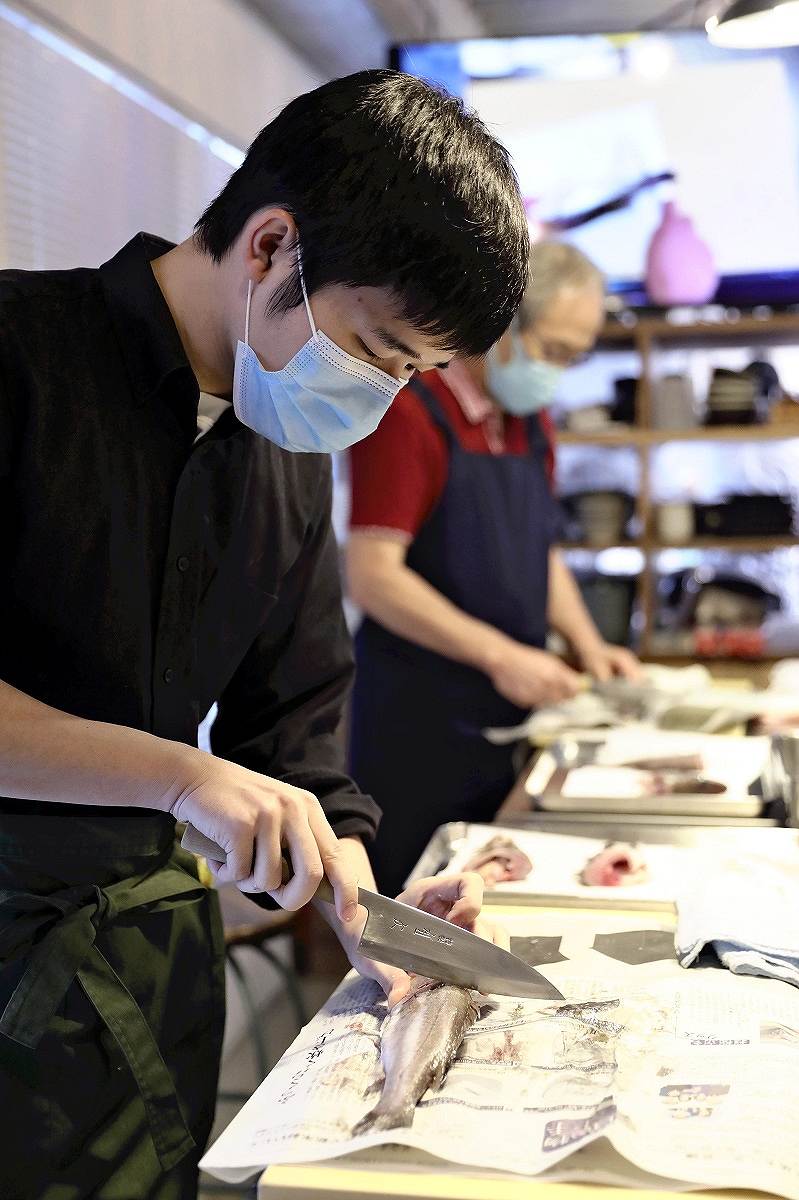 12:02 JST, January 4, 2021
Having to stay home amid the coronavirus pandemic has led many people to pick up new hobbies or skills. For some, learning to properly clean and prepare fish is one of these.
The long, painstaking process is why many tend to avoid the protein, but there are those who enjoy it. As a result, more people have developed an interest in learning about the various types of kitchen utensils. Video sharing sites seem to play a major role in popularizing this trend.
"Make sure the knife straight while keeping its edge close to the bone," said Osamu Shimazu, an instructor at Tsukiji Osakana Club, a cooking class in Tokyo specializing in cleaning a fish.
On Nov. 22, Shimazu was teaching how to fillet a high-quality ara sea-bass to eight men and women in their 20s to 60s.
Shimazu runs an intermediate wholesaler at Toyosu Market in Tokyo's Koto Ward. Since 2011, he has held about 15 cooking classes a month, teaching cooking tips such as thoroughly wiping off the blood and water to get rid of the fish odor and using bones to make the broth, on top of teaching knife skills.
His classes are full despite the coronavirus crisis. It used to be mostly women in their 40s, but amid the pandemic, men in their 30s have also begun attending classes, as they spend more time in the kitchen or go fishing in an effort to be outside.
In a class on the day, a male company employee was seen plating sashimi after struggling to handle the knife.
"I did better than I expected," he said. "I'll try again at home."
The Japan Fisheries Association conducted a survey on 1,000 people in 2019, and about 93% said they enjoy eating fish. However, the annual seafood consumption per capita has been on a downward trend since peaking in fiscal 2001 at 40.2 kilograms, and in fiscal 2018, it was 23.9 kilograms, according to the Agriculture, Forestry and Fisheries Ministry.
According to a questionnaire survey by the ministry, when asked why they consume less fish, many people responded that their family prefers meat, or cooking fish is too complicated or they do not know how to prepare it.
Video sharing sites such as YouTube have many instructional videos showing how to clean fish.
"Sabakeru Channel," which is run by the Nippon Foundation and other organizations, posts videos of cooking experts cleaning more than 100 kinds of fish and seafood, showing off their skills handling a knife. Compared with before the virus, the channel has seen an increase of 1.5 to 2 times more clicks during the state of emergency, as well as in November when there was a surge in infections. About 80% of the viewers were men, and videos on preparing red sea bream, yellowtail and salmon were particularly popular.
Men who have recently started cooking fish have been seen shopping on Kappabashi Dougu Street, which is full of shops specializing in cooking utensils in Taito Ward, Tokyo.
Japanese-style knives used for filleting or slicing fish, such as deba and yanagiba, are selling well these days at Kama-Asa, which sells about 60 kinds of kitchen knives and scalers. Utensils that are priced around ¥10,000 are popular, the shop said.
■Gathering to fish
Interest in fishing is growing as more people go camping or do other outdoor activities to avoid the so-called Three Cs — closed spaces, crowded places and close-contact settings — amid the pandemic. Spots are becoming crowded as more people discover the appeal of fishing nationwide. Many seem to enjoy eating the fish they catch.
Visitors to Original Maker Umizuri Koen, an Ichihara municipal sea fishing facility in Chiba Prefecture, increased 1.5 times from the period before the infection spread. The fishing facility can accommodate up to 190 people at a time, however, more than that often line up in the morning before the doors open on weekends.
"More of our visitors are younger and female," a director of the fishing facility said. "They often ask us how to cook the fish they caught."
As people gather at fishing spots, however, littering and illegal parking have become an issue nationwide. The Tokyo-based Japan Sportfishing Foundation welcomes the increased interest but urges the public to be considerate of others.
Add TheJapanNews to your Google News feed.