With eyes on Mars, U.S. scientists test Japan-made robot seal for reducing astronaut stress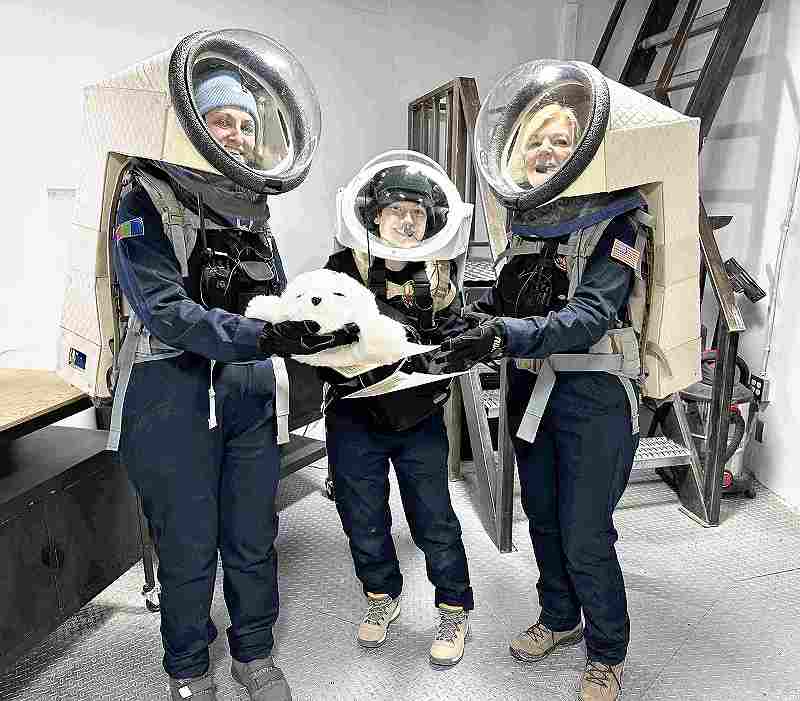 11:05 JST, January 8, 2023
Living in space can get stressful, and scientists in the United States are looking to see if they can take some of the strain off its astronauts with a product of Japanese technology — a cuddly robot seal that is world renowned for its soothing effects.
Paro, modeled after a baby harp seal, has been the focus of experiments that started in November last year on reducing stress in closed environments such as spacecraft. The tests are being carried out by the Mars Society, a Colorado-based international nonprofit organization, in cooperation with the National Aeronautics and Space Administration (NASA).
The experiments are a precursor to human exploration of Mars scheduled for the 2030s and beyond, which will require astronauts to spend several years at a time in space.
According to the Japan Aerospace Exploration Agency, a trip to Mars and back is expected to take about three years, including the time needed for exploration of the planet. There are concerns that astronauts could become highly stressed as they spend time in a cramped spacecraft or the base camp on Mars.
The Mars Society has been studying the effects of extended stays in closed environments on human health since 2002, and chose Paro for the tests on mental healthcare for astronauts.
Paro, which has been approved as a therapeutic device in the United States, measures 57 centimeters in length and weighs 2.6 kilograms. Equipped with artificial intelligence, Paro responds to human touch by mewing and blinking its eyes.
In 2002, it was certified by Guinness World Records as the robot that produces the "greatest reduction in stress levels." Following the Russian invasion of Ukraine, the robot was used in the mental care of Ukrainian refugees.
According to the Mars Society and Takanori Shibata, the chief senior researcher of the National Institute of Advanced Industrial Science and Technology and inventor of Paro, the first experiments were conducted at the society's lab in Utah from Nov. 13 to 26.
The Paro used for the experiments was provided by Intelligent System Co., a manufacturer and distributor of electronic components based in Nanto, Toyama Prefecture.
Six women were divided into two groups, with one spending time with Paro and the other having no contact, and their pulse and heart rates were measured. The Mars Society, in cooperation with NASA, will analyze the data and journals of test participants to determine the robot's effects in reducing their stress.
More experiments are planned for this year in Poland and in waters around Australia.
"These tests are the first step," Shibata said. "We want to consider developing [Paro] for applications in space."
Shinichi Kimura, a professor at Tokyo University of Science who is an expert on astronaut stress, said, "It is an intriguing experiment. Having something around you that can interact and respond to you makes it possible to reduce stress."
Add TheJapanNews to your Google News feed.