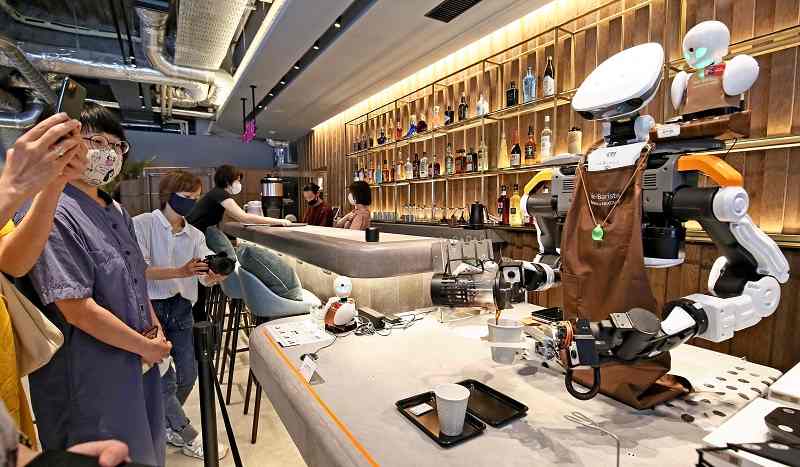 16:45 JST, July 18, 2021
People kept largely at home by intractable diseases or disabilities are nonetheless working as servers at a newly opened cafe in Chuo Ward, Tokyo. They wait on customers by remotely controlling humanoid robots.
The cafe, named Avatar Robot Cafe DAWN (Diverse Avatar Working Network) ver. β, opened on June 21. Similar shops have existed in the past, with the first of them opening in 2018, but they only operated for one to three weeks. The new cafe is permanent.
About 20 humanoid robots are used in the nearly 200-square-meter shop. They belong to three types — the small OriHime and larger OriHime-D, both developed by Ory Lab Inc. in Chuo Ward, Tokyo; and Nextage developed by Kawada Robotics Corp. in Taito Ward, Tokyo.
All these robots are remotely operated by about 50 people living in Japan or abroad. These workers, called "pilots," give commands to robots via personal computers, tablet terminals or similar devices using a mouse or eye-gaze input. They get paid for the work, which they can do from home or elsewhere.
When a customer is seated, a tabletop OriHime robot is operated to raise its hand to greet the customer, while saying things such as "Where are you from?" and "How is the weather in your place today?"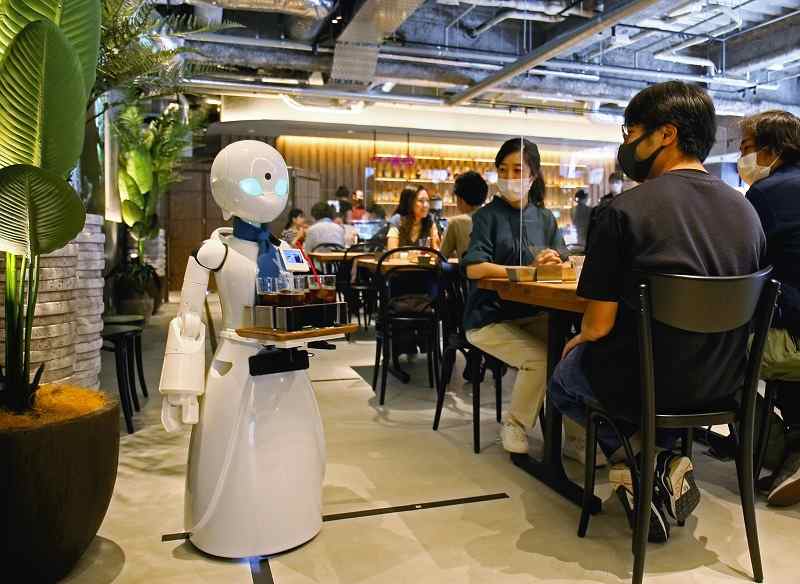 Then, the robot directs the customer's attention to the menu displayed on a tablet device on the table, saying, "Please choose from the menu."
After a while, one of the larger OriHime-D robots, which is capable of moving around the room, brings the customer's order and says things like, "Thank you for waiting." Both OriHime and OriHime-D are equipped with microphones and speakers to enable customers to talk with pilots and also enjoy conversations with them over food and drinks.
A system called Tele-Barista features a robot duo of OriHime and Nextage. An OriHime placed on the shoulder of a Nextage asks the customer about their coffee preference, and then the dexterous Nextage sets about making the coffee. As Nextage does not speak, the customer chats with the OriHime — or rather, the OriHime's remote pilot — for a few minutes while their coffee is being made with a French press.
Ory Lab Inc., which opened the cafe, specializes in studying, developing and manufacturing products related to communication technology.
Company representative Kentaro Yoshifuji, 33, said, "I want to create medium-term and long-term job opportunities through repeated trial and error."
He also said: "I want to continue making efforts to bring us closer to a society where everyone can work."
Naoki, 52, remotely controls an OriHime from Shinjuku Ward, Tokyo. He has severe heart failure and is awaiting a heart transplant.
"I used to always think about negative aspects [of my life]. But here, I can work and also talk with customers and get energy from my colleagues. It's the best medicine for me," he said.
Those who wish to be served by the robot staff should make reservations online at dawn2021.orylab.com. The cafe is closed on an irregular basis.
Add TheJapanNews to your Google News feed.