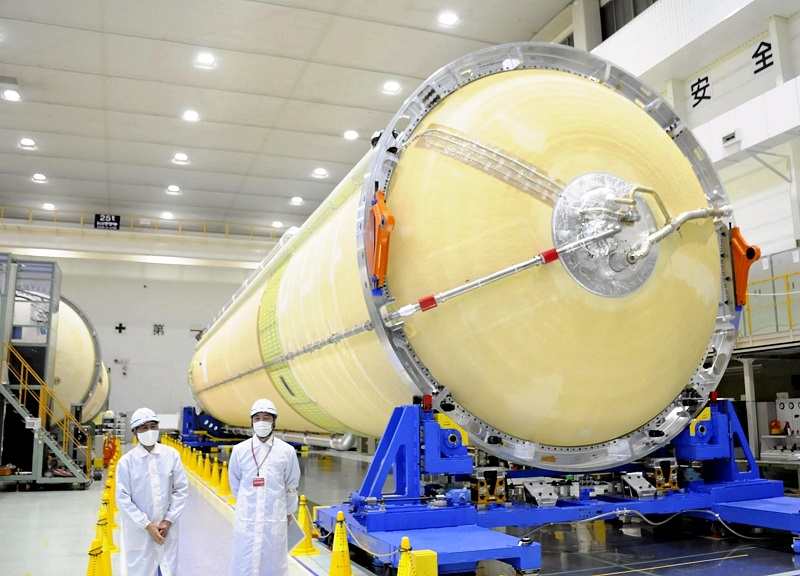 13:24 JST, April 5, 2021
Unlike general-purpose products, rockets have always generally been built without much regard for their cost. For aerospace purposes, expendable, single-use launch vehicles have conventionally been a significant chunk of program budgets.
That was until Space Exploration Technologies Corp. (SpaceX) of the United States perfected a system to reuse their rockets, which reduced the cost of each launch considerably. Unless more reductions in the cost of producing rockets are realized, manufacturers cannot expect to receive more orders from foreign governments or private companies in the burgeoning aerospace economy.
"We'd like to sweep away the market evaluation that [our rockets] are high in reliability but also high in price," said Masashi Okada, the Japan Aerospace Exploration Agency (JAXA) project manager for the H3, a new homemade rocket being developed jointly with Mitsubishi Heavy Industries Ltd. (MHI).
The current, expendable launch system for H2A rockets costs about ¥10 billion per mission. To reduce the cost by half, industrial robots are being used for the assembly of the new H3s, while part of the inspection work has also been automated. By also vigorously making use of parts and components originally for automobiles, efforts are being made to reduce the cost.
The reduction in manufacturing costs will help strengthen profitability. MHI, in its medium-term business plan covering fiscal 2021 to 2023 unveiled last autumn, set forth a policy of achieving a 7% business profit margin in proportion to sales in fiscal 2023, about two times higher than in the current scheme.
Hydrogen power generation
Nurturing new sources of profit is also essential.
Seiji Izumisawa, 63, president of MHI, has pinned his hope on "energy transition" as one of the company's growth areas for the future.
As the trend of decarbonization has been accelerating globally, MHI can no longer count on coal-fired, thermal power generation, traditionally its main profit earner. As prospects are also dim for the construction of new nuclear power plants, the company will aim for a drastic change in its way of doing business.
MHI will not only work on the propagation and promotion of renewable energies to help push up its profits. It will aim at perfecting technologies for collecting CO2 emissions, liquefying the collected CO2, and transporting it via ship.
"The market environment has been changing at a speed faster than expected. Decarbonization of power systems presents us with a huge business opportunity. The time has come for our technology to be useful," said Ken Kawai, 65, president of Mitsubishi Power Ltd., a wholly owned subsidiary of MHI that is in charge of energy projects.
The company's most powerful weapon is its technology for hydrogen-mixed thermal power generation.
At the company's experimental furnace, it has succeeded in generating fuels for power generation, by using a mix of 70% liquefied natural gas – the fuel used in gas-fired thermal power – and 30% hydrogen. Compared with thermal power generation, which uses only natural gas, CO2 emissions can be reduced by about 10%.
As its next target, the company aims to achieve 100% hydrogen power generation. If realized, it will be the first such technology in the world. Kawai enthusiastically said, "By establishing the [complete hydrogen power generation] technology by 2025, we would like to put it on the market all at once."
Experiencing successes
At MHI, a company that has been operating for more than 135 years, past shackles and the experiences of successes have been deep-rooted. Therefore, reforms within the company are likely to be confronted with opposition.
One of the challenges lying ahead is said to be that the company cannot handle well those matters which cover multiple business divisions. A senior official said, "There has been a pervasive atmosphere in which 'we won't do those things that would not lead to the profit of our business division.'"
Hitoshi Kaguchi, 61, MHI's chief strategy officer, feels vexed with the lack of a sense of crisis in the company. While bearing in mind his determination of "securing jobs [for employees] and protecting Japan," he is set to carry out the business plan.
The era of "products can sell well as long as they are good in quality" is over. Even Mitsubishi Heavy Industries, which has consistently underpinned the Japanese economy before, during, and after the war, cannot survive unless it evolves itself in step with changing times. To be tested from now on is whether the company, as a body, can follow through on the policy presented by its top management.
Add TheJapanNews to your Google News feed.