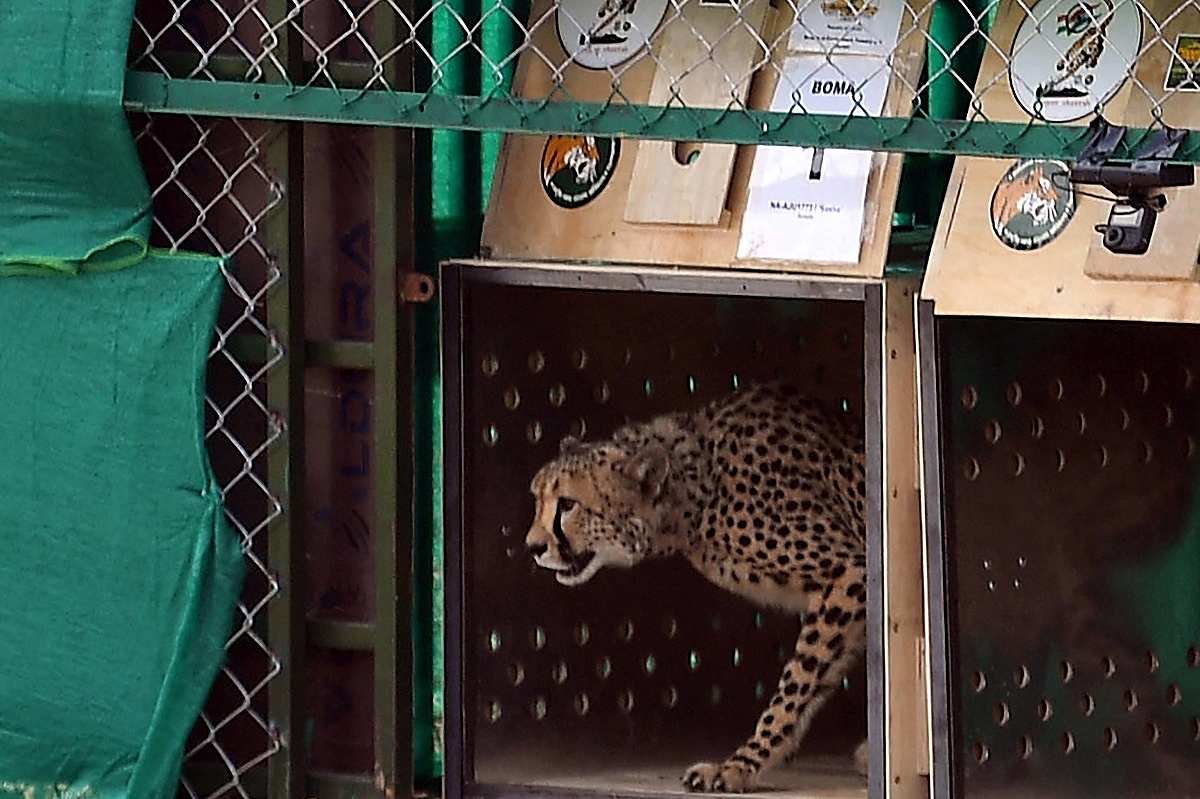 12:10 JST, May 19, 2023
NEW DELHI (AFP-Jiji) — A cheetah brought to India from South Africa in a scheme to reintroduce the world's fastest land animal was killed by its partner while mating on May 9, officials said, the project's third recent fatality.
Daksha was one of 12 South African cheetahs relocated to India's Kuno National Park along with another eight from Namibia, with Prime Minister Narendra Modi presiding over the release of the first arrivals into an enclosure.
"Initial assessment reveals the wounds on the female cheetah appear to have been caused by the male cheetah," the park said in a statement.
"Such violent behavior is normal during mating," it added. "It is impossible to monitor them in this situation."
Daksha is the third cheetah on the high-profile project to die in quick succession. Sasha, a male from Namibia, died of a kidney ailment in March and a South African male, Uday, died last month after it fell unwell.
India was once home to the Asiatic cheetah, but it was declared extinct there in 1952.
The reintroduction is the first intercontinental relocation of cheetahs and the program aims to bring in about 100 of the animals over the next decade.
Critics have warned the creatures may struggle to adapt to the Indian habitat due to competition for prey from a significant number of leopards.
Scientists from the Cheetah Research Project at Leibniz-IZW in Namibia have said the relocation program ignored "spatial ecology" and Kuno National Park was much smaller than spaces the big cats usually need to thrive.
Cheetahs are one of the oldest big cat species, with ancestors dating back about 8.5 million years, and they once roamed widely throughout Asia and Africa in great numbers.
But today, after their extinction from many countries across the Middle East and Asia, only around 7,000 remain, primarily in the African savannahs.
Add TheJapanNews to your Google News feed.