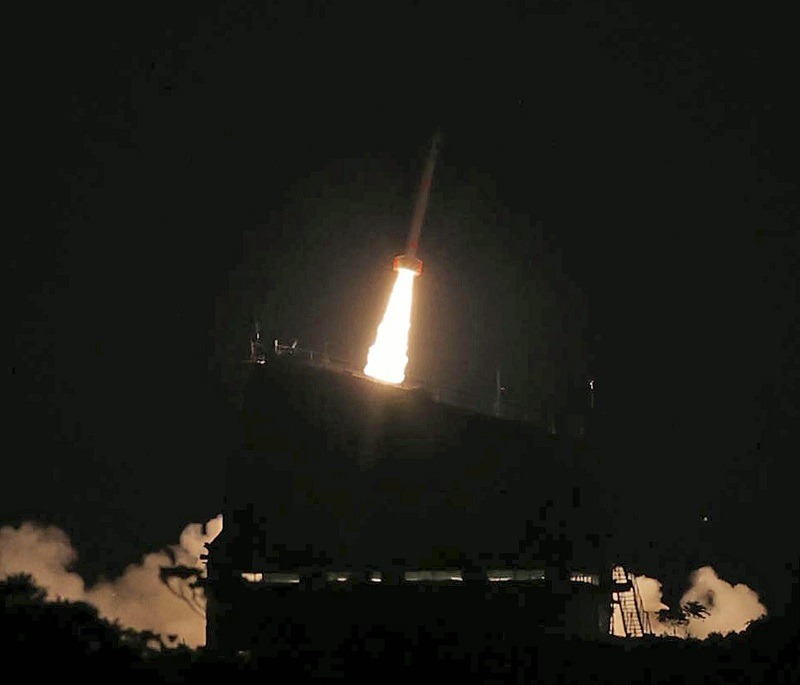 12:12 JST, July 24, 2022
TOKYO (Jiji Press) — The Japan Aerospace Exploration Agency, or JAXA, successfully launched an observation rocket from its Uchinoura Space Center in the town of Kimotsuki, Kagoshima Prefecture, on Sunday.
The S-520-RD1 rocket was equipped with test devices for a scramjet engine, which is needed for developing hypersonic aircraft that travel at five times the speed of sound, or Mach 1, or faster. Necessary data was collected through a combustion test during hypersonic flight.
A jetscram engine draws oxygen needed for combustion from the air during hypersonic flight. Unlike a conventional rocket engine, a jetscram engine does not need liquid oxygen and is therefore expected to be a basic technology for spaceplanes, which would travel between Earth and space, as well as for hypersonic aircraft.
After reaching an altitude of about 150 kilometers following the launch at 5 a.m. Sunday (8 p.m. Saturday GMT), the S-520-RD1, which is 9.15 meters long, separated the test equipment on the top of the vehicle.
The equipment increased its speed as it descended, and a combustion test was conducted for about six seconds when the speed reached Mach 5.5 at an altitude of approximately 30 kilometers.
"We achieved a certain level of success," Koichiro Tani, a JAXA official in charge, told a press conference. "In the next step, we want to make a real engine and conduct a flight test," he added.
The collected in-flight combustion data will be used in wind tunnel tests on the ground and to boost the accuracy of related simulations.
A number of countries are racing to develop scramjet engines, which are expected to help enable the development of longer-range missiles and smaller warheads.
The latest combustion test was part of the research commissioned by the Acquisition, Technology & Logistics Agency under the Defense Ministry affiliate's national security technology research promotion program. The ATLA provided JAXA with about ¥1.8 billion to cover the costs.
The agency expects to use the collected data for the development of hypersonic guided missiles and other devices.
In a statement released in 2017, the Science Council of Japan expressed concern over the ATLA's national security technology research promotion program, citing the scientist community's remorse for its past cooperation with war efforts and the importance of autonomy of research. The program has "many problems" because of government intervention into research, the statement said.
In response, JAXA said it has confirmed that the combustion test would be in line with the basic principle of peaceful use of space stipulated in the basic space law and that the disclosure of research results would not be restricted.
Add TheJapanNews to your Google News feed.