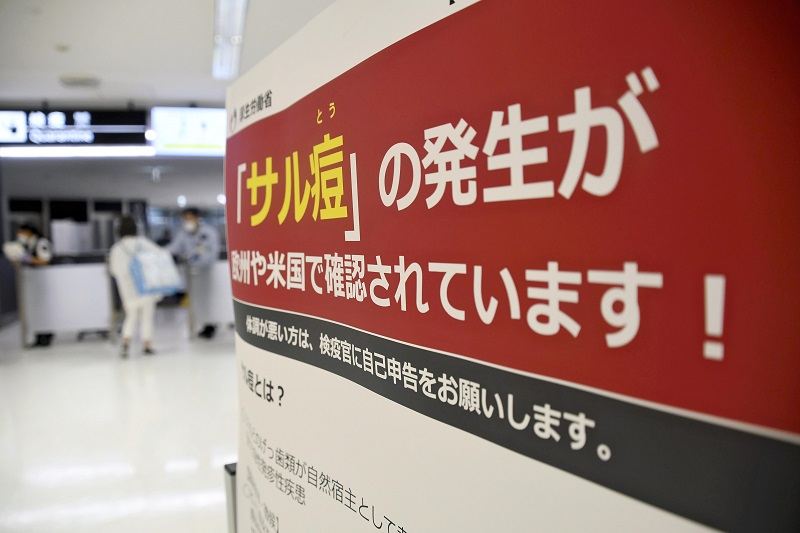 6:00 JST, June 10, 2022
Japan has raised its vigilance for monkeypox following a spike in infections in European countries and other nations.
The government has issued guidelines calling for officials to be on high alert for suspected cases, but experts say there is no need to be excessively worried based on the low infection and fatality rates of monkeypox, an infectious disease similar to smallpox that is endemic in parts of Africa.
About 1,200 people have been infected with monkeypox or a similar orthopoxvirus in 29 countries and regions, including the United Kingdom and Spain, according to a Wednesday announcement by the U.S. Centers for Disease Control and Prevention (CDC).
The CDC raised its monkeypox alert to Level 2 — "practice enhanced precautions" — on its three-tier scale.
The World Health Organization (WHO) said the virus has spread rapidly since it was confirmed in the United Kingdom in early May. It is "highly likely that other countries will identify cases and there will be further spread of the virus," according to the WHO.
No deaths linked to monkeypox have been confirmed in the 29 nations and regions where the virus has emerged since May, according to the WHO and other sources. In Africa, where levels of medical care are generally low, fatality rates are estimated to be 3%-6%.
Japan has relaxed its COVID-related border restrictions, raising a cap on international arrivals from 10,000 people per day to 20,000.
The Health, Labor and Welfare Ministry said no monkeypox cases have been confirmed in Japan. Quarantine stations are not testing arrivals for the virus.
Posters have been put up at Narita Airport urging travelers to contact a public health center if they develop symptoms.
On June 1, the health ministry released emergency guidelines in which local governments are urged to take prompt action if suspected cases emerge, for example, if a person develops a rash after returning from a country where outbreaks have been confirmed.
As monkeypox testing is only available at the National Institute of Infectious Diseases in Tokyo, the ministry is establishing procedures for transporting specimens of suspected patients.
The ministry is also establishing plans for the treatment of monkeypox patients at 58 specialized medical institutions.
"The occupancy rate of COVID-19 hospital beds is decreasing, so we should be able to handle monkeypox patients. We don't want to underestimate the situation," a Tokyo metropolitan government official said.
The smallpox vaccine is said to be about 85% effective in preventing monkeypox. Japan discontinued routine smallpox vaccinations in 1976, but the government secured enough doses for 2.5 million people after the 2001 terrorist attacks in the United States in preparation for possible bioterrorism.
The health ministry is determining whether the vaccine, which is domestically produced and stockpiled, can be used against diseases other than smallpox.
Monkeypox patients usually receive treatment to alleviate their symptoms. The European Union approved the use of an oral smallpox medicine to treat monkeypox in January, but the drug has not been cleared for use in Japan.
According to the WHO and other organizations, the incubation period of the virus is 5-21 days. Patients usually develop a fever, headache and swollen lymph nodes, after which a rash spreads from the face to the hands and feet. The rash starts as raised spots that turn into small blisters filled with fluid. These blisters eventually form scabs that take about three weeks to heal, naturally, in many cases.
Tokyo Medical University Prof. Atsuo Hamada said: "Monkeypox is relatively easy to contain because there is said to be little risk of the virus spreading during the incubation period. Infections can be prevented by avoiding contact with suspected patients."
Add TheJapanNews to your Google News feed.