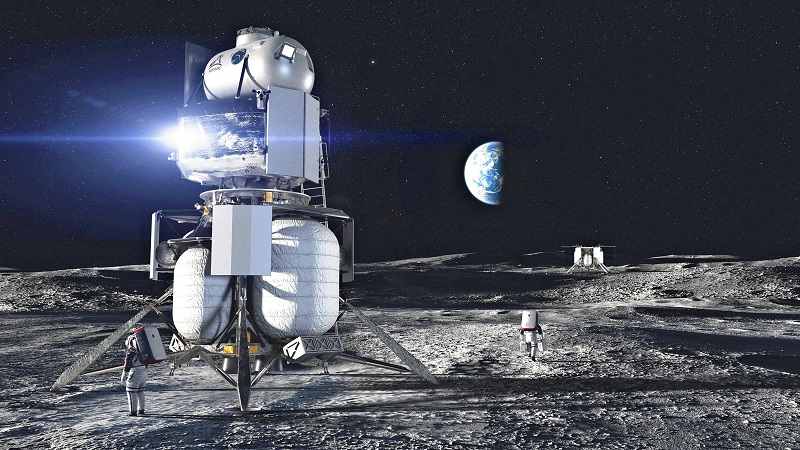 17:00 JST, March 30, 2021
WASHINGTON — The U.S. National Aeronautics and Space Administration is considering delaying its effort to send astronauts to the moon in 2024 under the Artemis program due to a shortfall in funding for developing lunar landers, NASA told The Yomiuri Shimbun.
President Joe Biden's administration is expected to change former President Donald Trump's policy of early realization of the moon mission to a more realistic one. The delay, if decided on, may affect Japan's manned space policy, as Japan has announced its plan to participate in the NASA project.
The Artemis program aims to send two American astronauts to the moon in 2024 and to build a space station, the Gateway, which will be placed in orbit around the moon.
In 2019, the Trump administration decided to move up the original 2028 target, hoping to make it the centerpiece of his administration's space policy, and proceeded with development of new rockets and landers.
NASA said it would maintain the goal and direction of the program even under the Biden administration, but also said that the 2024 target did not seem realistic. As for the reason for the possible delay, NASA said it did not have enough money to develop lunar landers.
The moon landers being developed jointly with private companies received $850 million in the U.S. budget for fiscal 2021 (October 2020 to September 2021), but that amount was only about 25% of NASA's original request.
The Biden administration plans to appoint former Democratic Sen. Bill Nelson, 78, as NASA administrator and revise the program to make it more realistic.
However, its space rival China intends to cooperate with Russia to build a lunar research center by the 2030s. Washington is expected to seek the earliest possible landing date while keeping an eye on Beijing's developments.
A U.S. expert said it was reasonable to think that the delay would be for two to three years considering budgetary constraints.
The Japanese government announced its participation in the Artemis program in October 2019 and is currently developing unmanned supply spacecraft to send materials to the space station as well as manufacturing equipment to be used there. Japan's future schedule may be reviewed if a decision is made to delay the Artemis program.
The delay may also affect the recruitment of new astronauts, set to begin this autumn with the aim of landing on the moon in the late 2020s.
Add TheJapanNews to your Google News feed.