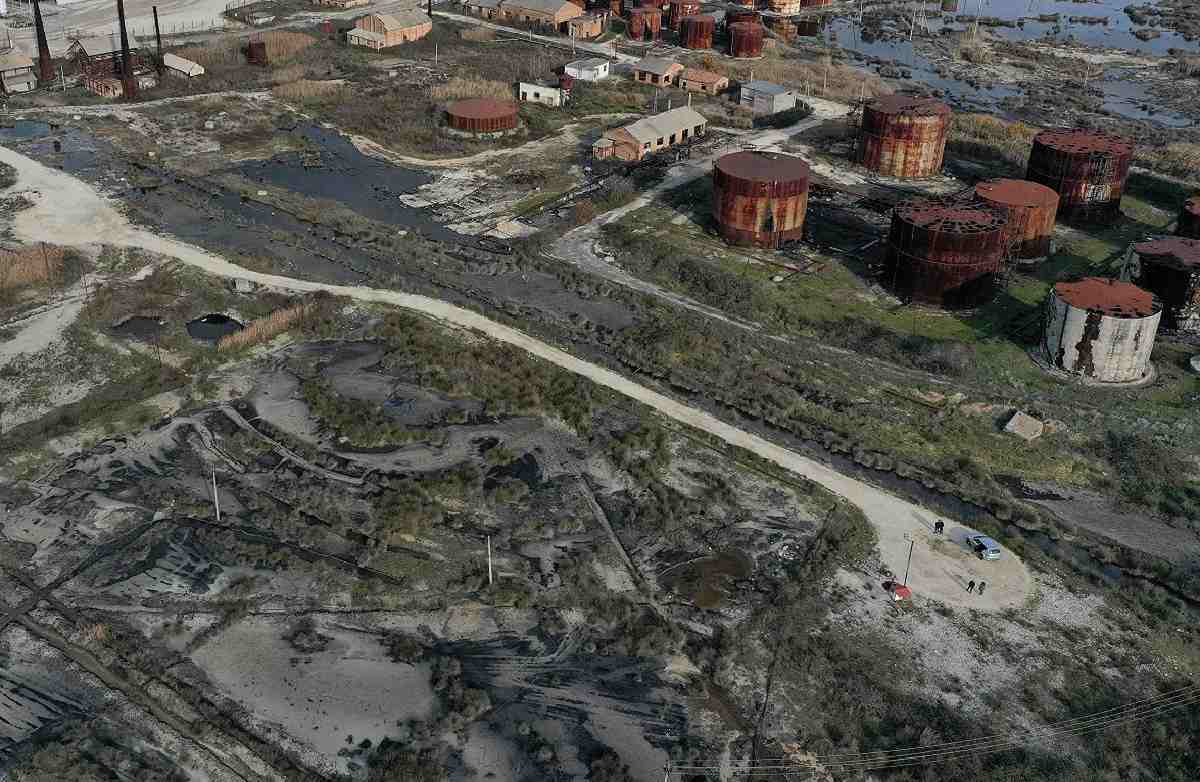 16:05 JST, February 2, 2023
ZHARREZ, Albania (AFP-Jiji) — The people of Zharrez in central Albania live amid a stinking apocalyptic landscape of leaking oil wells and rusting storage tanks, the soil blackened from spills of crude that seep into their water.
"We all have health problems," said Milita Vrapi, one of 2,000 villagers who live cheek by jowl with the Balkan nation's largely unregulated oil industry.
"The air is very heavy. I often feel dizzy and nauseous with headaches and persistent fatigue," she said the 49-year-old mother as a ramshackle rig wheezed into life only 4 meters from her home.
The water is undrinkable and the vegetables in her garden no longer grow, she said.
Abandoned wells and storage tanks and rusted and leaking pipelines litter the oil-rich Patos-Marinza area, where swamps and little lakes of black crude scar the landscape. Much of the equipment in the oil fields has not been maintained for nearly three decades.
Stinking air
"Black gold has brought millions of dollars out of the ground, but local residents have hardly benefited from it," said villager Marsilin Senka, while clutching his two-month-old baby, who has acute bronchitis.
The air stinks from old wells that have been left open and crude left to rot in crumbling tanks and open-air pits. In summer some locals said it is unbreathable.
Zharrez alone has around a dozen wells run by state-owned Albpetrol — most half a century old — just a stone's throw from homes.
Others in the area are operated by the Chinese Bankers Petroleum group.
"Pollution is not a priority for the oil companies," Senka added.
"More than 18,000 square meters are heavily polluted by crude oil because infrastructure has been left abandoned for more than 25 years, with harmful effects on the environment and the health of the inhabitants," said Qani Rredhi, the head of the village's environmental group.
Even human rights groups have condemned the situation, with the Albanian Helsinki Committee saying in its latest report that "the proximity of residential areas and greenhouses to oil fields and old wells … and the lack of safety and rehabilitation measures are of great concern."
Illness
Locals said the oil fields may be responsible for myriad health problems affecting residents.
"The number of inhabitants who complain of respiratory problems, high concentrations of carbon dioxide in the blood or who suffer from illnesses linked to industrial activities is very high," said Adriatik Golemi, another local environmentalist.
Under the communist dictatorship of Enver Hoxha people were mostly prevented from living in the area.
But following the fall of his regime, authorities tolerated the return of small numbers of impoverished residents and others settling in the area.
Environmental groups have also linked the pollution to cancers which have claimed the lives of several locals.
However, Fatjon Shehu — the head of the village health center — said it was difficult to establish a link in the absence of proper studies, especially with the rise in respiratory illness caused by COVID-19.
Beyond the health problems, locals also complain about the risk of injury or death from accidents connected to the industry.
Drownings
"Three years ago, a woman drowned in an oil pit while going after her chickens," Golemi told AFP, saying the village has at least five similar areas where oil is stored in pits.
There have also been "cases of livestock and birds drowning in the oil," added Redhi, who also complained of the "strong gas fumes" spewing from abandoned wells.
Despite the damage the oil industry causes, Albania only produces 4.6 million barrels of crude a year, which is used to make bitumen for roads.
It does however have large reserves estimated at nearly 3 billion barrels, although it has has to import all its petrol since its only refinery was closed in 2019.
Shell has since announced a "significant discovery of light crude" at Shpirag in southern Albania.
The country's Ministry of Energy said the authorities were determined to solve the environmental problems posed by the oil industry.
"The companies working in the Patos-Marinza oil fields are putting in place action plans for the rehabilitation of all the dilapidated infrastructure," told AFP.
But locals want action now.
Artemisa Vrapi, Milita's 16-year-old daughter, said the situation was unacceptable.
"We should not only think about the economy and the extraction of oil, but about saving lives, saving our environment and our planet," Vrapi told AFP.
Meanwhile, the rickety rig next to their home has been broken down for a week and oil worker Kadri Shahu, 58, is trying to repair it. Without performance bonuses, his €540-a-month salary is not enough to feed his family of six.
Add TheJapanNews to your Google News feed.