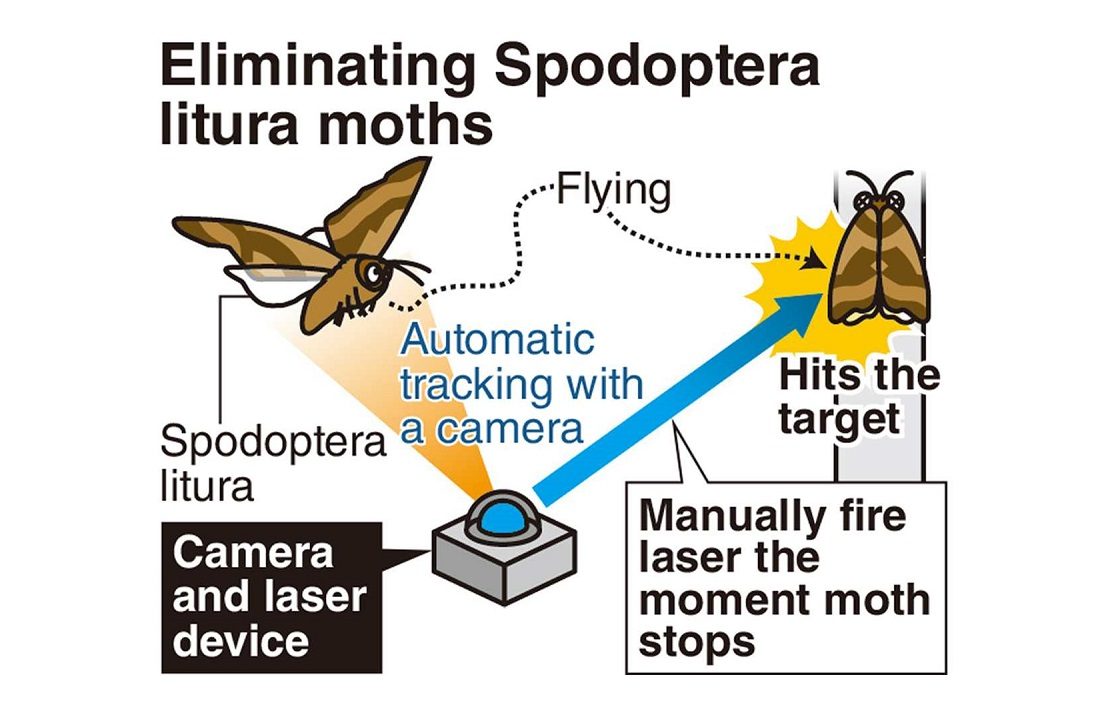 14:05 JST, January 30, 2023
A research team from Osaka University is using a laser beam to target moths that damage agricultural crops.
Larvae of Spodoptera litura, also known as the tobacco cutworm, emerge in large numbers from summer to fall, causing extensive damage to soybeans, cabbage and other crops. Spodoptera litura is designated as a pest under the Plant Protection Law, and prefectural governments predict outbreaks and issue warnings to farmers to spray pesticides.
However, the insect is highly resistant to chemicals, making some pesticides ineffective.
The Osaka University team is aiming to eliminate adult Spodoptera litura moths and thereby suppress their reproduction. To that end, it has developed new technology that uses blue semiconductor laser light, which is ultra-compact and can be operated at low cost.
The team used a camera to automatically detect and track a 15- to 20-millimeter-long adult moth flying at 2 meters per second, and then fired the laser for 0.01 to 0.1 seconds at the moment the moth rested its wings, successfully eliminating the moth.
They were also able to shoot moths down in flight, although the accuracy was low.
The team also discovered that the chest area is a vital spot for the moths, and that they can be killed with a thin beam. It plans to improve the system by using artificial intelligence to predict moths' flight path and automatically direct the beam to increase the accuracy of hitting the vital spot.
"In the future, we want to consider exterminating other pests, such as the desert locust that has been a problem in Africa," said Kazuhisa Yamamoto, a professor of laser engineering at Osaka University.
Hitoshi Nakano, a professor of laser engineering at Kinki University, said: "Blue semiconductor lasers can easily affect the irradiated objects and are applied in various fields, such as material processing. I expect that the technology for tracking and irradiating [pests] will be further enhanced in the future."
Add TheJapanNews to your Google News feed.