Improved water quality sees Japanese eels living in Osaka's Dotonbori River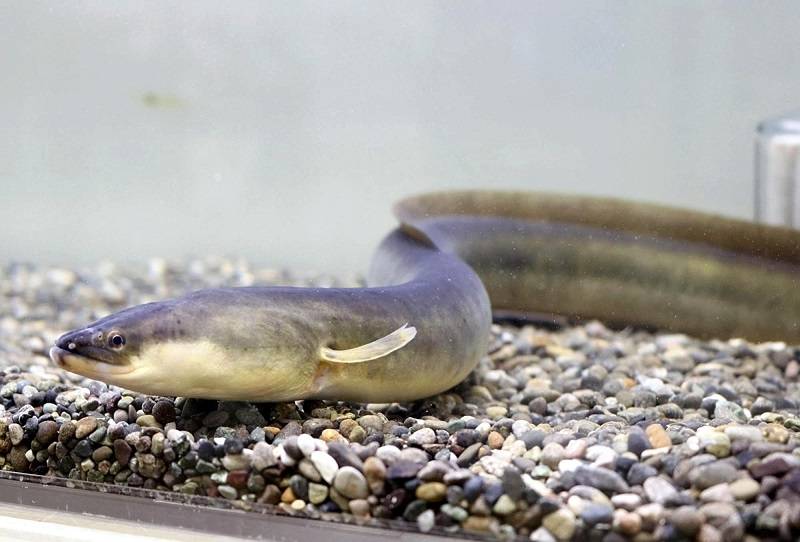 14:33 JST, January 11, 2023
OSAKA — The endangered Japanese eel has been confirmed for the first time to be living in the Dotonbori River in the Minami area of Osaka City, according to a local research institute.
The Osaka Prefecture-run Research Institute of Environment, Agriculture and Fisheries successfully caught 11 Japanese eels in the river. A research institute official in charge said on Tuesday, "The species may have returned to the river because the quality of the river improved."
The 11 eels were found and captured near the commercial complex Minato Machi River Place in Naniwa Ward in the city, which is located near the north exit of JR Nanba Station, on Nov. 11 last year.
The Japanese eel, which has been listed as endangered by the International Union for Conservation of Nature and Natural Resources (IUCN), is a species that lives in rivers in Japan and other East Asian countries. It has been confirmed to be living in the downstream areas of rivers in Osaka Prefecture.
It is believed that the eel previously lived in the Dotonbori River as well. During the high economic growth period, as industrial liquid waste and sewage water flowed into the river, it became so highly polluted that most creatures could not live there.
But recently, the water quality has been improved through such measures as the removal of sludge and bringing in good-quality water from another river.
Some of the eels that the research institute captured have been on show to the public in a special exhibition at the research institute's facility in Neyagawa in the prefecture since Tuesday.
Add TheJapanNews to your Google News feed.