Cities, towns make use of local characteristics for decarbonization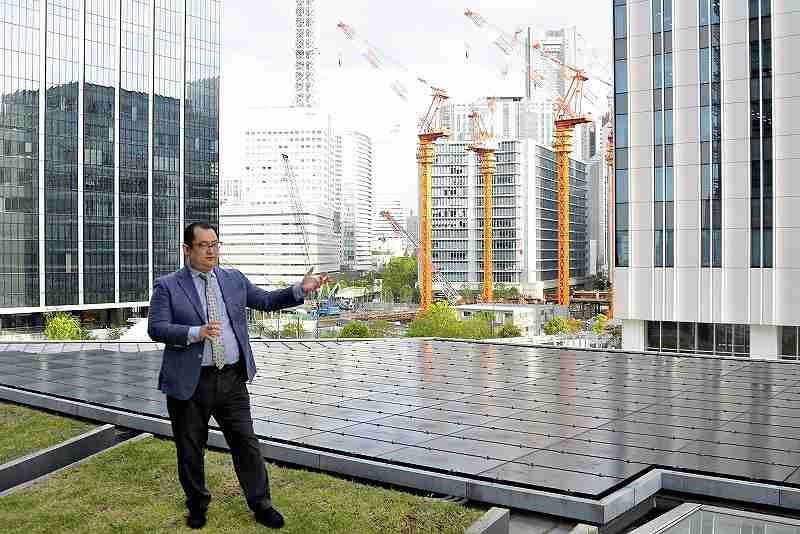 21:00 JST, May 17, 2022
The Environment Ministry in April selected 26 sites in 19 prefectures as decarbonization leading areas that are tackling climate change ahead of the rest of Japan.
These areas, including large cities as well as rural farming and fishing villages, are taking advantage of regional characteristics to help reduce greenhouse gas emissions associated with power consumption by households and businesses to net-zero by fiscal 2030.
In Yokohama, the Minato Mirai 21 business district was one of those selected. The district, teeming with skyscrapers and tourist facilities, spans about 187 hectares and its commercial power consumption accounts for 10% of the port city's total. Thirty-two out of the 64 facilities in Minato Mirai, including the Landmark Tower and Yokohama Red Brick Warehouse, are participating in the project.
Nissan Motor Co., one of the participants, has installed solar panels on the roof of its global headquarters and uses this power to charge electric vehicles for business use.
The automaker succeeded in reducing CO2 emissions by 35% from 7,000 tons in fiscal 2010 to 4,500 tons in fiscal 2021. It plans to promote further energy conservation by switching to LED lighting and adding solar panels to empty rooftop spaces.
Even so, it is still difficult to generate enough electricity by in-house power generation alone.
"We plan to purchase electricity from renewable energy sources to cover the shortfall," a Nissan official in charge said.
Yokohama signed a pact on renewable energy supply with 13 municipalities in Aomori, Akita, Iwate and Fukushima prefectures and has brokered contracts between electricity providers in the cities.
Yokohama will expand the number of power suppliers while also using the rooftops of municipal housing facilities to generate solar power.
"We want to present a model of decarbonization in urban areas," said Isao Matsushita, section chief of the city office in charge of the project.
Biogas from cow manure
The farming town of Kamishihoro, Hokkaido, with a population of about 5,000, is tapping into the manure produced by about 45,000 cows within its boundaries.
Since 2017, the town has promoted biogas power generation, which uses gas generated by the fermentation of cow manure. It has seven plants currently in operation.
The power produced by the plants is supplied to the town by a local trading company that is funded by the town and other entities.
Kamishihoro calculates that solar panels installed on the vast land that the town owns could provide electricity for the entire municipality. It aims to decarbonize about 2,500 households and all private businesses in the town by fiscal 2030.
The town's task now is how to distribute the power to all private homes. Due to a lack of public awareness of the new power source, the number of households that have signed up for the project is just over 10% of the town's total. It is considering a system to grant local vouchers to people who take environmentally friendly actions, such as signing contracts to use the new power source.
Disaster-stricken land
Higashi-Matsushima, Miyagi Prefecture, got a green light to designate its tsunami-hit Nobiru district as a decarbonization leading area.
In the district, which was heavily damaged by the tsunami following the Great East Japan Earthquake, 17 hectares of abandoned coastal land remain unused after being purchased by the city from residents, who have since moved to higher ground.
The city plans to install solar panels there to generate electricity, which will be supplied to the new settlement areas.
"Many disaster-stricken municipalities don't know how to make use of vacant land," said Fumihiro Narisawa, section chief in charge of the project at the Higashi-Matsushima city office. "We want to make the project successful as a precedent for decarbonization."