Say goodbye to free plastic utensils, amenities as law to reduce plastic waste comes into effect in Japan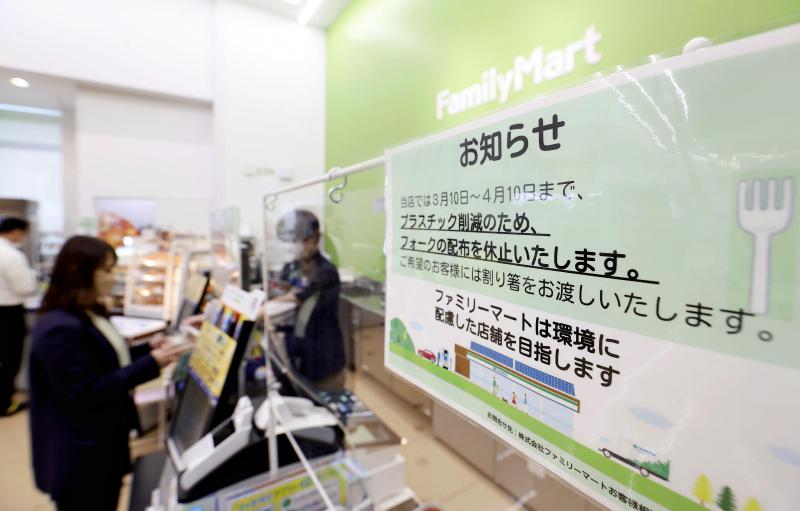 12:15 JST, March 31, 2022
From April 1, retailers and hotels in Japan will be required to charge for utensils and amenities made from plastic, or reward customers for not using them, in an effort to reduce plastic waste.
The plastic recycling promotion law comes into effect that day, covering 12 plastic items, including spoons, forks and toothbrushes. The aim is to reduce the use of such items such as by replacing them with ones made from non-plastic alternative materials.
The target businesses are taking varying measures to comply with the law.
Convenience store operator FamilyMart Co. started a trial on March 10, replacing plastic forks with disposable chopsticks at 10 stores in Tokyo.
"I think it's a good thing if we can make a small contribution to environmental problems," said Yuya Eto, a university student who bought pasta at one such store in Minato Ward, adding that eating the dish was "just fine with chopsticks."
FamilyMart will look into the trial's effect on sales, with an eye toward eventually charging for plastic forks at all of its about 16,600 convenience stores. The company believes this will lead to a reduction of 260 tons of plastic used each year.
The company continues to look for alternative materials for spoons, gradually offering a 100% plant-based spoon.
Though FamilyMart has received largely favorable feedback during its test, some customers have said they still want a fork or are worried about what would happen if the customer is a person unfamiliar with using chopsticks such as foreigners.
The law stipulates that the 12 plastic items listed must be charged, or eligible for shopping points if customers decline to use them, or switched to alternative materials such as plant-based ones. On top of this, companies that use at least 5 tons of these plastic items per year that don't take appropriate waste reduction measures, and then fail to comply with orders to do so, will be assessed a fine of up to ¥500,000.
Restaurant chain Gyoza no Ohsho will charge ¥5 per plastic spoon for takeout at all its shops nationwide.
Starbucks Coffee Japan will provide stainless steel cutlery for in-store customers and offer plant-based utensils for takeout.
At hotels and inns, disposable amenities such as toothbrushes, hairbrushes and razors are among the 12 plastic items. Many large business hotel chains have already stopped furnishing guest rooms with such amenities, urging guests to ask for needed items at the front desk.
The law has some high-end hotels, where high-quality service is a selling point, choosing different paths.
Imperial Hotel, Ltd. prepares complimentary amenities made from bamboo or other wood in the guest rooms of the three hotels it operates. The cost is more than double that of plastic amenities, but the hotel said it prioritized comfort for guests.
Prince Hotels, Inc. continues to place plastic amenities in the guest rooms of about 50 hotels nationwide, but requests that guests not use them. If guests follow the request, the hotel donates a certain amount to environmental conservation activities.
"We encourage our customers to take voluntary actions and work together on this environmental issue," a Prince Hotel official said.
Tackling marine pollution
The stricter regulations are aimed at reducing marine pollution caused by plastic waste as well as carbon dioxide emissions from the production and disposal of plastic items.
The Organization for Economic Cooperation and Development (OECD) reported that the world is producing twice as much plastic waste as two decades ago. Fish mistakenly eat plastic waste spilled into the sea, causing harm to the ecosystem.
Japan adopted a Resource Circulation Strategy for Plastics in May 2019, setting a goal of a cumulative 25% reduction in single-use plastics by 2030. In July 2020, single-use plastic shopping bags were no longer free. As a result, the amount of plastic bags in domestic circulation were halved to about 100,000 tons in 2021.
This time's regulations follow these moves. The 12 regulated items account for only a small percentage of the 8.2 million tons of annual plastic waste in Japan, the Environment Ministry has said, but it hopes to raise public awareness of the need to reduce plastic waste by targeting familiar items.
"Marine pollution could affect human health through seafood," said Tokyo University of Agriculture and Technology Prof. Hideshige Takada, an expert on plastics problems. "The global trend is that people who use substances that pollute the environment should bear the cost, and the central government must actively communicate the significance of reducing plastic waste."
Add TheJapanNews to your Google News feed.