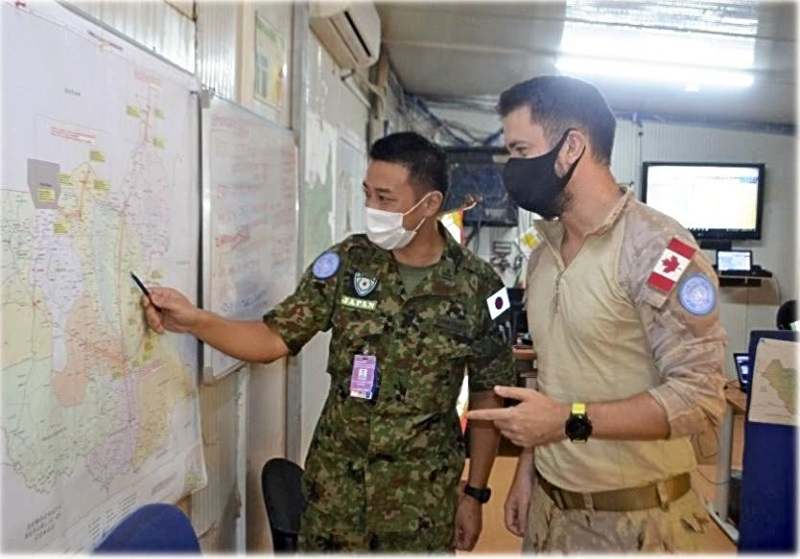 17:57 JST, June 19, 2022
The Self-Defense Forces once dispatched more than 600 members to a U.N. peacekeeping operation. Today, only six members, all in command posts, are involved in such missions worldwide.
The increasing complexity and danger involved in U.N. missions have raised barriers for Japan regarding the dispatch of SDF personnel.
Japan enacted its U.N. Peacekeeping Activities Cooperation Law just over 30 years ago, on June 15, 1992. Since that time, 12,500 personnel have been dispatched to 29 missions.
The SDF first participated in U.N. peacekeeping operations in Cambodia. At one time, 600 members of engineering units were dispatched from the Ground SDF to rebuild roads and bridges destroyed in the civil war there.
The last large-scale SDF deployment was to South Sudan. In May 2017, non-command personnel dispatched there were withdrawn from the country due to the deteriorating security situation. Currently, the four members in command posts in South Sudan and two in command posts of the Multinational Force and Observers mission on the Sinai Peninsula in Egypt are the only ones dispatched from Japan.
U.N. peacekeeping operations began with missions such as monitoring ceasefires by units dispatched from other nations based on the agreement of parties in conflict. The operations continue to transform to deal with regional conflicts and civil wars such as those caused by ethnic rivalries, which have increased since the end of the Cold War in 1989.
The evolution of the missions can be seen in the 1992-93 Cambodia operation, which began taking on the task of nation-building, such as reconstruction and election support. Even after Cambodia, the SDF's involvement in the missions have mainly dealt with civil engineering work for reconstruction and transportation of supplies.
Furthermore, the risk of death and injury to personnel has heightened in recent years as U.N. peacekeeping operations have been increasingly involved in activities to maintain security in failed states. For all nations participating in peacekeeping operations, 135 people dispatched were killed in 2021, compared to 59 in 1992.
The five principles regarding Japan's participation in peacekeeping missions include the existence of a ceasefire agreement between the parties in conflict and the minimum necessary use of weapons by SDF personnel.
Security-related laws came into effect in 2016, allowing the SDF to swiftly mobilize and rescue civilians who are under attack from armed groups. While this has allowed the SDF to use weapons in more situations, the reality is that they cannot easily participate in peacekeeping operations, such as when it is not clear whether ceasefire agreements have been reached.
These are among the reasons the government advocated the U.N. Triangular Partnership Program that began in 2015. The partners in the triangle are the United Nations, troop contributing countries, and supporting member states, the role that Japan has been taking on. For example, a cumulative total of 230 SDF members have trained about 360 people such as personnel from Africa over the years.
"We will promote efforts based on two main aspects: dispatching command staff and providing support to other countries' activities," said Defense Minister Nobuo Kishi at a press conference in Tokyo on Tuesday.
As five years have passed since Japan ceased the large-scale dispatch of the SDF, Hideaki Shinoda, a professor at Tokyo University of Foreign Studies, sees difficulties for Japan to continue participating in peacekeeping operations.
"With a growing shortage of people who know what peacekeeping is like on the ground, can Japan continue to train personnel from other countries?" he said. "This is a serious issue."
Add TheJapanNews to your Google News feed.