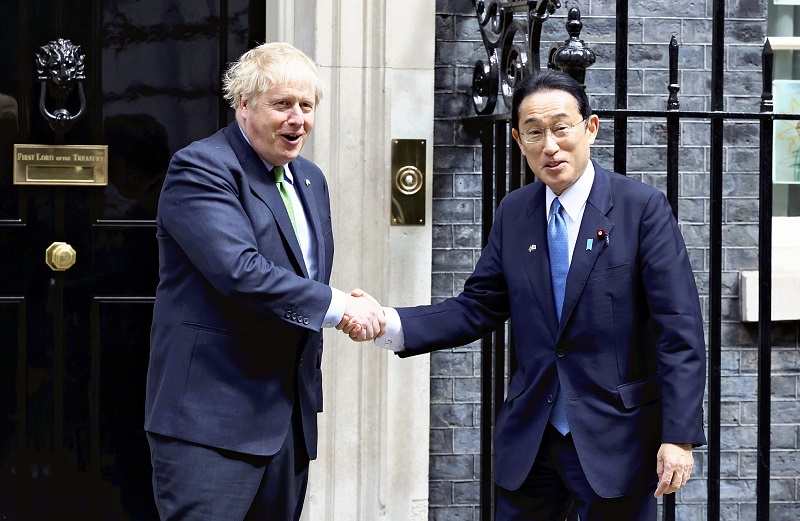 17:56 JST, May 6, 2022
LONDON — British Prime Minister Boris Johnson said he was keen to bolster security cooperation between Britain and Japan in an exclusive interview with The Yomiuri Shimbun before his meeting with Prime Minister Fumio Kishida in London on Thursday.
Johnson said both leaders had an understanding that "our security is indivisible, whether it's in Europe, or in East Asia." The British Prime Minister also said that Russia's ongoing invasion of Ukraine must not be allowed to succeed.
Johnson has been a prominent and vocal supporter of Ukraine since the outbreak of war in the country. He was the first leader from the Group of Seven advanced economies to visit Kyiv after Russia launched its attack.
Johnson said Russian President Vladimir Putin "must fail" in Ukraine, "otherwise, I think that will lead to a license to aggression by coercive autocracies elsewhere."
Since leaving the European Union in 2020, Britain has sought to expand its involvement in the Indo-Pacific region, and Johnson indicated his government would not deviate from the policy.
Johnson also warned China against making any unilateral moves to change the status quo in the Indo-Pacific region. "There is a direct read-across between events in Ukraine and events in Taiwan, or in the South China Sea," Johnson said in the interview, his first with a Japanese media outlet since he became prime minister in 2019.
According to Johnson, China's support for Russia following the invasion of Ukraine was "a strategic and political mistake." The British prime minister said he conveyed this message directly to Chinese President Xi Jinping during a phone conversation in March, in an apparent attempt to sway Beijing regarding its diplomatic stance on the issue.
Johnson applauded the Japanese government for imposing sanctions on Russia. "I think that Fumio Kishida's stance on Ukraine has been very, very powerful," Johnson said. "It has been extremely important that Japan has stood up strongly against tyranny and aggression."
Johnson said "like-minded countries" such as Japan and Britain must stand united in supporting Ukraine and stand up to authoritarian regimes such as Russia and China.
The invasion of Ukraine has put the Putin administration's aggressive intentions toward nearby nations into stark focus.
Even though three Baltic states that were once part of the Soviet Union and several former communist countries in eastern Europe have joined the North Atlantic Treaty Organization, the Russian threat has alarm bells ringing.
Britain, a key NATO member, is being forced to focus more on security in Europe. Johnson framed the war in Ukraine as a confrontation between "Putin's armies and an innocent sovereign country," and reaffirmed his commitment to supporting Kyiv.
The British government has sought to bolster ties with the Indo-Pacific region since it left the European Union.
Behind such moves is the nation's post-Brexit foreign policy approach, in which Britain has adopted a global outlook, striving to become a proactive actor in the world.
"The U.K. has embarked on an Indo-Pacific tilt in our policy, and I think that's the right thing to do," he said, adding that Britain would continue "emphasizing our relations with friends and partners" in the region.
Britain also shares concerns about the rising threat posed by China. In September, Britain, Australia and the United States launched the AUKUS security framework. This trilateral partnership made clear a stance that would oppose any attempt by China to unilaterally change the status quo.
Improving ties with Japan is an extension of this approach. Johnson said AUKUS "is not exclusionary" and did not rule out the possibility of Japan one day joining the group. "We are now closer than ever before, and we want to go closer," Johnson said, regarding the bilateral relationship.
However, it remains unclear to what extent Japan and Britain can translate hopes for greater security cooperation into reality, amid the worsening security situation in Europe.
As the conflict in Ukraine drags on, a challenge for Britain will be whether it can strengthen security in Europe and also maintain its new focus on the Indo-Pacific region.
During a press conference in March, a spokesperson for the British prime minister said it was too soon to judge whether Russia's invasion of Ukraine would have an impact on Britain's Indo-Pacific policy. The spokesperson did not deny the possibility that the policy might need to be reviewed.
Add TheJapanNews to your Google News feed.