Defense Perspective: In the field / Public-private cooperation will determine future of Japan's defense industry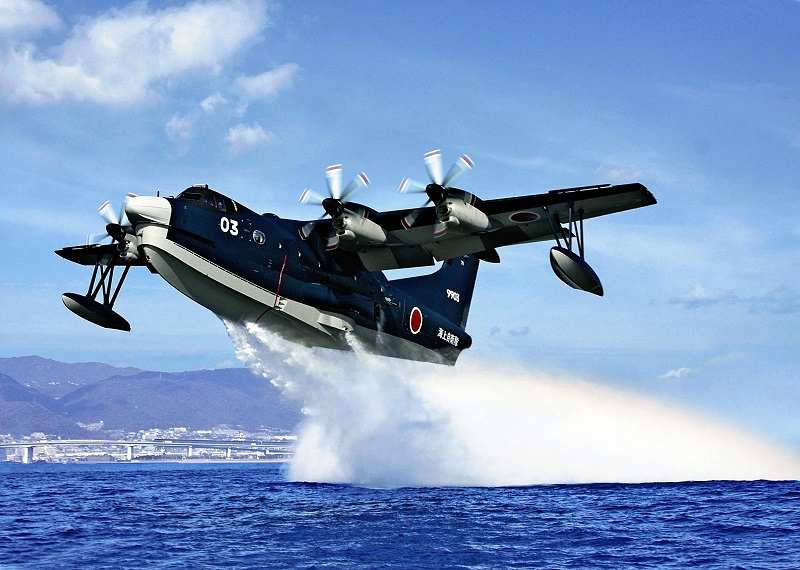 2:00 JST, December 15, 2022
This is the third installment in a series that will monitor ongoing international developments and identify necessary tasks if Japan were to become embroiled in a contingency. This will involve putting a spotlight on the Self-Defense Forces, which play a fundamental role in Japan's defense; the defense industries and the Japan Coast Guard, which jointly support national security along with the SDF; and measures to protect the public in the event of a national emergency.
***
In a corner of a factory complex facing Osaka Bay, there is an old assembly plant that has been operating since before World War II.
The plant is owned by ShinMaywa Industries Ltd., an aircraft manufacturer based in Takarazuka, Hyogo Prefecture. A visit on Nov. 2 found the Maritime Self-Defense Force's ninth US-2 search-and-rescue amphibian plane being built there amid the smell of oil.
The US-2 can take off and land on rough seas and has a long flight range, making it one of the world's best amphibian aircraft.
In 2013, India expressed interest in buying it, and then Prime Minister Shinzo Abe promoted the sale himself. Standing in the way, however, was the matter of an offset agreement, an unfamiliar practice in Japan. In foreign countries, it is common for a buyer to demand that a seller purchase products and create jobs in the country that will be doing the buying, in return for the purchase of expensive defense equipment.
India demanded that 30% of the total value of the US-2 contract be returned to the country through local production other methods. However, it was difficult for ShinMaywa to accommodate this request on its own, and negotiations essentially came to a halt.
This is a source of bitter regret for ShinMaywa Managing Executive Officer Katsuo Tanaka.
"Overseas, former military officers, businessmen and lawyers form teams, with the government playing a central role, to market equipment. It's impossible for a private company to do everything by itself," Tanaka said.
The high price of more than ¥10 billion per plane was another reason the deal stalled. ShinMaywa delivers only about one plane every five years to the Self-Defense Forces, forcing the company to reflect capital investment and labor costs during idle periods in its prices.
Even so, profit margins have not increased, and ShinMaywa compensates for this with earnings from its non-defense businesses, such as the manufacture of parts for commercial aircraft.
"If we can get bulk orders from overseas, costs will go down and competitiveness will increase," a senior Economy, Trade and Industry Ministry official in charge of equipment exports said.
Numerous restrictions
In 2014, the government formulated the Implementation Guidelines for the Three Principles of Transfer of Defense Equipment and Technology, conditionally allowing exports of defense equipment.
This decision was prompted by concerns that Japan's defense industry would peter out if it relied only on the domestic market, which had plateaued. But with numerous restrictions on what can be exported — only items to be used for transportation and surveillance — an air defense radar sold to the Philippines is the only completed product that has been successfully exported so far.
In the autumn of 2015, the British government was considering the P-1 manufactured by Kawasaki Heavy Industries Ltd. as a prime candidate for the country's next maritime patrol aircraft. However, in a sudden turn of events, it decided to go with the P-8 maritime patrol aircraft made by Boeing Co. of the United States.
According to a Japanese Defense Ministry source, negotiations had progressed to the point that the British defense minister contacted then Defense Minister Gen Nakatani to apologize for choosing the U.S. aircraft.
The U.S. side actually put British soldiers on board a P-8 used by the U.S. military to promote its high performance. Britain is said to have given priority to such on-site evaluations.
There are countless examples of Japan falling behind in this kind of negotiations because of its insufficient public-private cooperation, including a submarine for Australia and C-2 transport aircraft for the United Arab Emirates.
Information management
The Defense Ministry is not sitting on its hands. In an attempt to broaden the base of the defense industry, it has held product exhibitions since fiscal 2016 that matched the needs of private companies with those of the SDF. So far, the SDF has signed new contracts with 13 companies.
On Oct. 21 this year, an exhibition to match Japanese companies with the U.S. defense industry was held for the first time. However, this once again highlighted Japan's structural challenges.
One Japanese company at the event was told by a U.S. participant that there were significant problems with information management on the Japanese side, and even if they wanted to work together it would be difficult.
The U.S. side is strongly concerned about Japanese companies' weak cybersecurity. Prior to his opening remarks at the exhibition, U.S. Ambassador to Japan Rahm Emanuel stressed the need for stronger cybersecurity measures and conveyed his hopes in a meeting with State Defense Minister Toshiro Ino. It was not that Japan needs the United States, the ambassador said, but that the United States needs Japan.
The United States and Japan must be united, including their defense industries.
On Nov. 22, the government's Advisory Panel to Comprehensively Discuss Defense Capabilities as National Strength submitted to Kishida a report saying "the defense industry is the defense force itself" in a country without state-run munitions factories.
The government plans to ease guidelines on the three principles and expand exports, efforts to be led by the state. The defense ministry is considering providing subsidies to companies that take over defense operations from other companies and financial support for firms to strengthen their cyber defense.
Since 2003, more than 100 companies have been forced to leave the struggling defense industry.
Whether the private sector can utilize its technological capabilities and transform Japan's defense sector into a growth industry that makes a profit from exports depends entirely on the success of public-private cooperation.
Add TheJapanNews to your Google News feed.